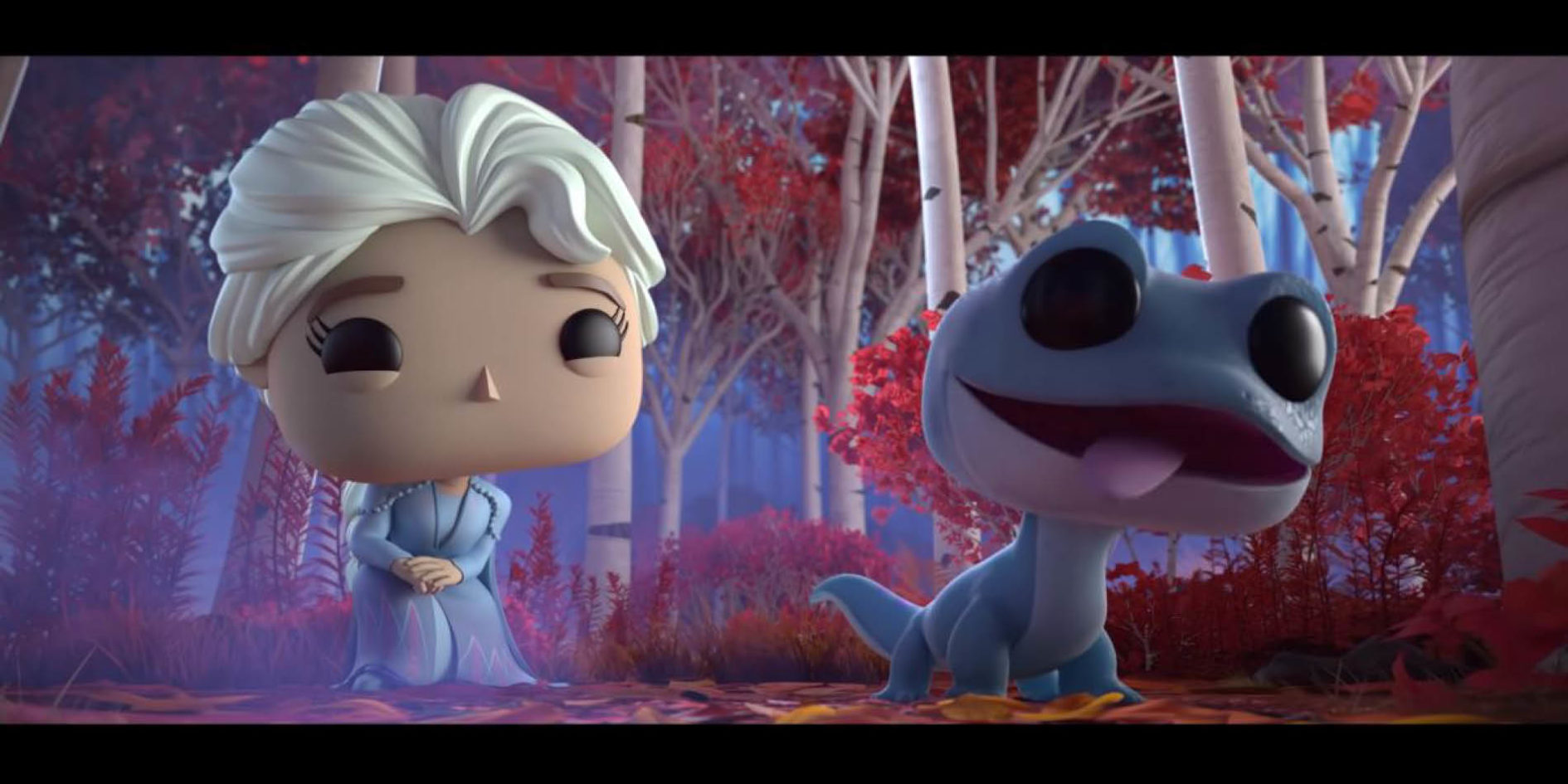 Antoine Perrichon
Graduating in 2017, Antoine Perrichon travelled between Paris, London and Lyon to work as a CG animator. At the same time, he is also involved in dubbing ESMA films!
Looking back on your ESMA years
WHY DID YOU CHOOSE TO TAKE A COURSE IN CG ANIMATION AND FX?
My passion goes back a long way. I was lucky enough to grow up with satellite channels (Cartoon Network, Nickelodeon, Disney and others). As a teenager, my best friend introduced me to the website "La Cartoonerie". It was very basic but perfect for his first experiences. As the tools changed and the more I progressed the more I told myself that this was what I wanted to do!
Finally, as I grew up with the internet and animation, I didn't miss the ESMA short films. Moreover, when I graduated from high school, I discovered that the school was set up in Nantes (I was born again), I could no longer deny that fate was calling me! Haha.
WHY DID YOU CHOOSE TO INTEGRATE ESMA TRAINING?
Until then, I had been practising animation like a sculpture in a sandbox. The first three years at ESMA* provide an opportunity to learn the tools of professional animation and the artistic perspective by practising traditional techniques (plastic arts, drawing, storyboarding, etc.). The final year makes real use of all this teaching to make the final film, in conditions that 100% imitate an authentic CG production.
In the vast majority of cases, at the end of the 3rd year, the specialities of each student are revealed. For my part, I already knew it was going to be character animation. And others were good everywhere! Generalist profiles are very much in demand. Anyway, everyone comes out of school with knowledge in all subjects, our flexibility really makes all the difference at work!
*editor's note: 4-year course now
WAS THERE A SUBJECT THAT YOU PARTICULARLY LIKED?
Animation! Of course, but I didn't hate any subject, on the contrary!

WHAT DID THE TEACHING AND THE TEACHERS BRING YOU?
Their method of working, the good reflexes to face most situations and above all their sense of teamwork. If there's one thing to keep in mind, it's that personal talent is just as crucial as knowing how to work in a team! The teachers have made this clear to us.
HOW WAS YOUR PROFESSIONAL IMMERSION AFTER LEAVING THE ESMA?
I have a rather vivid memory of my first week at work. It was completely stressful. I was very afraid of failing, I told myself that there was no safety net anymore. I quickly realised that it was similar to the graduation film. From then on, I gained confidence and the ball was rolling!
Your career path
WHAT DID YOU EXPECT AFTER GRADUATION?
For personal reasons I wanted to stay in France at first and apart from that I didn't really have a plan in mind. I applied everywhere, especially in Paris and it was thanks to a contact at the Supamonks studio that I was able to start. I specialise in cartoon animation, so when I'm looking for a job, it's more like this kind of mission that I focus on. Otherwise I like to move around so I go where there's taff! Haha
WHEN YOU LEFT SCHOOL YOU WORKED AT SUPAMONKS, FUNKO ANIMATION AND TODAY AT XILAM. CAN YOU GO BACK OVER THESE EXPERIENCES AND THE PROJECTS YOU HAVE WORKED ON (OR ARE STILL WORKING ON)?
I was lucky enough to start my career with a feature film: Minuscule 2. It was very rewarding, I had to be meticulous (no pun intended) and I gained a lot of precision. At the Funko studio it was also a great experience: first work abroad so in addition to the work, the challenge of mixing with English culture! And now Xilam, even if I can't talk too much about it, another different mission with its own challenges!
For my jobs at Supamonks and Funko, I had friends from my class already there, it helped me to make my choices. For Xilam, given the context of Covid… let's be honest, I jumped at the chance when they were looking for a team of animators! Because of Covid Funko unfortunately had to close their animation studio in Bath (near Bristol) and I came back to spend the confinement with my family. I was ready to go back almost anywhere, but it just so happened that it was Xilam who contacted me again.
CAN YOU TELL US ABOUT YOUR CURRENT JOB AS A CG animator, WHAT DOES IT INVOLVE AND WHAT DO YOU LIKE ABOUT IT?
Simply: I create movement to give the illusion that the characters are alive, even though there are many principles and techniques that apply to each of the shots I animate. What I really like is that the challenge is different every time. One day I animate a dog happy to bring a stick back, another I animate a little girl sad to have lost her doll, or some incredible stunts. All the time different and exciting situations.
IN YOUR OPINION, WHAT ARE THE QUALITIES TO BE A cg animator?
First of all, you have to be ready to spend the day in front of a screen, a little pragmatic as an answer but it's important to have that in mind before you start working in CG. For animation specifically, you have to be patient, it's a very long process! You also have to be creative to come up with an idea that will appeal to the director, just as you have to be meticulous to have a lively animation. And above all, you have to know how to deal with feedback and criticism (a good part of the work ends up not being used). Little by little, you gain self-confidence, and you also gain confidence in the director's choices.
CURIOSITY: DID YOU GO TO SEE THESE FILMS AT THE CINEMA?
Of course I have! Always!

WHAT IS IT LIKE TO WORK ON THIS TYPE OF FILM, WITH SO MANY PEOPLE INVOLVED IN ITS DEVELOPMENT? HOW ARE RELATIONS AT WORK WITH COLLEAGUES AND DIFFERENT DEPARTMENTS?
Even if I have only worked on one feature film, I would say that it is a great opportunity to work on a feature film, not that there are productions to be taken lightly, but immediately there is greater cohesion when you tell yourself that the film is going to be released on the big screen. I was in a special situation because Supamonks only managed the animation part, so for relations between departments, you have to ask my former production manager haha instead. At Funko and Xilam, relations between departments are at the top!
IS THERE A PROJECT THAT YOU ARE PARTICULARLY PROUD OF AND THAT YOU WOULD LIKE TO SHARE WITH US?
Of course I'm proud to have worked on Minuscule 2 but I'm also proud to have doubled for Œil pour Œil and Comme un Ours. I'm especially proud of what they accomplished!
The voice of films
YOU REGULARLY PARTICIPATE AS A VOICE IN NEW ESMA FILMS. CAN YOU TELL US ABOUT IT?
Even though I have no theatre training, dubbing is a great passion for me! I started offering my services to films from Nantes last year. We knew each other and I offered to just do some tests for them! Apparently, the tests were successful haha! From then on, it was word of mouth that led me to contribute to 3 films from the class of 2020. If it follows its course, maybe it will be 4 films for 2021?!

HOW DO YOU APPROACH YOUR ROLE WITH STUDENTS? AND TO PUT YOURSELF IN THE SHOES OF THE CHARACTER YOU PLAY?
It always starts with an interview with the team who present me with the story and the design of the characters and from there we offer each other directions and references. For me, what's important is to understand the character's emotions and to experience what he or she feels as best as possible.
HOW DO YOU LIKE TO DO VOICES ON FILMS?
For 2 reasons: I'm still only an amateur dubber, I think that helping with student film voices is a great way to get into the field; it allows me to keep in touch with ESMA students. So far it has always been a great experience! I hope they will contact me for more films, I will always be there!
DO YOU ONLY DO IT FOR ESMA OR ALSO NEXT TO YOUR JOB?
I do it mainly for ESMA films, yes, but more and more I'm helping out here and there, especially with some YouTube friends.
ARE YOU STILL IN CONTACT WITH YOUR FORMER GROOVITY FRIENDS? AND MORE GENERALLY, ARE YOU IN CONTACT WITH FORMER ESMA (OR STUDENT) ALUMNI?
Oh yes of course! I think it's rare bands that really lose contact. The graduation film is such a unique and strong experience that it creates bonds for life!

To conclude
WHAT ARE YOUR PLANS FOR THE FUTURE?
For the moment my plans are to enjoy my new life in Lyon. I'm lucky enough to have landed a fairly long contract, that gives me time to think about what comes next! In the meantime I'm doing my best to launch my acting career "officially".
TO FINISH, A LITTLE ADVICE TO GIVE TO STUDENTS AND FUTURE STUDENTS?
Be passionate! CG animation jobs are extremely time-consuming, there are bound to be ups and downs, but if you feel deep down inside that this is really the job you want, it's the guarantee of an exciting life with lots of opportunities to travel, meet great and exciting people and above all a very rewarding job!