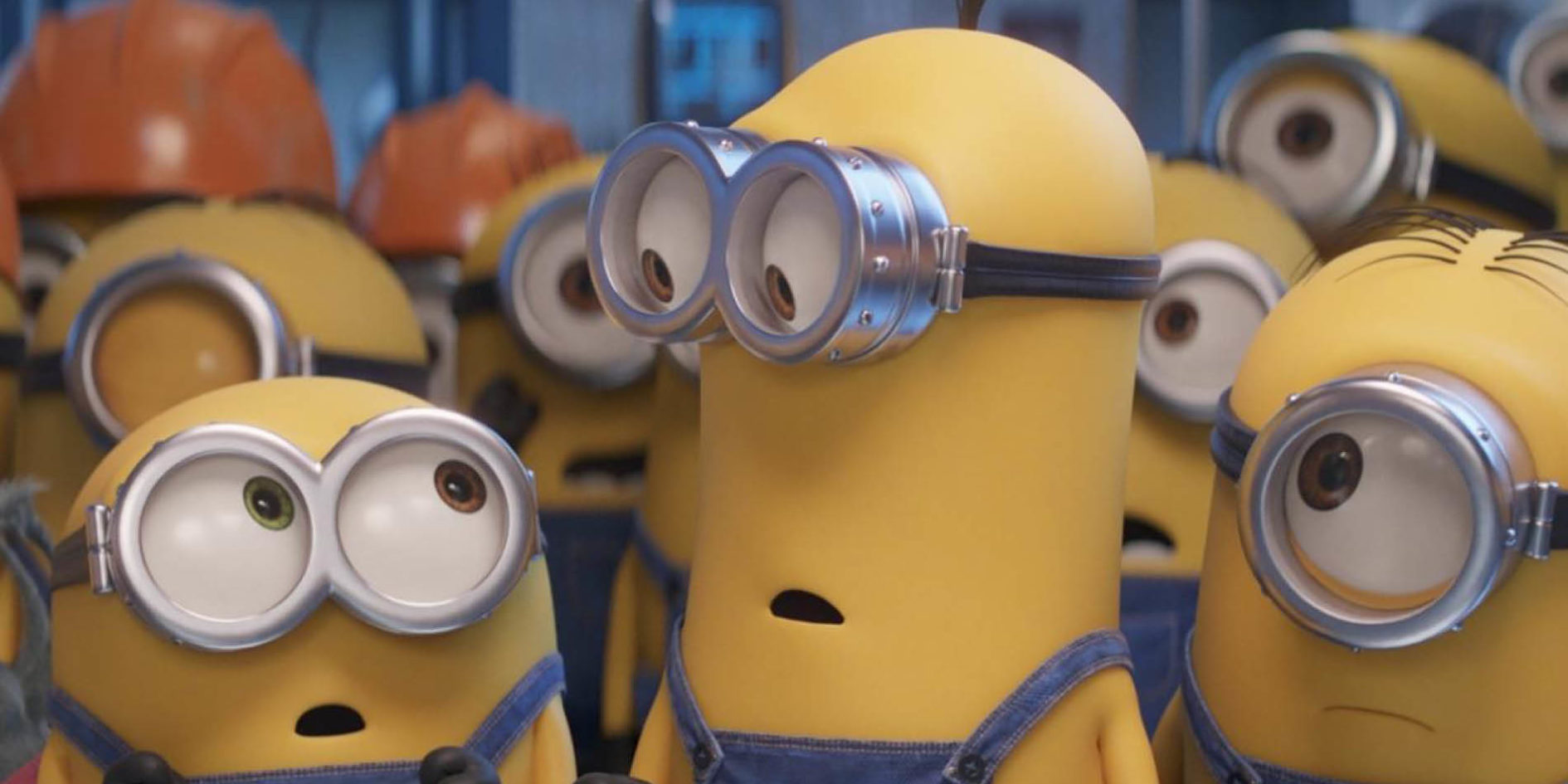 Elise CARRET
Elise Carret is a whirlwind. A whirlwind of joy, spontaneity, passion, sharing and sincerity. She lives her life and her job in CG animation to the fullest, enjoying every moment. Graduating in 2017, she has pursued her career as a young animation professional with enthusiasm.
Looking back on your ESMA years
WHY DID YOU CHOOSE TO INTEGRATE CG Animation & FX Master degree?

What made me want to work in animation is simply the love for character stories! Since I was very young I like to tell the adventures of my creations with different media: comics, illustrations, puppet theatre, live-action and stop-motion short films, animation on lacartoonerie.fr.
Animation gained an ultimate place in my heart with the release of the film Wallace and Gromit: The Mystery of the Were-Rabbit (from Aardman studios, 2005). Following this feature film, I realized that I could create a film myself using a simple camera and a clay puppet. Then the second revelation came with the release of the film Ice Age 2 (from BueSky Studios, 2005). Watching the making of it over and over again, I discover that you can make a living out of it! Between chara-designer, modeler, animators, editor, dubber, director, storyboarder… There are so many choices to have a lifetime of fun!
WHY DID YOU CHOOSE TO JOIN THE ESMA TRAINING?

I ended up at the Esma thanks to their short films! After a night of despair in high school, I resigned myself to register in a graphic design school with a cinema option, even if I'm not very convinced. I don't know where to find a better place and I've attended all the open days of the establishments near my home.
By pure chance, hanging around on daily motion, I find an old video that my best friend showed me years before (2007): REPLAY. This short film had moved me greatly. Finally I let myself be carried away by all the other videos: Jungle jail, Dans la tête, Mon ami Charlie etc. Until I discovered that it's an animation school! And that an establishment opens in Nantes at the beginning of September! "It's a sign of destiny that calls me "I'm unsubscribing from graphic design school and filling out an application form directly for ESMA before I even open the door.
The most fascinating part of this story is that my future ESMA referent teacher, Anthony Voisin, is none other than one of the directors of Replay… Coincidence? I don't think so.
WHAT DID THE TRAINING DO FOR YOU?

This training gave me all the knowledge I needed to be a professional from the end of my studies: computer tools, the basics for all disciplines, rigour, perseverance and above all teamwork (key to success). Many other schools do not allow a year devoted to working in a group on a common project.
This is really the strong point of the training! That's what the studios come to recruit us for. As far as my professional speciality is concerned, I already knew that I wanted to be an animator. Most of my classmates discovered their vocation during their studies.
WAS THERE A SUBJECT THAT YOU PARTICULARLY LIKED?

Well I want to answer the animation! Our teacher, so passionate, didn't give lessons, she lived them! I can still see her moving in all directions to explain certain movements to us, like the actings, fundamentals in animation!
However, I really liked the other subjects: modeling, charadesign, storyboard. Everything that has a direct link with the characters and the story.
WHAT DID THE TEACHING AND THE TEACHERS BRING YOU?

What the teachers have transmitted to us the most: their passion for animated films! Often the first to ask us if we had seen the latest release of such software, or of such conference, or of such film released in the cinema. We could stay for hours listening to their professional anecdotes, we never got tired of it! They gave us the desire to always go further in our projects, to look for information by ourselves in order to perfect a detail, not to be demotivated to get what we have in mind. Perseverance, the need to surpass ourselves all the time.
They were always there to encourage us in our creative deliriums! I can still remember our script teacher spending hours discussing a project to unblock a direction, or our animation teacher running after his train to spend more time helping us! The emails from the rig teacher who spent the whole weekend looking for a solution to a problem. The list of memories is endless!
HOW WAS YOUR PROFESSIONAL IMMERSION AFTER YOU LEFT THE ESMA?

It went smoothly! I was lucky to get a job right away when I got out of school. After a few moments of intense stress making career choices, I found myself with MacGuff Illumination, in a very young team with an adorable leader!
It's often easier to fit in when you're full of new people in the same boat! Also, I was in the middle of producing The Grinch, so the film was finally on the right track to move forward. It was fabulous to be able to see a film that I love growing up in front of my eyes!

Your career path
SINCE YOU GRADUATED FROM SCHOOL YOU'VE BEEN WORKING AT MACGUFF LIGHTING AS A MARKETING ANIMATOR. CAN YOU TELL US ABOUT YOUR CURRENT JOB, WHAT IT IS AND WHAT YOU LIKE ABOUT IT?

My job is to animate the characters, like in feature films. Only here, we work on MacGuff Illumination short films and commercials to promote these feature films. Basically, we animate the same characters as the movies with shorter sequences! Sometimes we do still images for the movies' posters, or turn statues for Universal Studios' theme parks.
WHAT ARE THE SKILLS AND QUALITIES REQUIRED TO DO THIS JOB?
As with all creative jobs in the film industry, you need patience, rigor and team spirit. These 3 elements form a sort of "virtuous circle".
Patience is essential to survive all the validation stages of our work: validation of the Lead, then the Animation Director, the Director, the co-directors in Los Angeles and finally the Producer.
Which explains why a lot of rigour is also required. The slightest mistake has repercussions on all the departments of the studios… We don't have the right to waste time!
Finally "team spirit" is the link between the 2 other elements. It takes rigour to work together. Team spirit will bring a serene atmosphere allowing us to concentrate and be patient. Otherwise we go crazy with the tons of retakes/retouching to do on each plan to animate !

Then, to become a facilitator, you must have a sense of continuous analysis. Whether it is about a silhouette, a movement, a reaction, an emotion etc., you have to be able to analyse the situation. Your daily life becomes your source of inspiration to breathe life into your characters. You must always have the eyes of a lynx, be on the lookout, always ready to shell your "prey".
Let's come to passion. Before, I would have said that you have to be passionate first to do this job. Well, to my surprise, it's not mandatory. However, it helps a lot not to lose your motivation and to remain rigorous, patient, a good observant team member, etc. "The virtuous circle".
WHY DID YOU CHOOSE THIS STUDIO?

Because I really like their animation style: between cartoon and realistic. But also because they have good pedagogical tutors.
I was lucky enough to be spotted by the animation director Patrick Delage when I left school. Otherwise I wouldn't have gone there for fear of not having the level! This studio is a great springboard between the school and the world of animation. You feel like you're still at school and you're constantly progressing.
The leads and animation directors really want us to improve our skills in order to improve the quality of the film. The fact that they speak French helps to focus on animation and not on language. Now I feel ready to animate anywhere in the world!
CAN YOU TELL US ABOUT THE PROJECTS YOU HAVE WORKED ON?
I was able to work on the Grinch in crowd, extras if you want. It was an incredible experience because it was my first step on a feature film! I was able to gently discover the working life at the studio and how a film is put together. After the crowd, I went into marketing, first in crowd-market and then finally in main-market (character in the foreground). I worked on the short films of Xmass Minions, Super Gidget, Art show, and finally Minions Monsters. I worked on several commercials for the Grinch, Comme des bêtes 2, and on Minions 2. That's a lot of minions ahah!
HOW DOES IT FEEL TO WORK NOW, AND AFTER SCHOOL, ON MOVIES FOR THE BIG SCREEN? ISN'T IT AWESOME OR STRESSFUL?

It's so exciting!!!! To see a movie being edited, to evolve board after board, from anime to anime, from rendering to rendering… Until seeing it on the big screen! I'm still moved ahah! Being projected on the big screen in front of so many spectators gives meaning to our passion. An animation that is not projected, not played, is an animation that doesn't make anyone vibrate, so it's an inert animation. But the real purpose of animation is to move an audience and not to remain hidden in a computer.
CURIOSITY: DID YOU GO TO SEE THESE FILMS AT THE CINEMA?
Yes, I have! All of them! Already with the whole film team in private screenings, then with friends in theatres.
HOW IS IT TO WORK ON THIS TYPE OF FILM, WITH SO MANY PEOPLE PARTICIPATING IN ITS ELABORATION? HOW IS THE RELATIONSHIP AT WORK WITH COLLEAGUES AND THE DIFFERENT DEPARTMENTS?

It's different with every change of project and team. Some experiences are just great: You can exchange a lot of ideas between leads, graphic designers, animation directors etc. It makes you feel very creative!
And sometimes it's exactly the opposite. You feel very small, insignificant, without creation and under pressure. You just have to do the work over and over again for reasons that are beyond us… But let's keep it on a positive note. Internal relations within the French studios are going really well. Let's not forget that graphic designers are big children in adult bodies! So we're never safe from a nerve bullet gun, a desk full of toys, a ukulele battle or assumed laughter… like at school!
WHAT DID YOU EXPECT WHEN YOU GOT OUT OF SCHOOL? DID YOU HAVE DEFINITE PLANS (ABOUT STUDIOS, POSITIONS…)?
I was so stressed when I got out of school! Which direction to go in? Too many choices! I didn't have any particular plan except to find a studio where I could grow and whose projects I would like to do!
IS THERE A PROJECT YOU'RE PARTICULARLY PROUD OF?
I would say it's on the short film Minions Monster, because it's the project where I was able to animate absurd shots, very cartoon, with a lot of technical challenges. AND I love challenges, especially for nonsense !!!
Achoo and his journey around the world
YOU WERE PART OF THE TEAM THAT WORKED ON THE ACHOO SHORT FILM. CAN YOU GO BACK A LITTLE BIT ON THAT EXPERIENCE?

Wow! Hang on dear readers:
The short version: This comes from a very silly situation: I was very late on my script assignments.
The long version: On a Friday lunchtime, I realize that we have to hand in the first synopsis for our graduation films at 1 p.m. I have 30 minutes left… Panicked, I start a battle against time. Searching for inspiration around me, my eyes land on one of my old MANAA paintings. The canvas represents a "European dragon" with a drop on his nose, which, when he sneezes, burns the frame of the painting. We often played with the support of the painting.
Then my brain starts boiling: "a dragon with a cold… it makes sneezing… explosive ! Like fireworks. I have my subject… A dragon that spits fireworks ! Is that a Chinese invention too? And they're crazy about dragons! New Year's Eve fireworks fired by dragons! I like the idea. But it's hard to spit fire with a drop in your nose… Then why take a dragon with a cold? "Putting yourself in a scenario" advised Mr Meteyer. That's it.

I had a lot of colds and allergies when I was a kid… Here we go. An allergic dragon! Allergic to what? To the explosive powder of fireworks… A dragon with a cold wants to be accepted by his dragon community by participating in the Chinese New Year and he has to spit out some nice flames. This is impossible since he is allergic and yet, thanks to his sneezes, he will create the Fireworks !!!
I have 10 minutes left to write everything down! Probably too complicated, even too ambitious this project… Anyway, I'm getting started. At worst the scenario will not be selected, at best it will be reworked… Not only is it selected, and despite multiple rewriting attempts, it is this first ambitious version that remains! In my head, it's an explosion of joy, followed by a mega anguish… WHY I WRITTEN THIS! Sorry dear team, the challenge is on!
It's been an amazing year making the film! Lots of joy, lots of laughter, consultations, discussions, rushes, intense work. All in all, very good memories!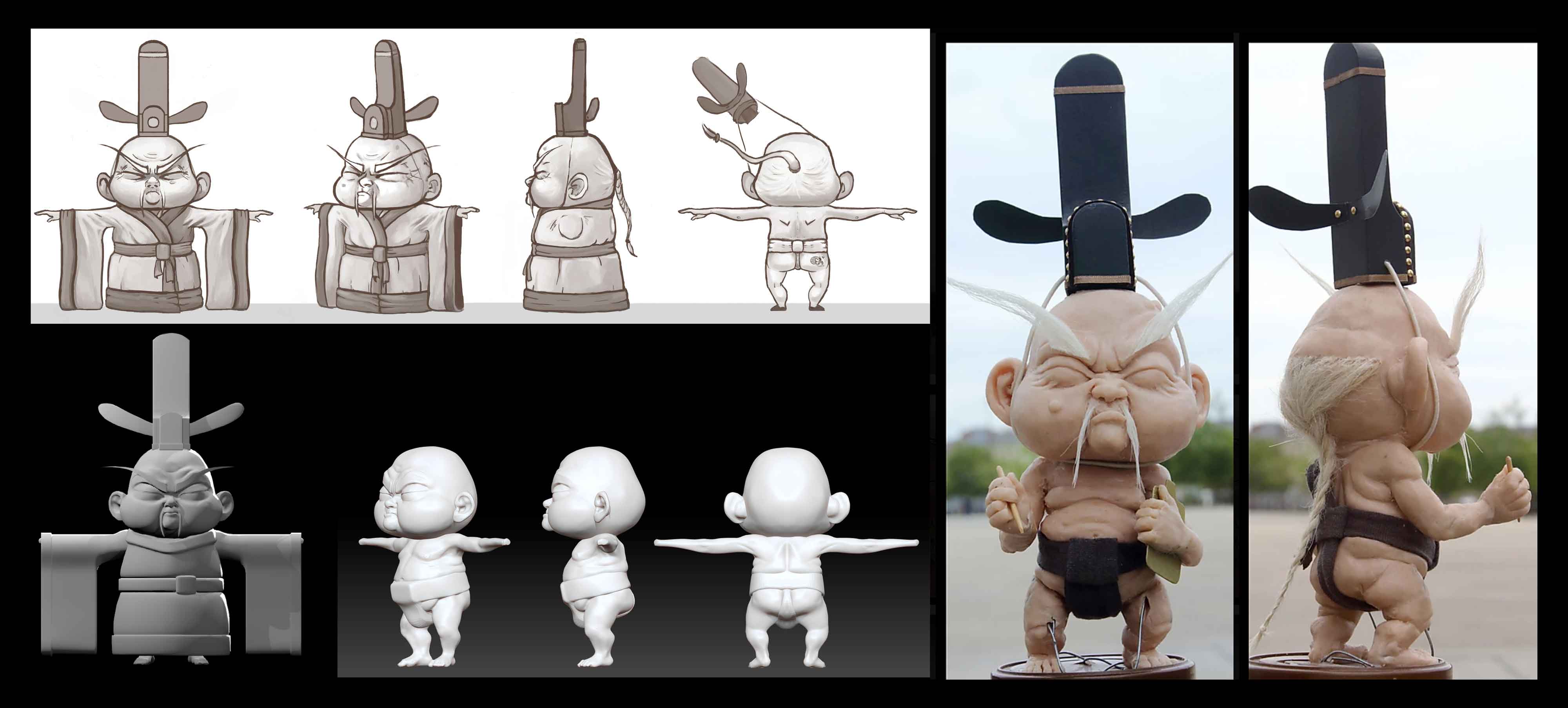 Our team of 6 quickly became involved in the project. After quickly rewriting the script, we moved on to production: staging, charadesign, set design, props design, rig and fx research, pipe creation etc… Then the production followed in January with a storyboard that moved very little.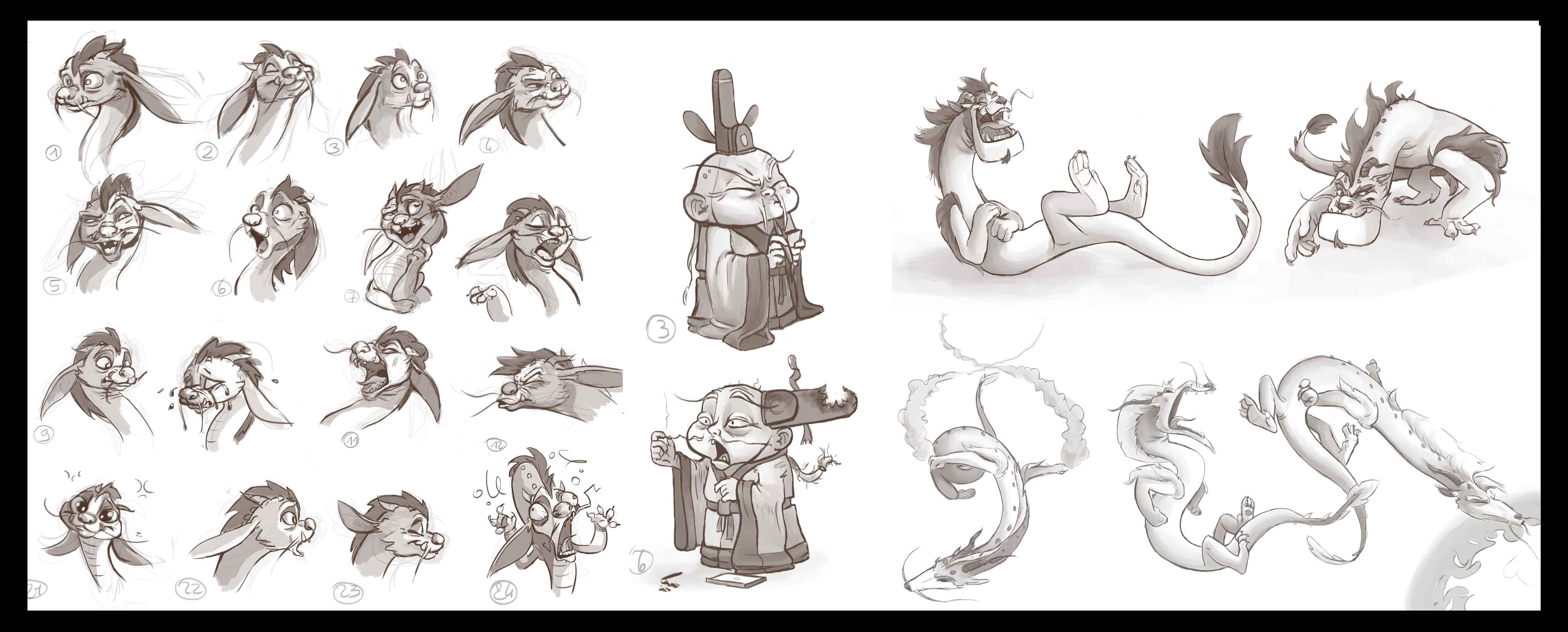 Everybody has found his role in the production line: Pierre with the complete set design, Maoris with the chara surfacer, Camille with the layout, Charlotte with the fresco, Lulu on all levels, and me with the chara modeling and facial rig.
Then all mixed up! The 3 boys in lighting, rendering, compo debugs, the girls in animation, research paintings, mate paintings, credits etc.. The joyful and warm atmosphere of the class really contributed to the good progress of the projects. We all had our laughs and kept smiling even in the worst moments of stress or de-motivation. We supported each other with ukuleles, songs, balls of nerves, absurd debates, etc. We all had our laughs and kept smiling even in the worst moments of stress or demotivation.
If I were offered the chance to relive that experience, I'd go headfirst into the world!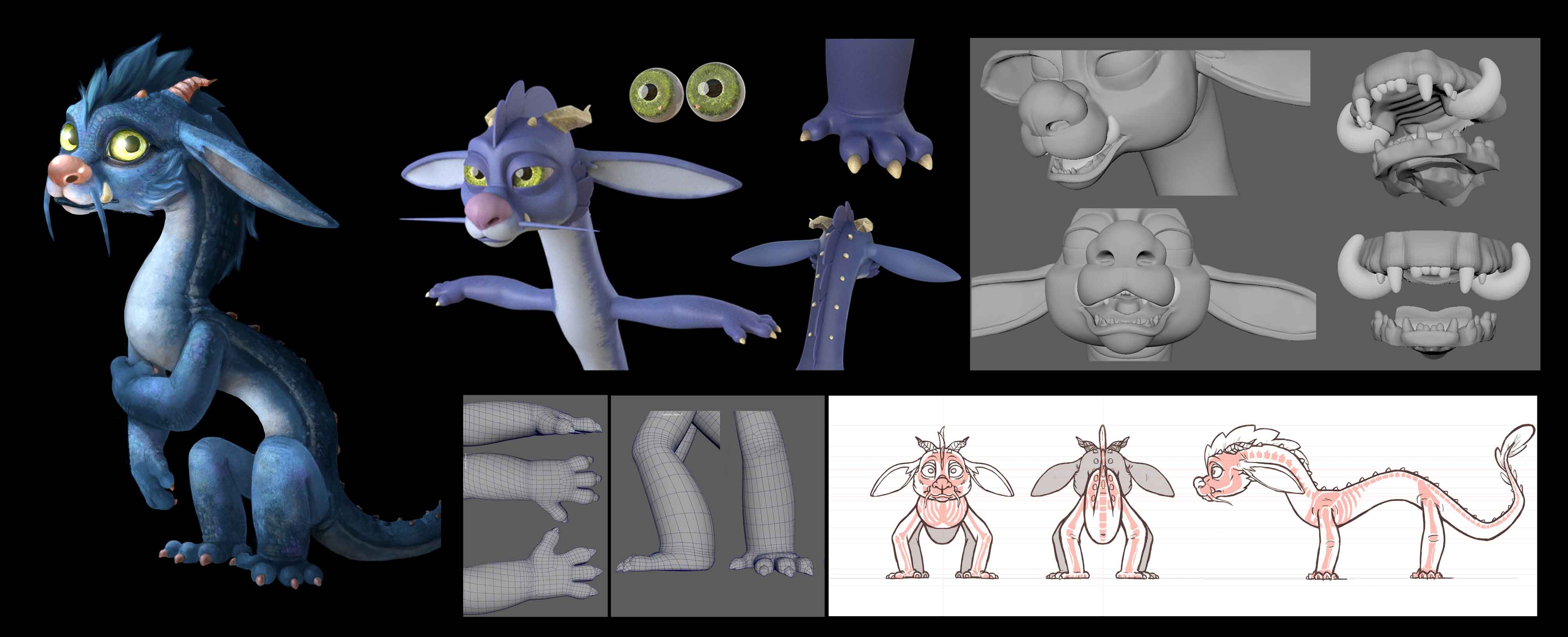 ACHOO IS A SHORT FILM THAT HAS BEEN SELECTED ON MANY FESTIVALS AROUND THE WORLD. YOU'VE BEEN TO MANY OF THESE FESTIVALS. CAN YOU TELL US ABOUT THIS EXPERIENCE?
It was an intense and completely crazy experience! If I hadn't worked, I would have done everything to go to all the screenings! In Portugal, Brazil, Reunion Island, Greece, Romania, Japan, Australia, Canada, etc. I've been to many festivals in the world. We were really lucky to have been around the world thanks to the Oscars and all the other festivals that have shown us everywhere.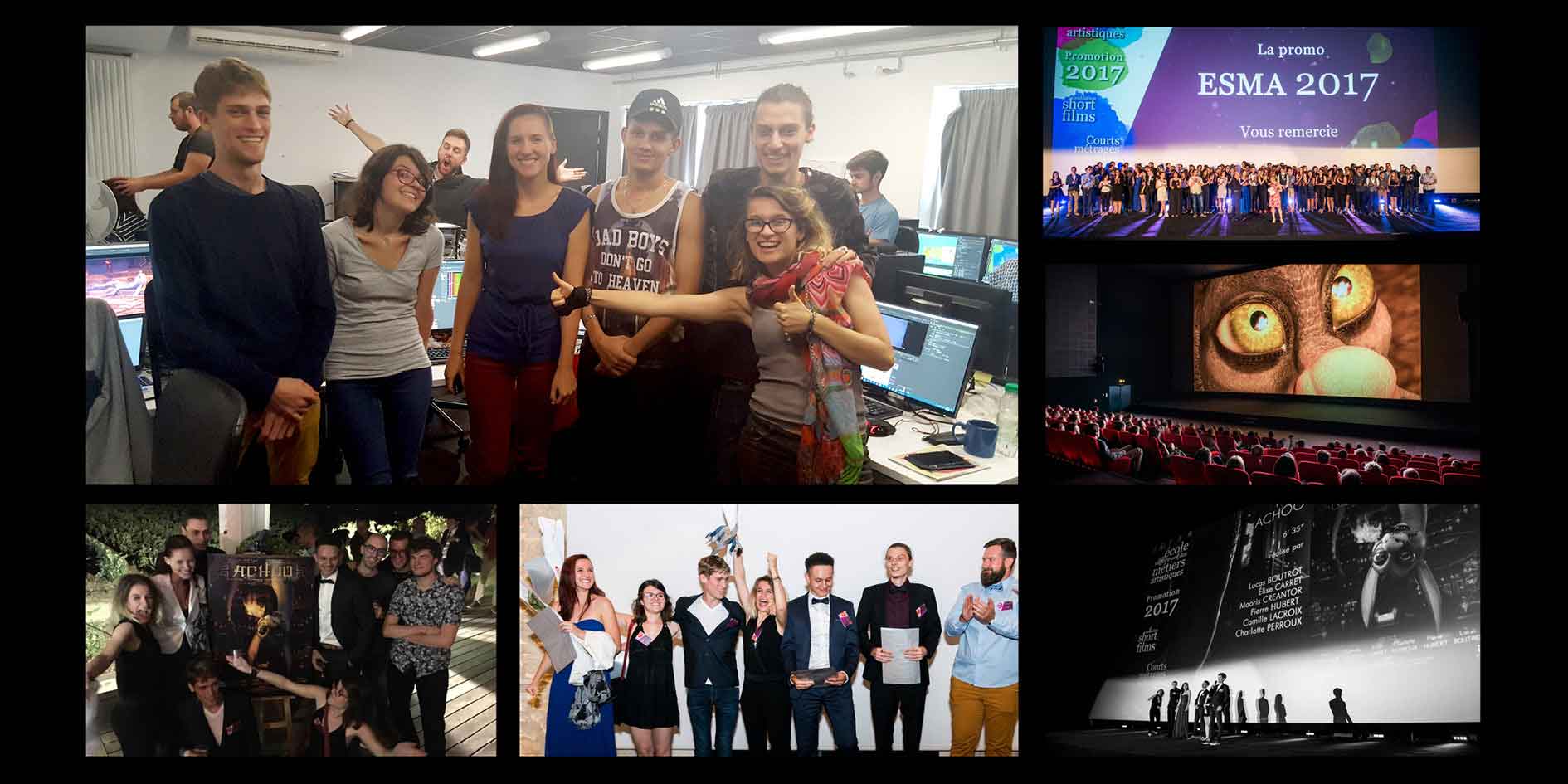 My desire to go to festivals came with the Oscars, because I had to fight to get there. I was really lucky to be in Paris and not on the other side of the world or even in London. My position in the centre of Europe allowed me to travel quickly without too much expense.
It's an extremely rewarding experience. Quite often, you give your best to produce this graduation film. You see it at the end-of-year screening, and it's already finished. You get a job and move on. But I was able to live the sequel! The life of a finished film that travels around the world! There's a very rewarding sense of accomplishment. Meeting an audience gives such indescribable sensations. You have to live it to understand. Seeing so many heterogeneous spectators laughing in different ways, receiving so many thanks from a touched audience, hearing their applause, dialoguing with them… You don't watch a film anymore, you live a film!

ACHOO HAS BEEN SELECTED ON THE OSCARS ON THE ADDITIONAL LIST. YOU WENT THERE. HOW DOES IT FEEL TO HAVE YOUR FIRST MOVIE WIN AN OSCAR?
Indeed, I never imagined I'd ever be invited to the oscars ! Too impressive! So unlikely ! So young and for a graduation film. And yet it happened. I can't believe it! But that's to say if everything is possible… even the most improbable things!
I remember telling my parents at a very young age that the day I make a real film, I'll have made a success of my life. Well, it's done! I even feel like I've gone further thanks to this experience of projectors and red carpets. But I'm lucid and aware that it's a stroke of luck, and I'm very grateful for it (there are so many incredible films to be released every year)!
Moreover, we must not forget that the best reward is not only the prizes, but the laughter and applause of a happy audience.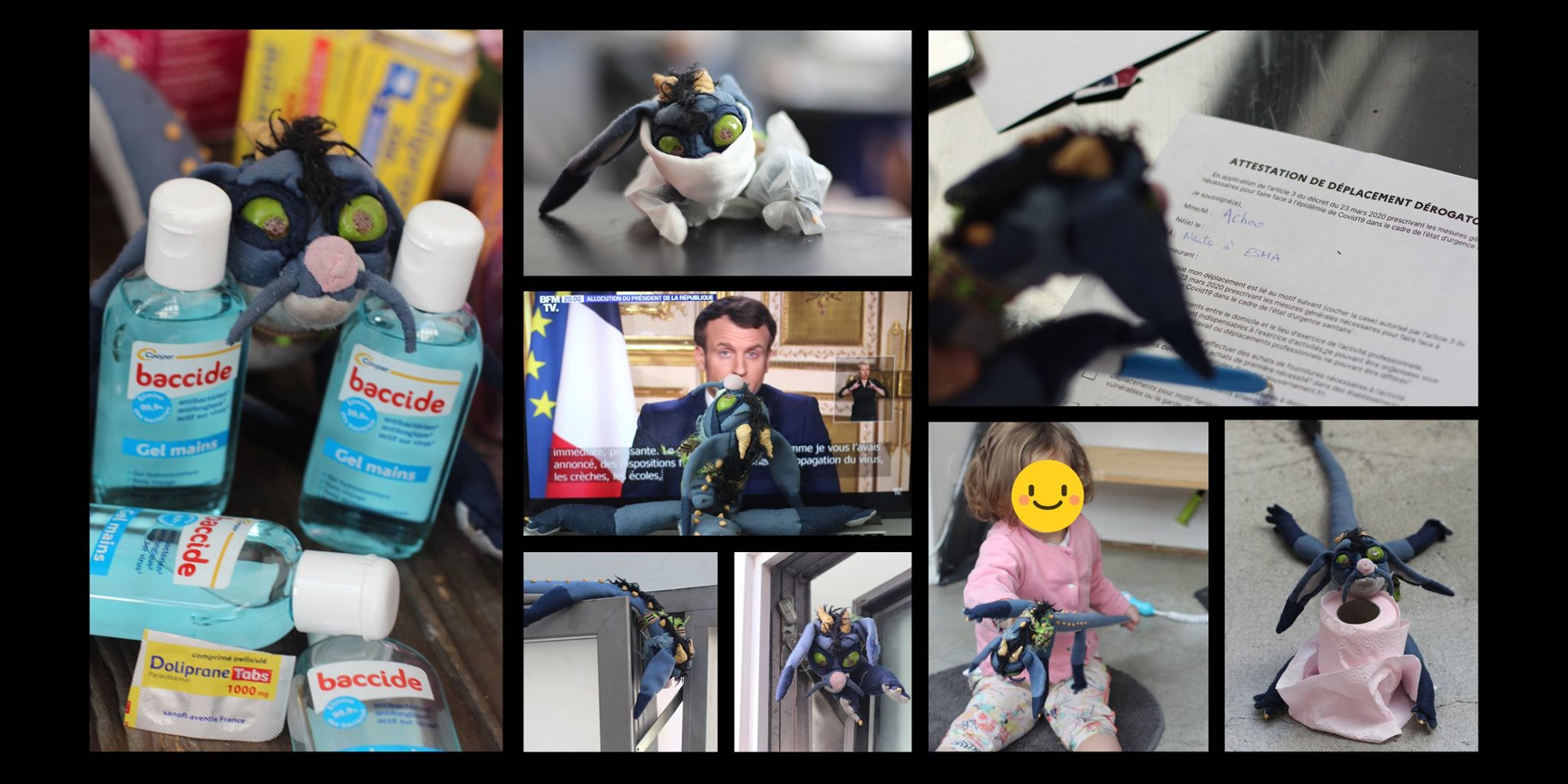 A LAST WORD ON ACHOO?
To your wishes 😉 And stay home if you sneeze fireworks! It's probably the covid-20.
To conclude
THE FILMS OF THE NEW PROMO (2019) ARE BEING BROADCAST. ARE YOU FOLLOWING THEM
Absolutely! Especially with Œil pour Œil which has been at the VES Awards and has already won a lot of awards! I'm lucky to have a very good friend in the team who shows me all the news live! I hope he'll go all the way to the Oscars!

WHAT ARE YOUR PLANS FOR THE FUTURE?
I have many! After 2 years of mopin' around the world, I'm back in the game again! I'm slowly getting back to digital painting and modeling. I made a book of illustrations with Indian ink on the French Revolution (a simple Inktober at the base… which became too big!).
Currently, I'm participating in evening trainings on 2D animation, storyboarding, and scriptwriting! So I'm going back to school at night ! I already have too much homework! It's been a long time hahaha!

A LOT OF YOUR CLASSMATES GO TO THE FOUR CORNERS OF THE WORLD TO WORK. DIDN'T YOU WANT TO DO THAT, TOO? DO YOU WANT TO TRAVEL ABROAD?
I had told my friends that I wouldn't stay in France after my studies… Well, I'm still in France and they've already been around the world ahahah! And I have no regrets! So, I could easily participate in the promotion of Achoo and visit Europe on weekends thanks to our dear French capital. But the desire to discover new countries and cultures remains the same as the one I had during my studies.
FINALLY, A LITTLE ADVICE TO GIVE TO STUDENTS AND FUTURE STUDENTS?
Enjoy every day of your life! Whether it's in rush, on break, at work, in free time, in a team, alone, on the go, on a trip etc. Live your life as an exciting adventure that you write!