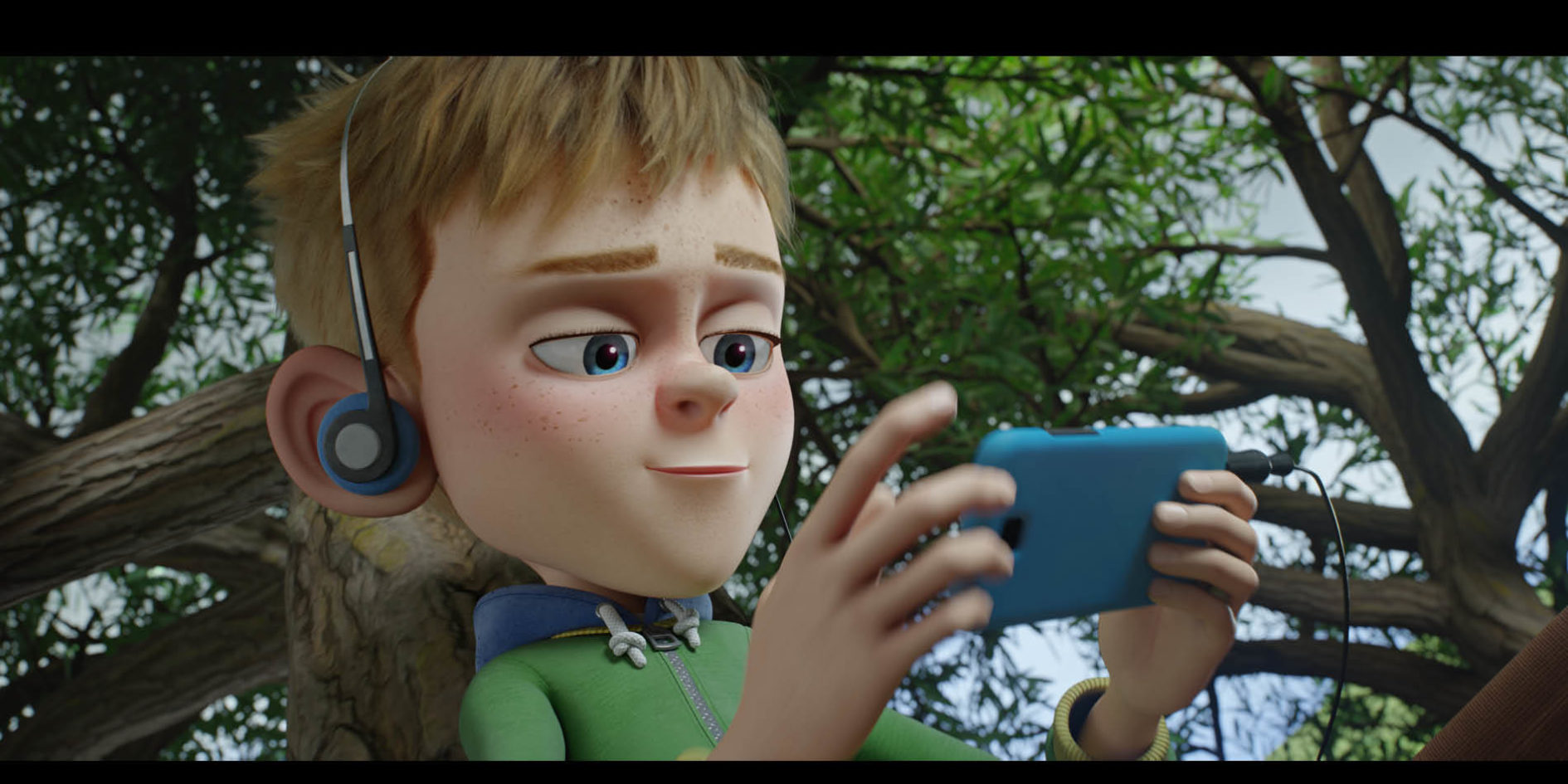 Elodie HOUARD
Perseverance and discovery are the hallmarks of Elodie Houard, a former ESMA student. Her curiosity pushes her to deepen her knowledge and skills in her job as a rigger and in her life as a person to go on an adventure. Discover his career and his portrait!
A look back at your ESMA years
WHAT MADE YOU DECIDE TO GO INTO THE WORLD OF CG ANIMATION AND FX? AND WHY DID YOU CHOOSE TO INTEGRATE THE FORMATION OF ESMA?
In high school I had already chosen an artistic path, I was in applied arts. I have always loved drawing and art in general. After 3 years of applied arts, I figured it wasn't exactly what I liked. Yes, I liked the drawing but something was missing. I wanted to reconcile drawing and computer science. A friend told me about ESMA and I knew that's what I wanted to do. The training brought together everything I loved!
WHAT DO YOU LIKE ABOUT THE WORLD OF CG ANIMATION AND FX?
The freedom of creation! There are very few limits to what can be done and the technology is moving so fast that challenges are always postponed. Our imagination is more or less the only barrier.
WHAT DID THE TRAINING BRING YOU?
The training has brought me a rigour that is highly appreciated in the studios. We have learned to be fast and efficient and this is a big advantage when starting out in the job market. I chose my speciality rigging because I like this rigour.
WAS THERE ANYTHING YOU PARTICULARLY LIKED ABOUT IT?
Rigging is just that. It doesn't depend on an aesthetic opinion, you have to achieve a certain deformation and it works or it doesn't work. And we have so many different ways to do it and we can constantly improve our technique.
WHAT DID TEACHING AND TEACHERS BRING YOU?
Each teacher has his own vision of things. It prepares us to juggle the different expectations we will have from other departments. Many people have no idea what the riggers are doing. Quite a few schools offer real rigging training. So sometimes it's a real exercise to explain what you can and can't do to solve a problem.
HOW WAS YOUR PROFESSIONAL IMMERSION AFTER YOU GOT OUT OF ESMA?
It took me a few months to find my first job. Rig is a very important part of the project. If the rig is bad, the result of the animation will be bad so the first station is not the easiest to find but once you put your finger on the gear, it rolls by itself!
Riggers are very much in demand for their know-how, moreover, there are quite few riggers and even fewer girls who practice this profession! But that's changing, fortunately! I see more and more girls going for it.
Your professional background
CAN YOU PRESENT US YOUR PASSAGES AT THE DIFFERENT STUDIOS WHERE YOU HAVE WORKED? WHAT ARE THESE DIFFERENT EXPERIENCES BRINGING YOU?
I started at 2d3d Animation in Angoulême, France, where we were doing repair/adaptation of rigs from Italy. This experience allowed me to familiarize myself with how a studio works.
Then came the time for me to go abroad! I went to MPC in London to try my hand at vfx. I stayed there for 6 months but quickly realized that it wasn't for me. I lacked the freedom you can have when you work on cartoons. So even though I loved London life, I went to Belgium, to Nwave in Brussels.
Now I really enjoyed my work! We had a great team and very good working tools. There I received a very advanced training in facial rigging from Matthieu Deltour, a former ESMA alumnus, who was the facial lead there. And Jérôme Drese, my supervisor, taught me a lot by giving me script lessons in our free time because I said I wanted to improve my python skills.
After 2 years there I wanted to change so I traded the Belgian rain for the Canadian snow and here I am in Quebec! It's quite a change to leave Europe, but I don't regret it at all, I love Montreal! Now I have been working at Cinesite for two and a half years as a facial rigger.
NOW, WHAT IS YOUR CURRENT POSITION AND WHAT DOES IT CONSIST OF?
I am currently a senior facial rigger. I take care of all the facial deformations of the characters, rig / blendshape etc. and from time to time I develop some tools to facilitate/accelerate my work even more.
WHAT DO YOU LIKE ABOUT THIS JOB?
Freedom of action. As long as the result is there and respects the standards, we can organize ourselves as we please. Each rigger has its own technique and way of doing things and you can recognize the work of another rigger simply by opening one of his work scenes. It's a bit like a signature, there are as many techniques as there are riggers. We can exchange on our techniques and see what suits us best and adapt them with new ideas.
WHAT SKILLS AND QUALITIES ARE REQUIRED TO DO THIS JOB?
Be resourceful. If there is a rig problem, it must be solved point blank. All the techniques are more or less accepted, but it is necessary to find a solution, we have no choice. You have to be imaginative too.
IT WOULD SEEM THAT THE PROFESSION OF RIGGER IS MORE COMMONLY KNOWN AS "MALE". CAN YOU GIVE US YOUR OPINION ON THAT?
Totally! Totally! Currently we are four girls for twelve boys. And again, we are delighted because we consider ourselves to be a lot of girls! In France and Belgium I was the only girl and in England there were supposed to be about ten girls for fifty boys on the whole floor.
Little by little it is changing. More and more girls are taking male-dominated jobs and it's for the better! After men or women, we all love our work and we are above all artists. It's always better if we can achieve equality. The world is changing!
CAN YOU TELL US ABOUT THE DIFFERENT PROJECTS YOU HAVE WORKED ON IN THE DIFFERENT STUDIOS WHERE YOU HAVE WORKED?
At 2d3d animation I worked on a UNICEF project: Iqbal the child who was not afraid. This is a true story about child labour. The project combines both 2D and CG.
At the MPC studio I have been on quite a few projects but never for a very long time. I worked on Creepy Flesh, The Finest Hour or Alone on Mars even if it was a more than lightning moment at the end of my contract.
At Nwave my mission was more about the movie The Son of Bigfoot.
And finally at the Cinesite studio, I worked on Trouble, Star, Riverdance and Extinct. The last two being my favorite projects. I can't wait for them to be released in 2020!
AT THE ESMA YOU WERE A SMALL NUMBER OF PEOPLE MAKING A FILM. NOW YOU'RE WORKING WITH LARGER TEAMS. HOW ARE THINGS WITH YOUR EMPLOYEES AND OTHER DEPARTMENTS?
The dynamics remain the same and ESMA has trained us well for that. In large organizations, to get a message across, it is not enough to turn to colleagues to discuss it, you have to do emails and meetings (although sometimes a quick little discussion on a corner of the office is more effective and quicker so we always do it).
We must also learn to manage with people from all over the world and therefore take into account the culture of the person in front of us to avoid misunderstanding and they have not had the same training as us either. It may happen that some people do not know what rigging is at all. As a Frenchman, we are very frank and we often have to be careful what we say so that they don't take offence, even if for us what we said was nice haha!
YOU HAVE WORKED IN SMALL STUDIOS DURING YOUR INTERNSHIPS AND IN INTERNATIONAL STRUCTURES. WHAT IS YOUR FEELING?
Each studio has advantages and disadvantages. The quality of the tools differs, but what changes most is the hierarchy to be respected. In a large studio, as soon as you need to do or request a touch-up, it must go through emails, leads and coordinators, while in a smaller structure, a simple email, chat or small discussion is enough.
YOU'VE MOVED QUITE A BIT IN DIFFERENT COUNTRIES: ENGLAND, BELGIUM, CANADA. DID YOU NOTICE ANY DIFFERENCES IN WORK BETWEEN COUNTRIES?
Not all studios are trying as hard as they can to become "globalized". This already involves the widespread use of English. Large structures often share their work with other studios so it is really necessary to do a clean and standardized work. And since artists come from all over the world, wherever they are, we always find the same thing everywhere.
WAS IT A CHOICE ON YOUR PART TO GO TO SEVERAL COUNTRIES OR DID YOU RESPOND TO OPPORTUNITIES?
Both of them! I love to travel so I take advantage of the opportunities offered to me to leave. That's the advantage of our job, we can go a little bit from everywhere without any problem! When I am in a place, I take the opportunity to visit the country and the surrounding countries.
DURING YOUR VARIOUS POSITIONS, DID YOU HAVE TO WORK WITH ESMA ELDERS?
Oh yes! Yes! Wherever we go, there are ESMA alumni from absolutely everywhere! It's a small world. Actually, it's the studios where there are no ESMA alumni that are hard to find! In my current team we are two ESMA alumni.
Montreal is, in general, a landmark to old ESMA, we are a very large community here.
IS THERE ANYTHING YOU'RE PARTICULARLY PROUD OF?
Yes, the project we're finishing: Extinct. It's going to be really great, very beautiful with a fun and very interesting story about the rig. It's a change from classic humans since it talks about an "extinct" race of animals, so there was really something to have fun with!
To conclude
SO HOW IS LIFE IN CANADA?
That's great! That's great! It's obvious but for me who comes from the South of France, I've almost never seen the snow in my life and well, I'm served! This winter, I had more than a meter of snow in my garden in places! And the cold is not so bad once you are well equipped, even though I was afraid when I learned that -20° was normal in winter. Montreal is a city that moves a lot, there is always a festival somewhere.
DO YOU STILL WANT TO TRAVEL A LITTLE BIT OR DO YOU THINK YOU'LL GO BACK TO FRANCE?
France is not in my schedule at the moment. I am awaiting permanent residence in Canada in order to settle here permanently, but this will not prevent me from continuing to travel between projects.
WHAT ARE YOUR PLANS FOR THE FUTURE? WHERE DO YOU SEE YOURSELF IN FIVE YEARS AND WHAT WILL YOU DO?
Five years is a long time ago! Five years ago I didn't imagine myself here anyway, that's for sure! So it's hard to project yourself this far but I think I'll stay in Montreal for a while because I really enjoy it. For the rest, we'll see!
FINALLY, A LITTLE ADVICE FOR STUDENTS AND FUTURE STUDENTS?
Hang on! Hang on! The journey may seem difficult and will certainly require sacrifices, but you have to hold on because the result is really worth it. You have to believe in yourself while knowing how to step back. The secret lies in perseverance.