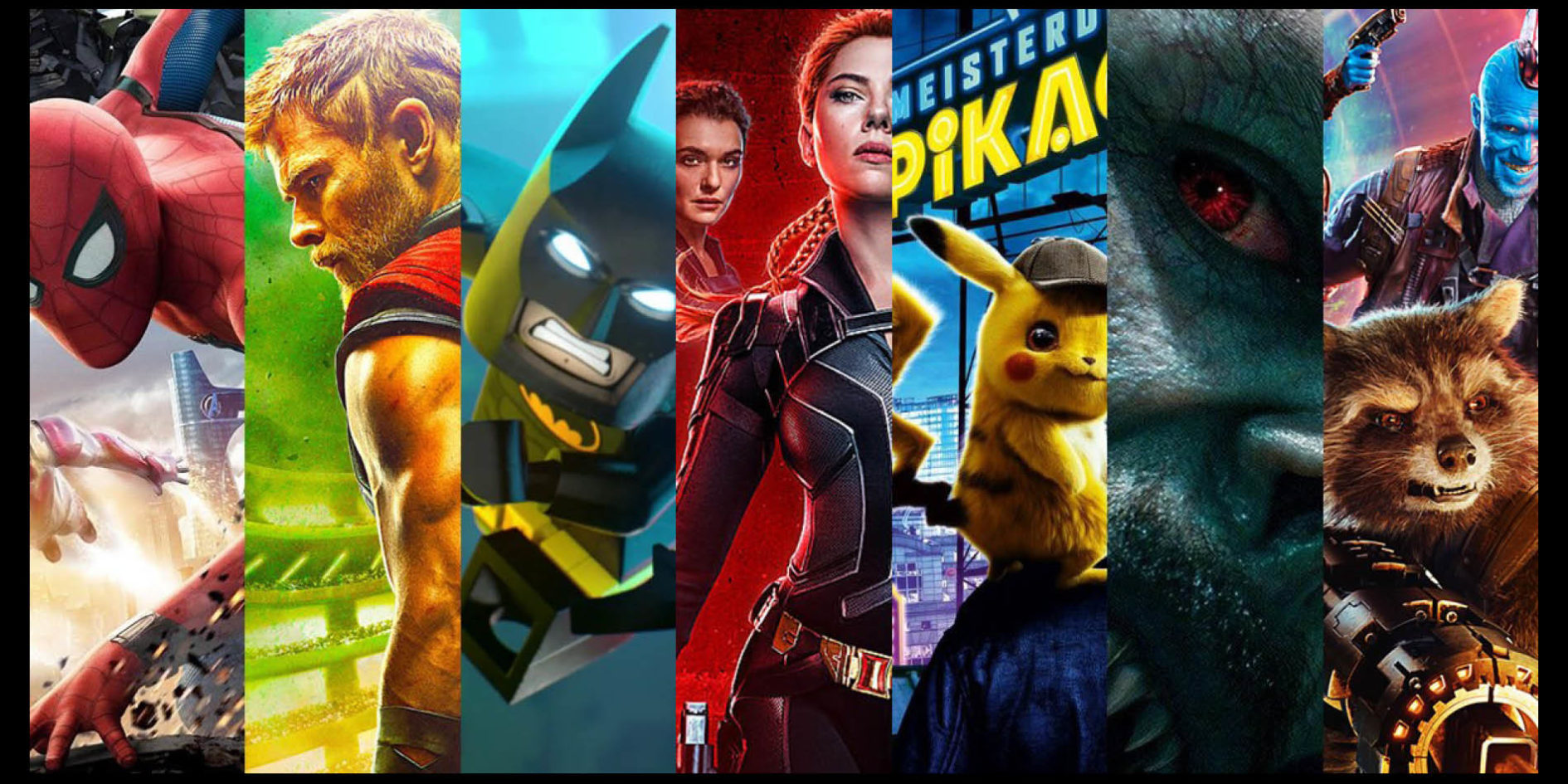 Scott Beharrell Bono
Graduating in 2011, Scott has chosen to live his profession through projects, working in multiple studios and countries. This was made possible thanks to his freelance status. He tells us about his decade spent in the world of CG animation and FX.
Looking back on your ESMA years
WHY DID YOU CHOOSE TO INTEGRATE A CG ANIMATION & FX Master degree?
My interest in CG was very late and discovered a little by chance… In 2007, I was finishing a pro baccalaureate in Graphic Communication (focused on print: posters / posters, adverts, magazine design, etc.) and at the time I was thinking of joining the world of work the following year.
During this last year, I was supposed to do an internship in a company, but what was new was that they were also working on video. One of the graphic designers was also able to model in CG, which was quite new at the time.
What was supposed to be a very normal internship where I composed packaging, posters and brochures, turned out to be a crazy experience!
I found myself catapulted onto a set, camera in hand, capturing transition shots for a TV commercial project. Afterwards I had the opportunity to do my own editing on my own, which the ad director was kind enough to let me explore.
In short, it was at this point that I discovered this notion of "time" that didn't exist as a fixed image in the world of print. There was a big *CLIC*.
I was fascinated by the now possible artistic options that I had simply never considered before.
Since I loved to draw and create characters from scratch and CG seemed to be the future of animated film, I headed towards that.
To the distress of my parents, I managed to convince them that I was going back for a few years of study towards something that, for many parents, was not "a real job". (even less than a graphic designer in advertising).

WHY DID YOU CHOOSE TO INTEGRATE ESMA TRAINING?
I admit that I was very lucky. I knew nothing about CG at the time and was an easy prey to good marketing. It was easy to be fooled and to enrol with other public schools that promised great things without ever delivering them, except for a big bill.
What put me on the right track was during the open days, when I was able to visit some of the schools in Montpellier. What struck me most was the energy and attitude of the final year students who were presenting their projects and sharing their experience at ESMA. This energy did not really come out elsewhere, or only from the professors, but not from the students.
WHAT DID THE TRAINING BRING YOU?
In the space of 3 years, the school gave me the maximum number of tools and notions to come out with a fairly rich portfolio that allowed me to enter the world of work quickly.
The structure of the programme also forced me to learn team spirit, critical thinking and a global understanding of the process of designing a CG film.
Understanding the ins and outs of all stages of production was a great asset for me during my first years of work as a generalist.
Even today, as a CG animator, understanding other departments allows me to be a better element in small and medium sized companies, to better respond to their needs and therefore to evolve faster.
On another level, during these 3 (intense) years of study, I have met great people who are still today very close friends, family I would even say.
WAS THERE A SUBJECT THAT YOU PARTICULARLY LIKED?
I particularly appreciated the semiology classes with Mr Joubert. Even today I still look at the world of art and cinema through what he taught us. I do everything I can to keep a fresh and almost playful outlook, as he had during his years of teaching at ESMA.
He also had this positive attitude that shows that anything is possible with a little bit of guile, even in difficult times. Making decisions that are sometimes tough, but right. A very important value in the world of work but also in life in general.
DO YOU HAVE A FEW WORDS TO SAY ABOUT YOUR GRADUATION FILM?
After 9 years, I still don't realise that we were lucky enough to have Thierry Desroses & Féodor Atkine as our characters' voices, listening to them deliver our dialogues was something magical.
This little project was the best of us in 2010-11 and was the main part of our portfolio / demoreel at the time… That said, I admit I can't look at it without feeling a big embarrassment today, I only see the flaws haha !

HOW WAS YOUR PROFESSIONAL IMMERSION AFTER LEAVING THE ESMA?
After a few months of research (and rest) I joined Electric Theater Collective, in London in February 2012 as Junior Generalist.
Starting in this new professional world, in another country, is something quite terrifying but I discovered as soon as I arrived that "esmalians" are everywhere, and London is a small bubble where all the ESMA alumni were there for each other. It changes everything when you arrive without knowing anything.
The level of expectation from superiors when you leave school is also very flexible and I was fortunate to have been able to start slowly with my team already confident in my abilities.
Your career path
YOU JUGGLE BETWEEN FREELANCE AND STUDIO WORK. CAN YOU TELL US ABOUT YOUR PROFESSIONAL BACKGROUND?
I started as a generalist for about a year at ETC. Then I managed to work as an animator and I roamed as a freelancer for 4 years: The Mill, MPC, Passion Pictures, CineSite, Jellyfish, Red Knuckles, ETC, Field-trip, Blue-Zoo, Partizan, Automatik… I worked on commercials, game cinematics, short films, music videos, movies, TV shows, medical videos…
I liked to move, I liked to change scenery, projects, styles. I wanted to discover as many studios as someone would want to discover all the pastries in a bakery ahah!
And then eventually I had the opportunity to work in Munich, Germany for Trixter where I worked on the big vfx movie Guardians of the Galaxy Vol.2 & Spider-Man: Homecoming.
The change of pace in the much slower film (versus TV) world made me appreciate being able to really go into detail, which is rare on much shorter projects and with less budget.
I then continued in the Framestore studio on Thor: Ragnarok and then Mowgli.
A year later, in 2018 I wanted to move to Vancouver where I joined MPC on Pokemon: Detective Pikachu and then Digital Domain on Black Widow and Morbius.
I am clearly still fidgeting and have no idea where I'm going to live in the coming year, but I love the surprise!

YOU WILL BE WORKING ON CONTRACTS OF VARYING LENGTHS, JUST LIKE THE STUDIOS. ISN'T LIFE COMPLICATED?
I admit that my LinkedIn can be scary when you see it, but you have to remember that three quarters of the experiments were in London. So crossing a street to go to the studio across the street or at the end of the street.
There are a lot of studios in Soho, in the heart of the city, a very small heart of 2.5 square kilometres.
I kept the same flat, took the same tube line in the morning and got out at the same stop every day. I confess I walked in the wrong direction when I started in a new haha box!
More seriously, this rather unique experience would never have been possible if I was working in France, Munich or even Vancouver. There are many more studios in London and they are all stuck together. So whatever your level and objective, you have a much better chance of finding a company that is looking for what you have to offer and with dates that work for both parties.
Doing this in Paris? As a junior? ah! Impossible.
Also, not everything was under control in the beginning. The precariousness exists and I had some downtime during my first year. I was very naive. An unpleasant surprise put me on the spot and I then decided to cover myself, not to take the studios (recruiters) at their word, but on paper with signature only (and even then I would say to be careful).
In short I put my "advertising" hat back on and started selling "Scott – animator" to the fullest.
Because you can be a great talent, if nobody knows you or thinks about you during the recruitment process, then you don't fit the project! It's as simple as that.
It was stressful at the beginning, yes, but once the network of contacts starts to grow a bit, that the same studios call you back, it becomes very simple. At a point where you can turn down projects and recommend friends.
And the magic of friends is that they return the favour and so you expand your address book and the possibilities of being contacted via recommendations and expand your circle again. I think I can say that at the time I managed to control the freelancing chaos (just like a juggler would do with balls in every direction).
It's taff and it's a lot of maintenance but once it's set up it's very simple.
Professionally and humanly I found it very rewarding. You discover multiple pipelines with different advantages and disadvantages, different tools, different approaches and philosophies at work. Fabulous people with whom I still keep in touch after all these years and others that one hopes never to come across again. All this would not have been possible if I had stayed in the same box.
Indeed being more stable in the same company would probably have allowed me to rise as a Lead or Supervisor, like some of my friends. It's a different kind of experience.

WHAT ARE THE ADVANTAGES/DISADVANTAGES OF SUCH A LIFE?
For :
In my opinion, it's much easier to find work as a junior in small studios and therefore to update your portfolio quickly with a variety of projects.
You discover and learn very quickly the tricks and tools you like best in the studios, you become a Swiss Army Knife of animation.
Moving around freely gives you the option to choose projects that you enjoy the most.
You become a pro at emailing recruiters, negotiating (you can review your salary at each studio transition) and creating invoices.
Contracts are shorter, but the salary / days is higher.
A constant feeling of novelty and discovery.
Cons:
It's a lot of effort to set up a network that makes sense and maintenance to keep it in place.
It's a lot of stress when you lack confidence in yourself or your work.
This is not possible everywhere.
The salary per day is higher, but the contracts are shorter.
The financial management (invoicing, taxes, pension, insurance, etc.) is entirely up to us.
A huge amount of emails to be sent every 30/60 days.

CAN YOU TELL US ABOUT YOUR JOB AS A FACILITATOR? WHAT DOES IT CONSIST OF AND WHAT DO YOU LIKE ABOUT IT?
That's a big question! Liking this kind of thing is often very personal and individual. It doesn't often make sense to the people around us (after 15 years in the artistic field, the family still doesn't understand, for example).
Whether it's an ad for shampoo with a funny mascot, a racing car racing on a racetrack… what fascinates me is to understand who the character is in order to express it best on screen.
There are so many possible things to convey in a movement and so many ways to convey this information.
In a sense I think I'm a form of actor, not the one in front of the camera, no, not the one in the mocap suit, either, but like a puppeteer. In itself, he's the one who plays the character, who gives him life and emotion.
The magic of CG means that from one day to the next I can be a yellow electric mouse or an aeroplane; the week after a stone monster or a goldfish, a spider man, a TV with legs, etc.
As much as I love to animate, I especially love to observe and learn how an element moves, be it a living or mechanical being, to understand how the silhouette of a bird's wing will differentiate it from another and affect its wing flapping, what are the similarities and differences with an aeroplane. An animator has to do a lot of research, it's a passage that I also like (and sometimes even more than animating haha!).
WHAT ARE THE QUALITIES / SKILLS TO DO THIS JOB?
Quality level: Observing what surrounds us, mainly… and being very patient.
Leaving one's ego at the door is also a good thing: to be able to take absurd videos of ourselves as a reference. You'll look like an idiot and yes it will end up on the supervisor's screen in the review room around the corner of your playblast, that's how it goes haha!
Animation is one of the rare departments where the profession evolves very little with software updates. A big part of the work is in the way in which you play with the curves of anims and above all to make the little piece of geometry "live" on the screen.
DURING YOUR CAREER, YOU WORKED FOR A STUDIO BEFORE RETURNING TO IT LATER. HOW DOES IT WORK?
In a very simple way actually. If the first experience was good, they contact you when they need you.
If the dates match for everyone, it's in the pocket.
If you are not available and you recommend a friend, they still have a "trusted" artist when they contact you (so don't recommend just anyone). You become the referrer to get a facilitator.
IS THERE A STUDIO YOU PARTICULARLY ENJOYED WORKING FOR?
That's a trick question… I had the best and worst experience in the same company: Passion Pictures in London. It depends entirely on the people you work with and the needs of the project.
One toxic element, whether it's on our side or the client's side, can spoil an entire production.
Then there are elements that are unique to a company, such as a bad pipeline or too many cartwheels…
IS THERE A PROJECT YOU ARE PARTICULARLY PROUD OF AND WOULD LIKE TO TELL US ABOUT?
It's not a big project, but I had a lot of fun working on a small ad with Legos, animating it like in the film, stop-motion style, a big treat in terms of animation (even if the result doesn't look good).

YOU ARE CURRENTLY WORKING IN CANADA. WAS IT COMPLICATED TO GET A VISA AND BE ABLE TO WORK IN THIS COUNTRY? DO YOU PLAN TO STAY LONGER?
For Canada, it is not particularly complicated, but it can take time. Some people may have a WHP, which is ideal. Personally I was not so lucky and I had to resort to a "Sponsorship", a visa that allows you to work for a single employer and often limited to the duration of the contract. It depends entirely on the studio to extend your visa or not. The whole process has to be done again if you want to work elsewhere (so I recommend that you do it 3-4 months in advance).
Vancouver is nice but it's not the best place to work. I'm open to stay in Vancouver, but also to discover Montreal or even Sydney. In any case I'll have to redo all the visa procedures for a job.
We'll see!
WHEN YOU ARE FREELANCE, HOW DO YOU WORK WITH THE STUDIO AND ON THE PROJECT?
There are not really big differences. The logistics and salary are different due to the nature and duration of the contract, which is often shorter, afterwards it's exactly like starting in another company.
The big advantage for animators is that you can start working from the first day in the studio, which would not be the case for a rigger, who potentially has to learn the whole pipeline beforehand for example.
HOW DO YOU FEEL WHEN YOU SEE YOUR WORK PROJECTED ON THE BIG SCREEN OR ON TV? AND DO YOU GO TO SEE THEM AT THE CINEMA?
It's quite funny because I haven't seen all the films I've been working on so far!
But I got little butterflies when I heard the theatre laughing with one of my shots at the cinema. I often have a big silly smile when I discover that one of my shots becomes a meme or a gif on social networks and when I come across it by chance online.
For the rest of the film, I confess that I am often distracted by: who made such a shot, production mates, stories during production… it often takes me out of the film (this is one of the reasons why I prefer to work in advertising, it allows me to appreciate cinema more freely).
NOW THAT YOU HAVE THE "BOTTLE", HOW DO YOU LOOK AT YOUR DEVELOPMENT OVER THE PAST 10 YEARS? WAS IT WHAT YOU EXPECTED WHEN YOU LEFT SCHOOL?
My career path has not been linear, clearly not a model for a career that would like to evolve quickly.
These 10 years have made me discover the difference between a project I would like to watch and a project I would like to work on: two things that are sometimes radically different.
I used to devour Pixar, Dreamworks and Disney and the others at the beginning. With hindsight, I realised that it wasn't the kind of productions that appealed to me, I prefer more humble productions where you have more freedom and less politics.
I also didn't expect an industry that was sometimes abusive and often had to fight for respect. Not as an artist but as a person and a worker. I did not expect to have to join a Union in every country I went to so that we finally start to be respected and paid for all our working hours. (no vfx is not always glamorous).
I didn't expect to meet so many wonderful people from all over the world in the same studio or at the same table. I also met a lot of ESMA alumni, we are everywhere! I also didn't expect to unpack so much information in this interview!

To conclude
HOW HAVE YOU EXPERIENCED THE EVOLUTION OF CG / FX SINCE YOU GRADUATED?
In terms of animation, the graph editor now has a new colour and "Cached Playback" is a fabulous option. By the way, no idea!
DO YOU HAVE AN IDEA OF ITS FUTURE EVOLUTION?
This year's pandemic has opened the eyes of many studios to the fact that working from home is possible, even for big productions.
I hope it will allow artists from all over the world to work on projects they like without compromising their family life, the country they live in and the rent they have to pay. Personally, big city life is starting to tire me out.
I hope that distance will be part of the future of the profession, for those who want it at least.
WHAT ARE YOUR PLANS FOR THE FUTURE?
To continue doing what I like, as long as possible!
AND IN 5 YEARS, WHERE WILL YOU BE?
I have no idea. Maybe still a facilitator in Vancouver, Lead in Sydney, teacher in Montpellier… Who knows – as long as I'm having fun, I'm happy!
ANY ADVICE FOR STUDENTS AND FUTURE STUDENTS?
ESMA is just the beginning, there's still a lot to learn, be humble. Don't compare yourself to the progress of others. Create your own opportunities. Contact even the studios you didn't think you could reach. Don't put your heart and soul into a project or a studio. Take care of yourself. Arrive on time and leave on time. Don't work for free.
No, a burger/sandwich is not adequate pay for 3 hours extra. Join the Local Union. Talk about pay with your work friends, especially before negotiating a contract. Always ask for an employment contract. Read your contract before you sign it. You don't get the job until the contract is signed.
Exercise, your back and mental health will thank you later. Start saving for your retirement from the start if you can. Enjoy what you do.
---
Follow Scott
Website: scott-bono.com
Instagram: @scobebo