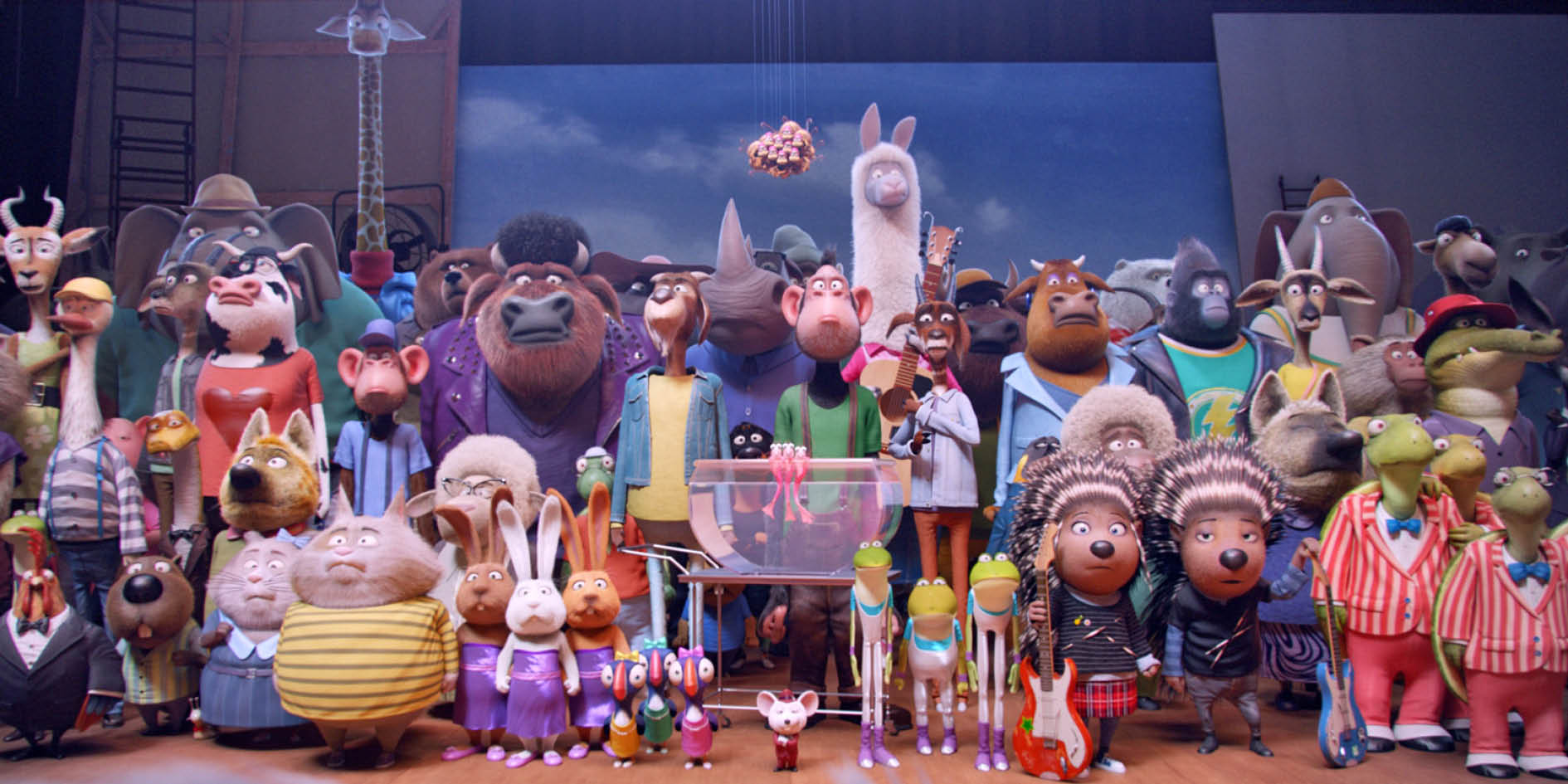 Thibault Stoyanov
Thibault Stoyanov graduated from ESMA in 2010. In ten years of experience he has seen the world of CG animation and FX. For several years he has been working for the Illumination MacGuff studio. We met him and he comes straight back to his professional career.
A look back at your ESMA years
WHAT DO YOU LIKE ABOUT THE WORLD OF cg ANIMATION AND fx? WHAT MADE YOU DECIDE TO GO INTO THIS ENTERTAINMENT INDUSTRY?
Before joining ESMA I had done a BTS in computer science in Toulouse but I didn't like this environment. I tried to reorient myself, without a specific goal, and that's how I discovered ESMA training, via the Internet. What I liked was above all the very creative side as well as the possibility of being able to create and have something concrete at the release: a short film. That's really what attracted me to this training and even to this profession.
WHY DID YOU CHOOSE TO INTEGRATE THE FORMATION OF ESMA?
Haha already there was the choice of the location of the school! Montpellier was not very far from my home. But beyond this criterion, what convinced me were the short films produced by ESMA. They were already of excellent quality. During my research, I remember seeing the film Tong, which had amazed me with its quality. For me, if the films were of good quality, it meant that the teaching was also of good quality.
WHAT DID THE TRAINING BRING YOU? AND THE TEACHERS?
When I arrived, I had no artistic background, only a technical profile. The school brought me this artistic vision: how to analyse a work of art, how to create one, how to "keep an eye". The teachers have brought us a lot at this level, especially Jean-Marc Urquidi and Christophe Joubert. So yes, many things at the artistic level but also all the technical knowledge you need to evolve in the world of CG and special effects.
DID YOU LIKE ANY PARTICULAR SUBJECT?
I particularly appreciated the scenario courses where we analyzed short films and film sequences by Mr. Joubert. Technically, it was more like modeling and rigging. I even made it my job!
CAN YOU TELL US A LITTLE BIT ABOUT YOUR GRADUATION FILM?
It was a great experience where I enjoyed myself! As in all group lives, there were ups and downs, but if I had to do it again, I would do it again. Being able to create something with your hands is fabulous. Today, I work on films where I have the status of an intervener and there are 300 of us working on a feature film. In the end, we end up a little detached from the film itself. On a small project like the one for the final short film, we have control: it's our project.
HOW WAS YOUR PROFESSIONAL IMMERSION AFTER YOU GOT OUT OF ESMA?
I left in 2010 and in January 2011 I was working at DNEG in London. The people in the studio quickly put me at ease and the integration was smooth. As I remember, I was interviewed by DNEG two months after the screening of the graduation films and then hired to start in January of the following year. It seems to me that I had submitted my demoreel to the DNEG studio during the job fair organized by ESMA and then I was contacted again later.
YOU WERE RELEASED IN 2010. ALMOST 10 YEARS HAVE PASSED. HOW DID YOU EXPERIENCE THE EVOLUTION OF cg AND fx OVER THE PAST DECADE?
The technological evolution has been impressive. It can be said that when I started my professional life, it was almost "artisanal". Nowadays, everything is much more automated and the technology supports image quality. As a result, the quality of films is changing. When we leave school, we think we know everything about technology and our profession, but that's not true! It is always necessary to learn and keep abreast of developments in the sector. You have to remain an apprentice. You acquire a lot of knowledge when you leave school, but you must not close yourself to this constant learning and you must know how to evolve with the profession.
FOR THE SCREENING OF THE GRADUATION FILMS OF THE 2019 CLASS, YOU WILL BE A MEMBER OF THE JURY. AS AN ELDER, HOW DOES IT FEEL TO BE IN THE ROLE OF JUDGE?
This is the first year I've been in this role as a judge! I had already participated in the end-of-year jury but only to attend the screenings. It's quite strange because I was on the podium about ten years ago and now I'm going to be on the other side. Besides, I come with Boris Jacq, my supervisor, who himself had interviewed me during my job when I finished my studies. The loop is closed!
WHAT DO YOU EXPECT FROM THE FILMS OF THIS PROMOTION?
Let them impress us with their eyes! The quality increases every year so we expect to see something superior. I don't expect a film to be focused solely on aesthetics, for me, when you make a film it's a whole. Even a so-called "simple" film can be the best.
So far I've only seen one teaser because it was my intern's from ESMA! I didn't want to look at the others because I want to keep the surprise for the screening and not have an apriori!
Your professional background
CAN YOU PRESENT US YOUR PASSAGES AT THE DIFFERENT STUDIOS WHERE YOU HAVE WORKED? WHAT ARE THESE DIFFERENT EXPERIENCES BRINGING YOU?
I started my career in the Double Negative Studio (DNEG) in London as I was saying. I stayed several months where I worked on Captain America and then John Carter of Mars. I was part of the support team for the animators, a little bit the little hands.
Then I was poached by The Mill, still in London, and there I was able to be rigged. I had a great supervisor who taught me a lot of things. The teams were smaller, which made it easier to exchange ideas. I have regained a bit of the form of functioning that I had when I was at ESMA. It was very interesting but the manufacturing times were short with a more intense work rhythm. Customers were also more demanding, being able to change their minds overnight. You had to be able to be adaptable, but it was very formative.
At the end of my assignment at The Mill, I had the opportunity to go to Los Angeles or Paris at Illumination MacGuff. I chose to go back to France and join the studio as a rigger on the Les Minions project. And that's it, since 2013 I've been at the Illumination studio.
AFTER SCHOOL, YOU JOINED THE DNEG STUDIO IN LONDON WHERE YOU STARTED WORKING ON BIG PROJECTS LIKE CAPTAIN AMERICA. HOW DID YOU EXPERIENCE IT? NOT TOO STRESSFUL OR IMPRESSIVE AFTER SCHOOL? AND THE RELATIONSHIP WITH YOUR CO-WORKERS? AND THE DIFFERENT DEPARTMENTS?
We don't realize we're working on a much-awaited film. We are immersed in our work and, as I was saying, we detach ourselves a little bit from the film itself. It should be noted that when you start working on the films, the promotion has not yet started, it starts about six months after you finish the film.
It's quite impressive because we're going from a school to a studio with a lot of people. The departments remained on a human scale, about ten people, so we could still exchange easily. We don't mix with all the departments, so it's still a limited working relationship, but the atmosphere has always been good, even in the biggest studios.
YOU WERE IN LONDON FOR OVER TWO YEARS, HOW DID IT GO FOR YOU? AND THE PRACTICE OF ENGLISH? WAS IT A CHOICE TO GO TO ENGLAND OR AN OPPORTUNITY?
Haha! Haha! So I like to tell an anecdote: one day a lady comes to see me while I was working on Captain America, and she was talking to me. I was content to answer "yes, yes". After a while I think she said to me: "you don't understand what I'm telling you" and I said "yes, yes"! It was very funny. I had some basics but I wasn't bilingual. In fact, they are used to working with foreigners and London is a very cosmopolitan city.
I went to London because I was offered a job but I also wanted to have foreign experience. What also helped me is that several childhood friends lived in this city. It allowed me to see another culture!
WHEN YOU CAME BACK FROM LONDON, YOU SPENT A FEW MONTHS AT PLANKTOON. THERE YOU DEVELOPED A PROJECT BASED ON Pierre AUGÉ (BITERROIS CHEF AND ESPECIALLY KNOWN FOR HAVING BEEN THE WINNER OF THE TOP CHEF CULINARY SHOW). CAN YOU TELL US ABOUT IT?
Pierre is a family and childhood friend. A few years ago he published a comic book and I contacted him after finishing my missions in London in order to propose him to adapt his comic book into CG animation. He liked the idea and gave me carte blanche. Two ESMA alumni accompanied me at the beginning of the project and then I continued on my own.
Feeling that there was potential, I submitted the idea to Pierre to have it produced as a series for children. We discussed topics such as food waste, good products… Planktoon gave us the means to make a teaser that we proposed to broadcasters.
Unfortunately it didn't work out, but the experience was rewarding. But that didn't demotivate me because I have another project, based on rugby now, still aimed at young people?
LATER YOU JOINED THE TEAMS AT THE MACGUFF ILLUMINATION STUDIO. YOU'VE BEEN THERE FOR SIX YEARS NOW. YOU'VE BEEN ABLE TO WORK ON PROJECTS LIKE MINIons, despicable 3, sing, the secret life of pets… CAN YOU TELL US ABOUT IT?
I started with them on the Les Minions project as a character rigger (at Illumination MacGuff we separate the characters to animate from the objects to animate). It was great because it made you dream! The project was nice, the production quite long – a year and a half. Then I went on to Sing 1, still on the same computer, which was a new license developed by the studio and director Garth Jenning. The characters were a little more evolved with slightly more precise and demanding requests from the hosts.
I followed on to Despicable 3, rediscovering the universe of the Minions I loved, and there again I evolved on the work: I managed secondary and even main characters. Then for a year and a half I participated in the project The Secret Life of Pets 2 where I further evolved by moving to the lead position.
Now, for a little over a year now, I have been a supervisor on the Sing 2 project. I am delighted with this development, I have more responsibilities and I work with a team of six people.
CURRENTLY YOU'RE ON THE PROJECT Sing 2. CAN YOU TELL US ABOUT IT?
Haha, for now it's still a secret! All I can say is that it will be in the same line as the first one. The director wanted to keep the essence of the first with English humour. I manage a team of six people and I have to propose solutions to the animators and other departments, have a coherent discourse towards the people with whom we are in contact: modeling, character fx, make rig proposals for the animation of characters… It is quite demanding and you have to be conscientious about what is produced.
The Secret life of pets 2 HAS JUST BEEN RELEASED IN THE MOVIES. CAN YOU TELL US ABOUT THIS PROJECT?
I had not participated in the realization of the first one so I had to discover this whole universe and dive into it. As I was saying, I was lead on this project, which lasted a year and a half.
Before that, I only worked on "human" characters and there I had to familiarize myself with animals. The anatomy is different and so is the approach. The film was released all over the world and has had very good feedback. We are very happy!
YOU'VE BEEN IN THIS STUDIO FOR SEVERAL YEARS. WHAT IS THE REASON FOR THIS LONGEVITY?
Already the studio is releasing quality films and regularly, it makes you want to stay. We are also trusted because I have been able to evolve on my positions and take more responsibility so I did not see myself leaving in full evolution. And then simply the family situation also makes me want to stabilize myself.
NOW, WHAT IS YOUR CURRENT POSITION AND WHAT DOES IT CONSIST OF? WHAT DO YOU LIKE ABOUT IT?
I am character rigger supervisor which consists in creating virtual skeletons on CG models. When you are a graphic designer, you get a CG modeling involving a constraint: a human, an animal… The human walks upright, the animal on all fours so you have to adapt its rig.
Today I am more in team management and finding solutions to problems. For example, one of the characters in Tous en Scène 2 had a particular problem and I had to find tools to solve it so that the other departments could do their work.
I also support my team's graphic designers in finding solutions to help them evolve and find solutions on their own. I have young people coming out of school, I have to support them as I did for me. There is also an educational side!
Finally, there is the relationship with the other departments, I make the link with them.
WHAT SKILLS AND QUALITIES ARE REQUIRED TO DO THIS JOB?
In my opinion, you have to be organized and develop your patience! We do virtual, so a director can change his mind. You have to know how to adapt and have the patience to start over on something else. But also hardworking and demanding.
GENERALLY SPEAKING, DO YOU GO TO THE CINEMA TO SEE THE FILMS YOU ARE WORKING ON?
As soon as the film is released, The Studio organizes a private screening for all teams, even those who have not worked on the film.
Recently he had the screening of The Secret Life of Pets 2 and the whole cinema was privatized for us! We can come with our family if we wish, it's really great. And it's great to see the finished product on the big screen.
HAVE YOU MET AND WORKED WITH alumni of ESMA THROUGHOUT YOUR PROFESSIONAL CAREER?
Of course! Of course! In my team we are three ESMA alumni out of six people! On the other rig team, there is an ESMA alumnus. And as mentioned earlier, I had an ESMA intern last summer.
Even at DNEG there was a small group from ESMA, also at The Mill. At the beginning at Illumination we were not too many, but over the years, more and more ESMA profiles have joined us.
IS THERE ANYTHING YOU'RE PARTICULARLY PROUD OF?
Frankly, I would say my final short film. It was our project, our baby, the only project where we had so much control over it. I remember the brainstorming we did with the screenplay teacher: we went into a frenzy, it was fabulous.
That doesn't mean I don't love the projects I'm working on and when everyone on Sing 2 is finished I'll be very proud of everything we've accomplished!
To conclude
PLANS FOR THE FUTURE?
Finish the projects in progress at MacGuff Studio, see what will happen with the new projects that will come in and develop my rugby project for the World Cup that will come to France in 2023.
WHERE DO YOU SEE YOURSELF IN FIVE YEARS AND WHAT WILL YOU DO?
It's still a long way off! We are in a business that operates from project to project. If I reappoint for a project, I would have at least two years. But why not always be at Illumination! I'm not closing myself down from going abroad either.
FINALLY, A LITTLE ADVICE FOR STUDENTS AND FUTURE STUDENTS?
For final-year students, they must take advantage of this opportunity to work on their film. This may be the last time they can work on their own project. They must take ownership of their project and remain in control of it because it may be the last time they will have a say.
Concerning the students who arrive, it is a lot of work and investment.