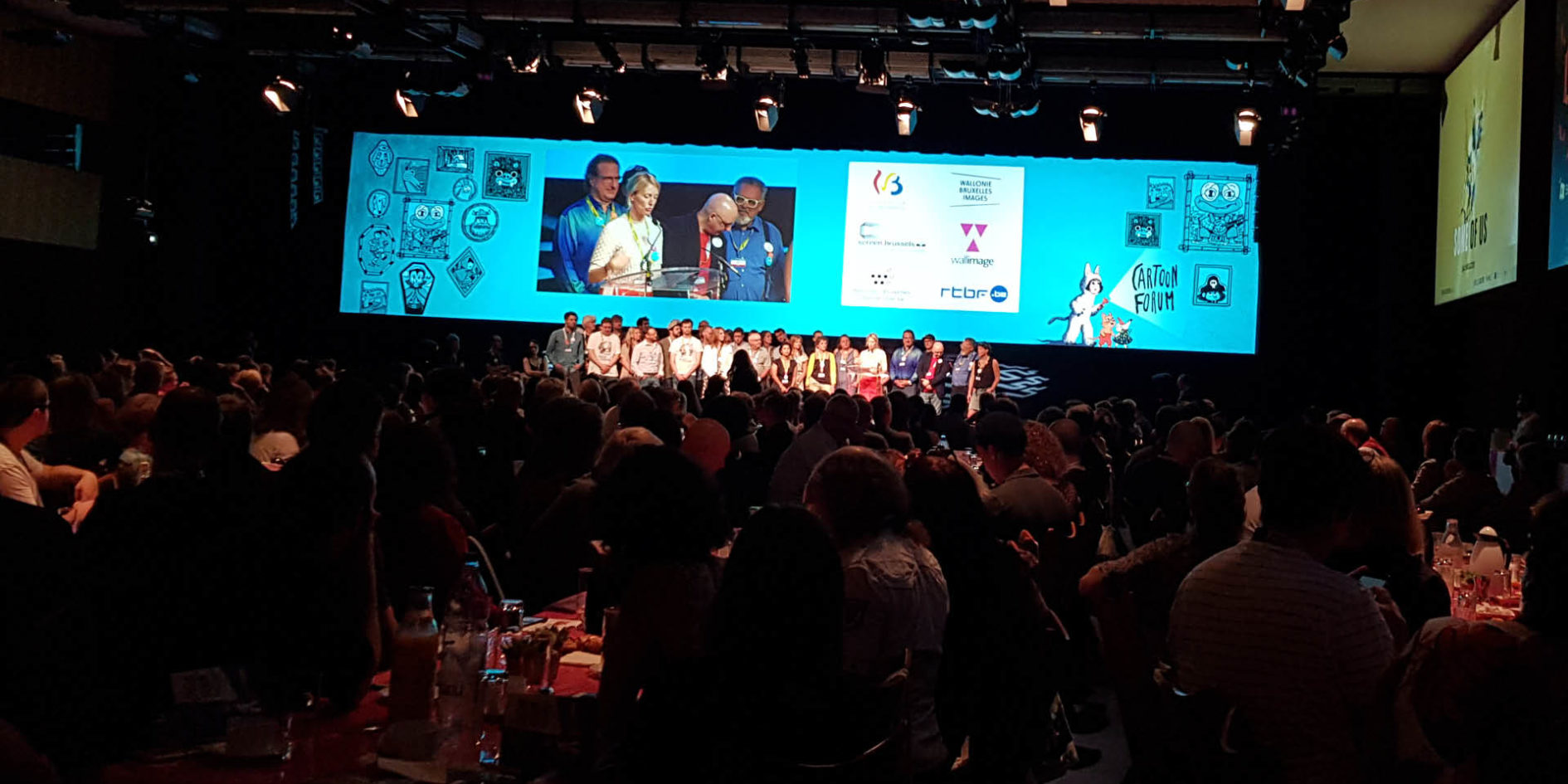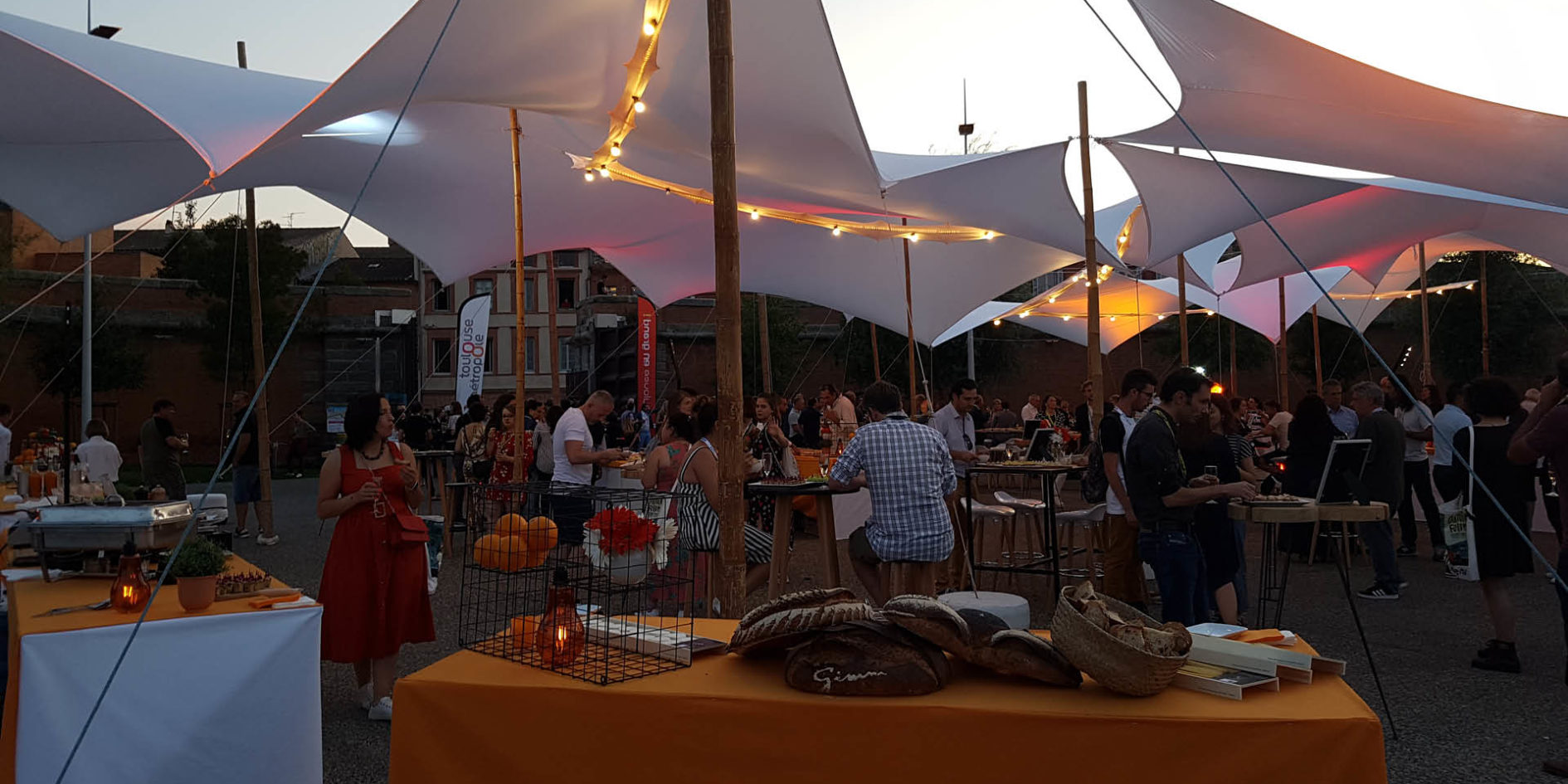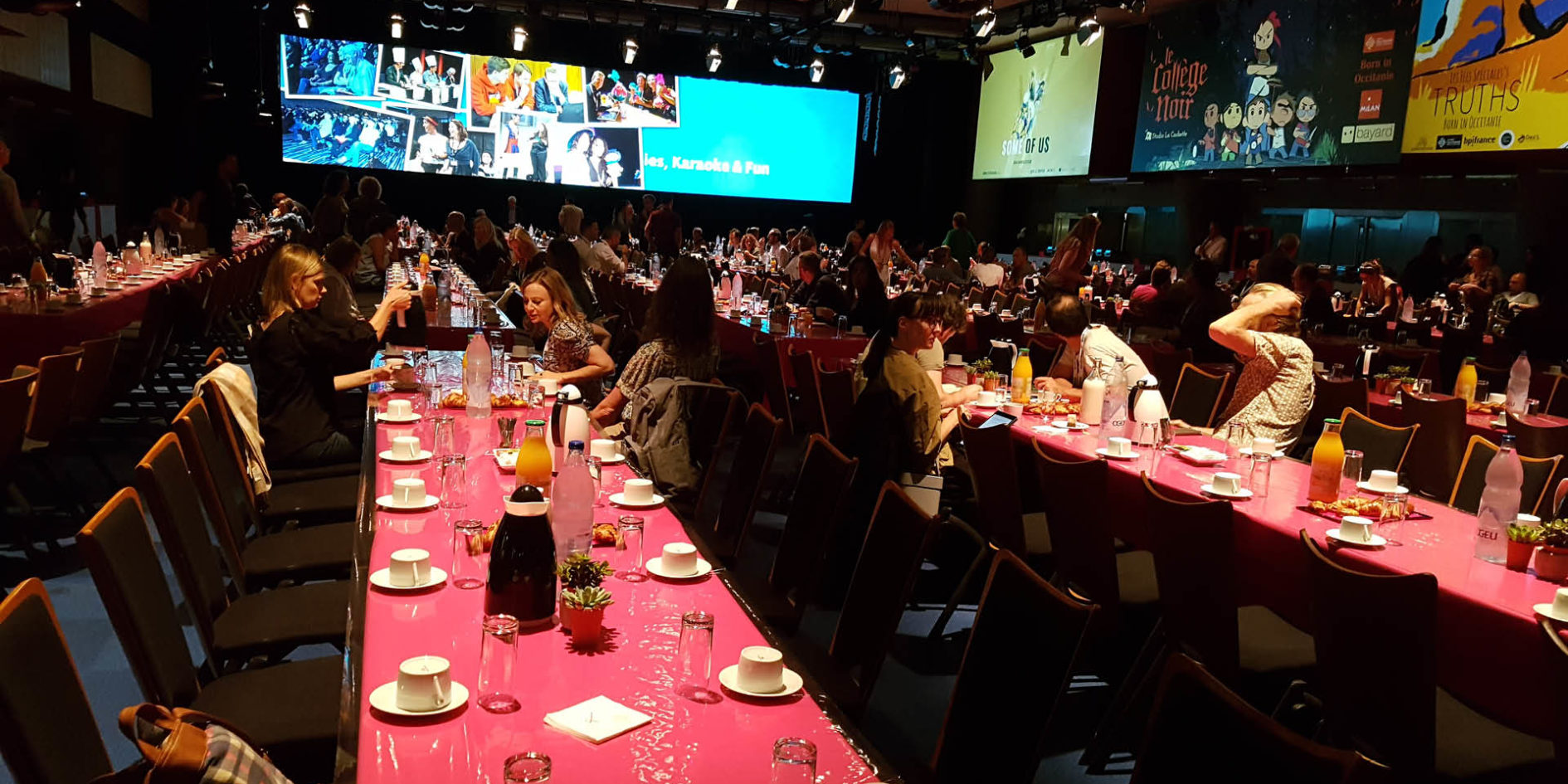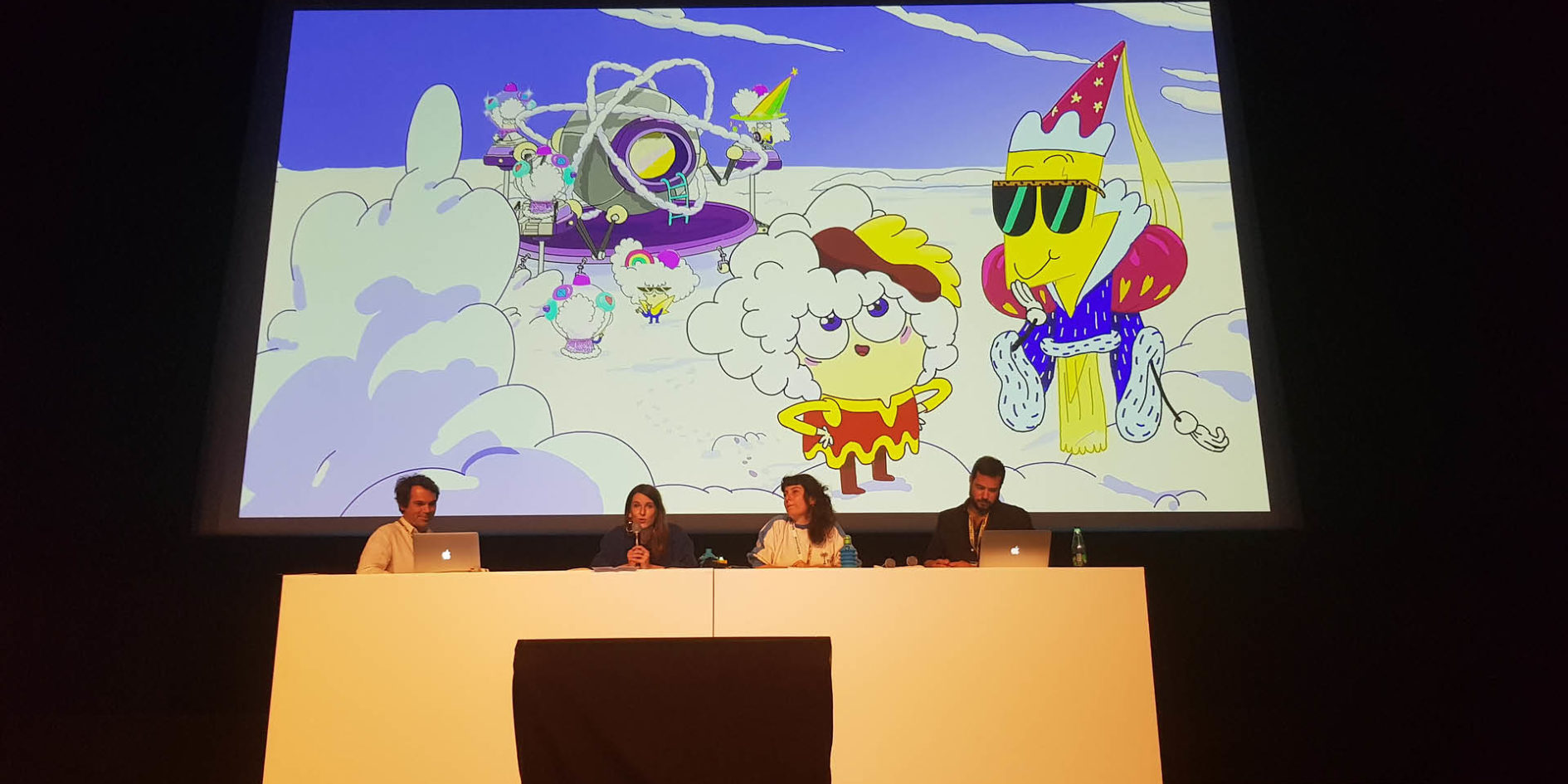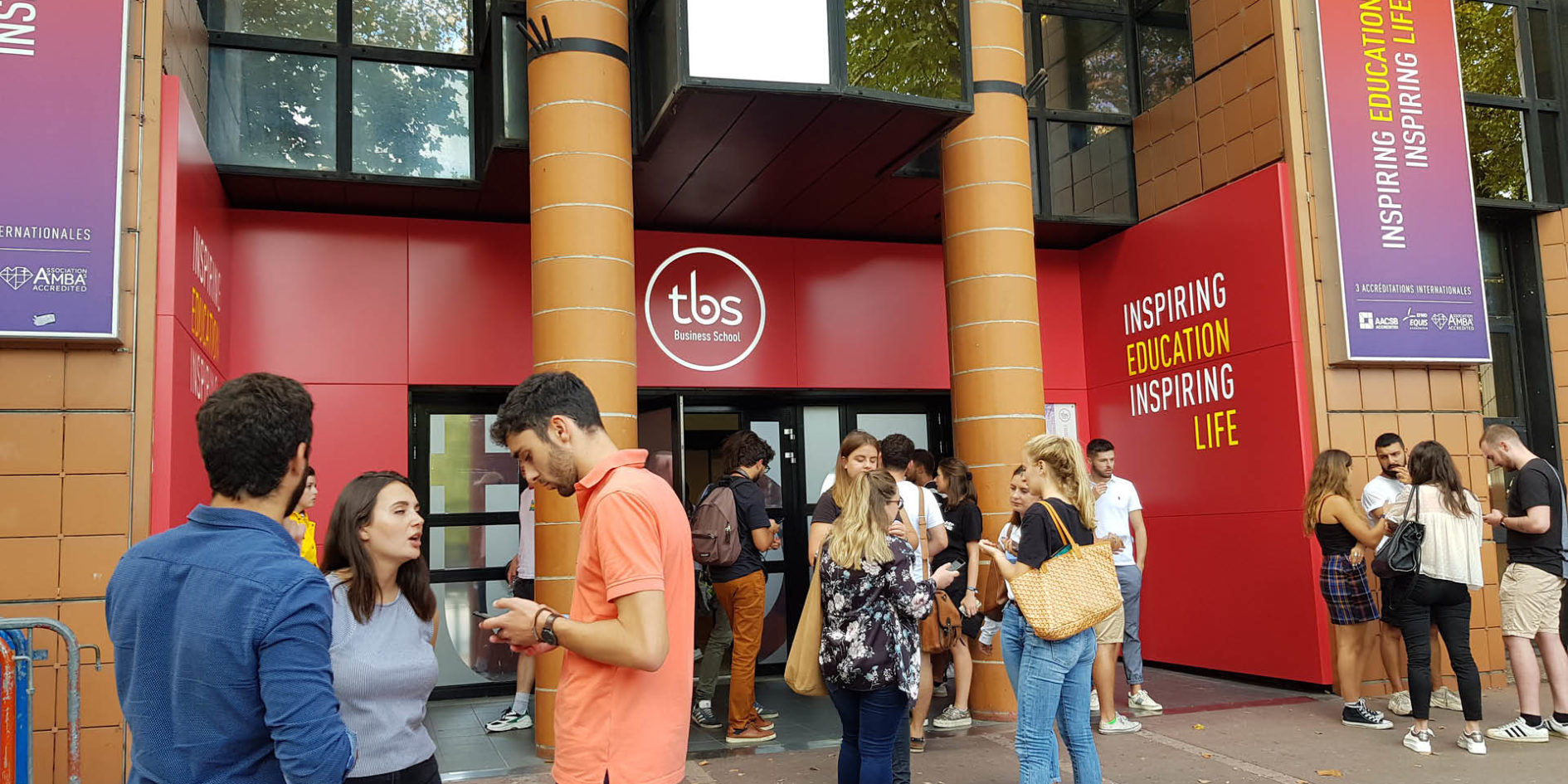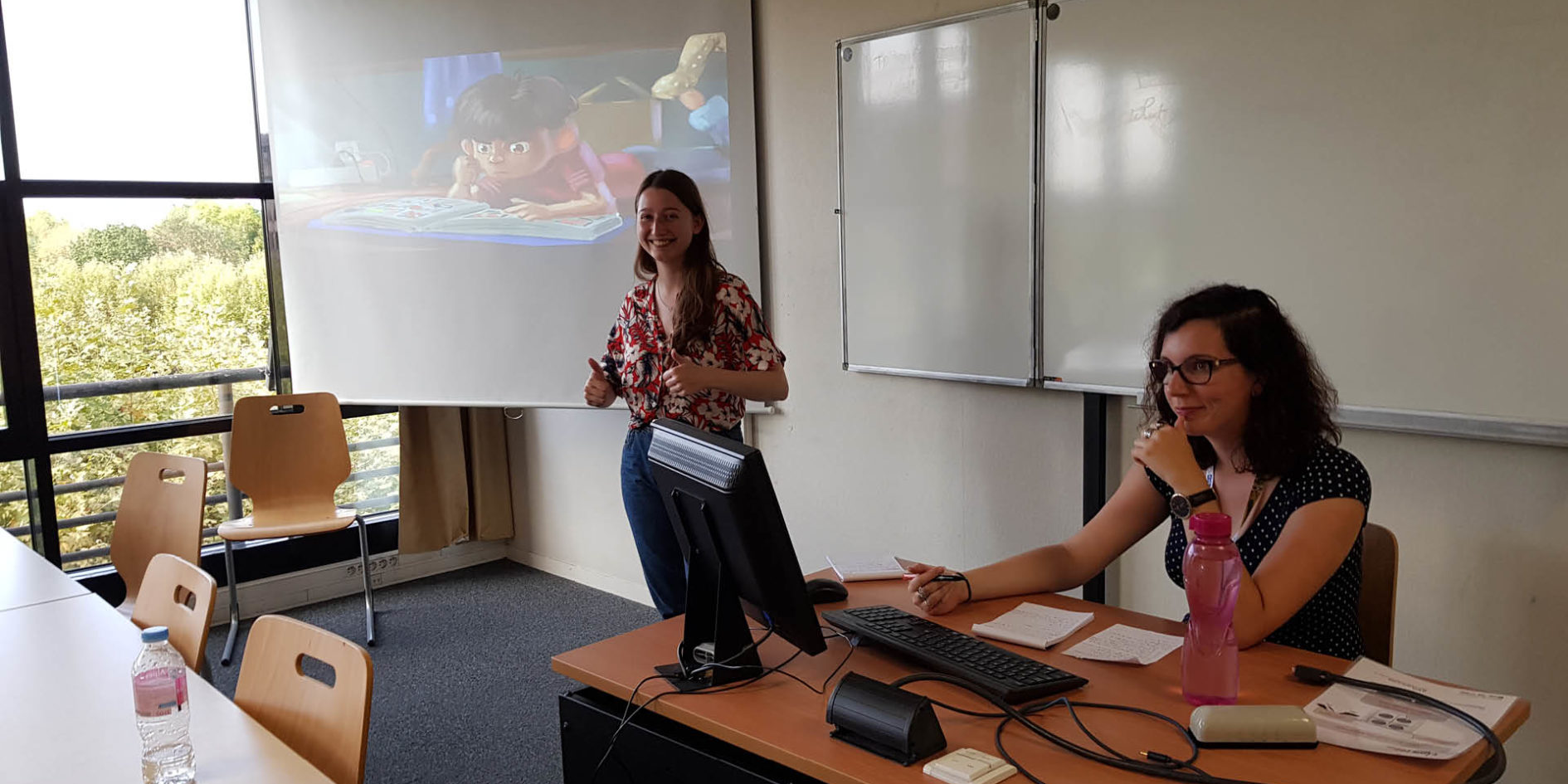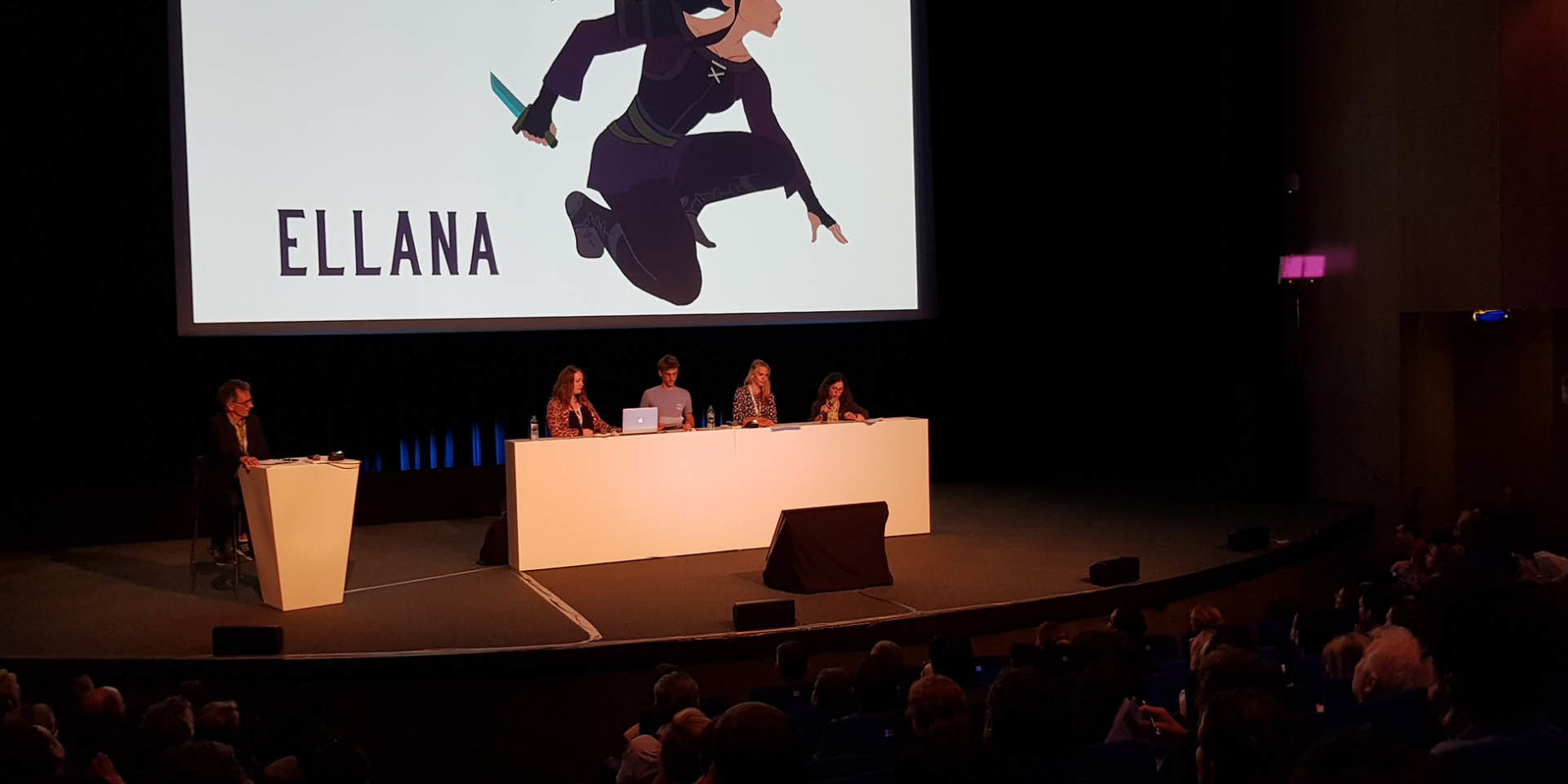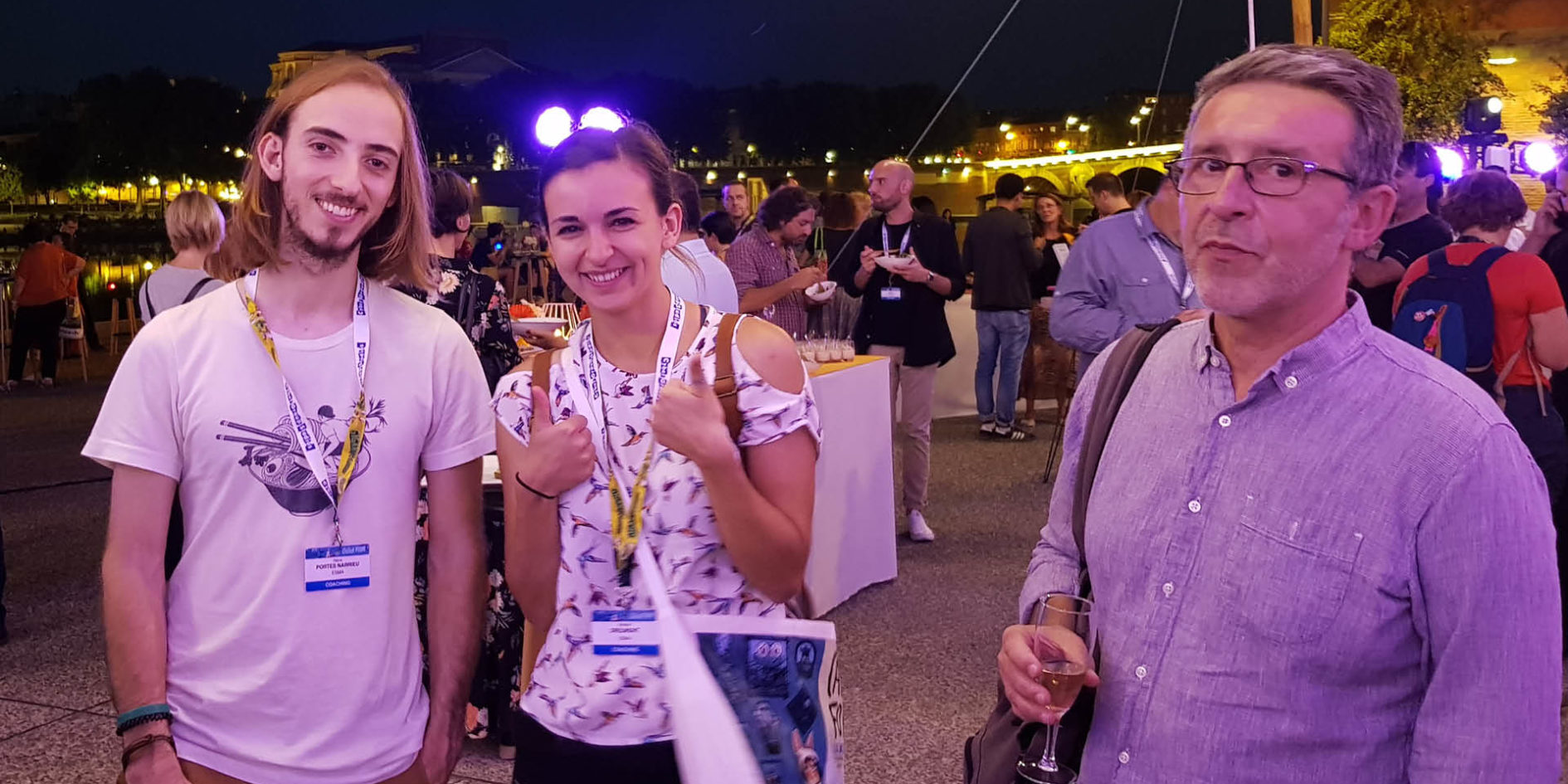 ESMA at the Cartoon Forum 2019
For the 2019 edition, the Cartoon Forum was once again held in the city of Toulouse. This event is an opportunity for professionals in the field to get together and discuss animated TV projects. Once again this year, several ESMA students were invited to participate and even two projects were selected for the famous "ptichs" session.
A MUST-ATTEND EVENT IN THE WORLD OF ANIMATION AND TELEVISION
The Cartoon Forum has been in existence for 29 years now, allowing European professionals in the animation sector – for television – to meet each other.
Over three days, project leaders and producers / investors meet and exchange ideas together. The former have the hope that their project will be bought while the latter wish to find the next nugget to put in their program grids, which will leave its mark on the minds of an entire generation.
Organized around a meeting process, each creator has about thirty minutes (pitch) to convince the assembly. The projects are diverse and varied, ranging from preschool to adult audiences.
In parallel with these serious meetings, moments of relaxation are organized so that everyone can exchange in less formal settings.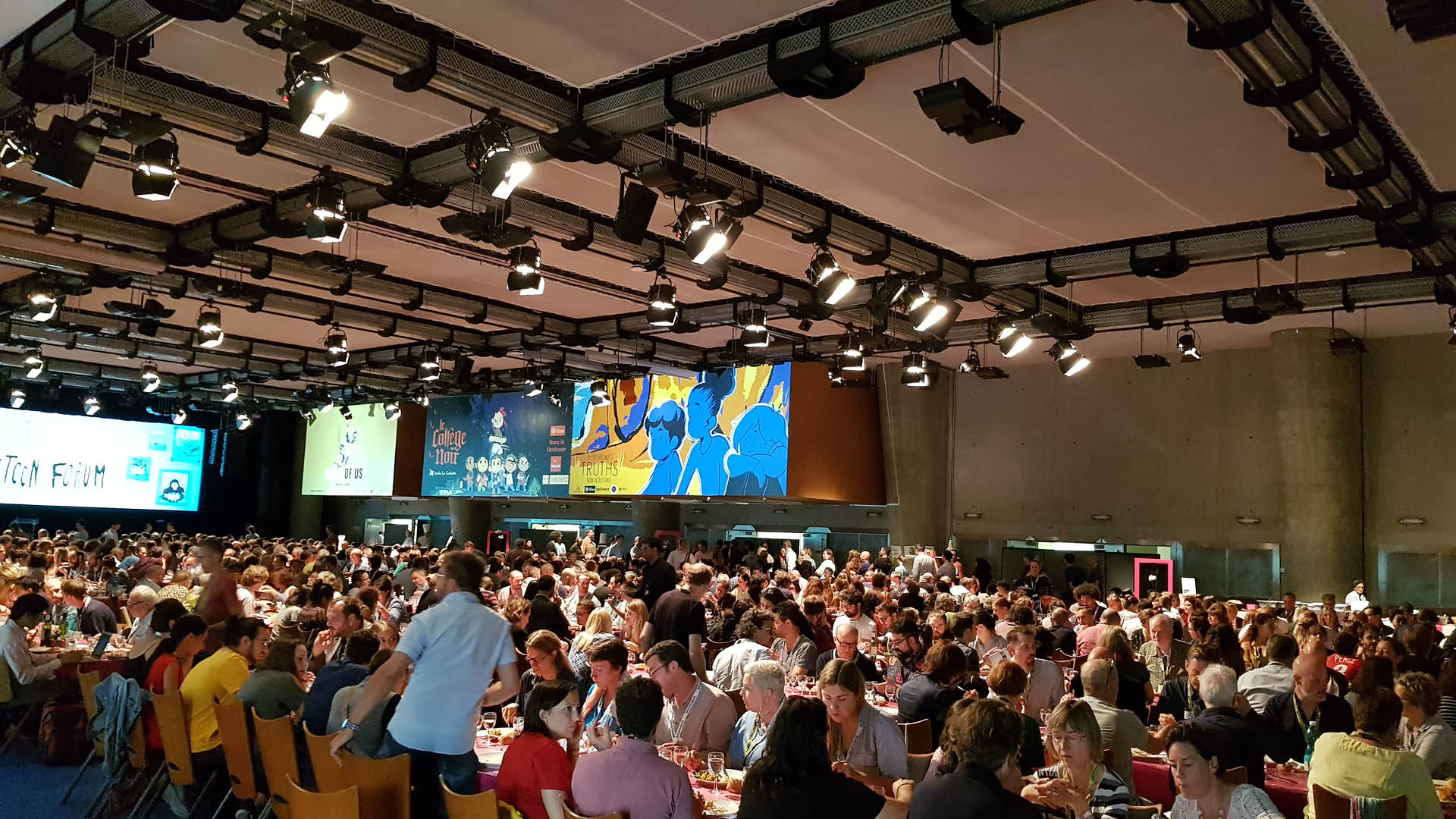 INVITATION AND PARTICIPATION OF REGIONAL SCHOOLS
This year the Cartoon Forum took place from 16 to 19 September 2019 and, once again, it was held in the pink city of Toulouse. The animation schools located in the Occitanie region were invited to participate in this event and each was to present student short film projects (not finalized).
In all, out of 17 school projects received, 6 were selected and among them, 3 came from ESMA!
Although we would have liked to be able to bring all the students to the Cartoon Forum, only one person per team could go there (limited number of places). One representative per project was elected and had the opportunity to attend.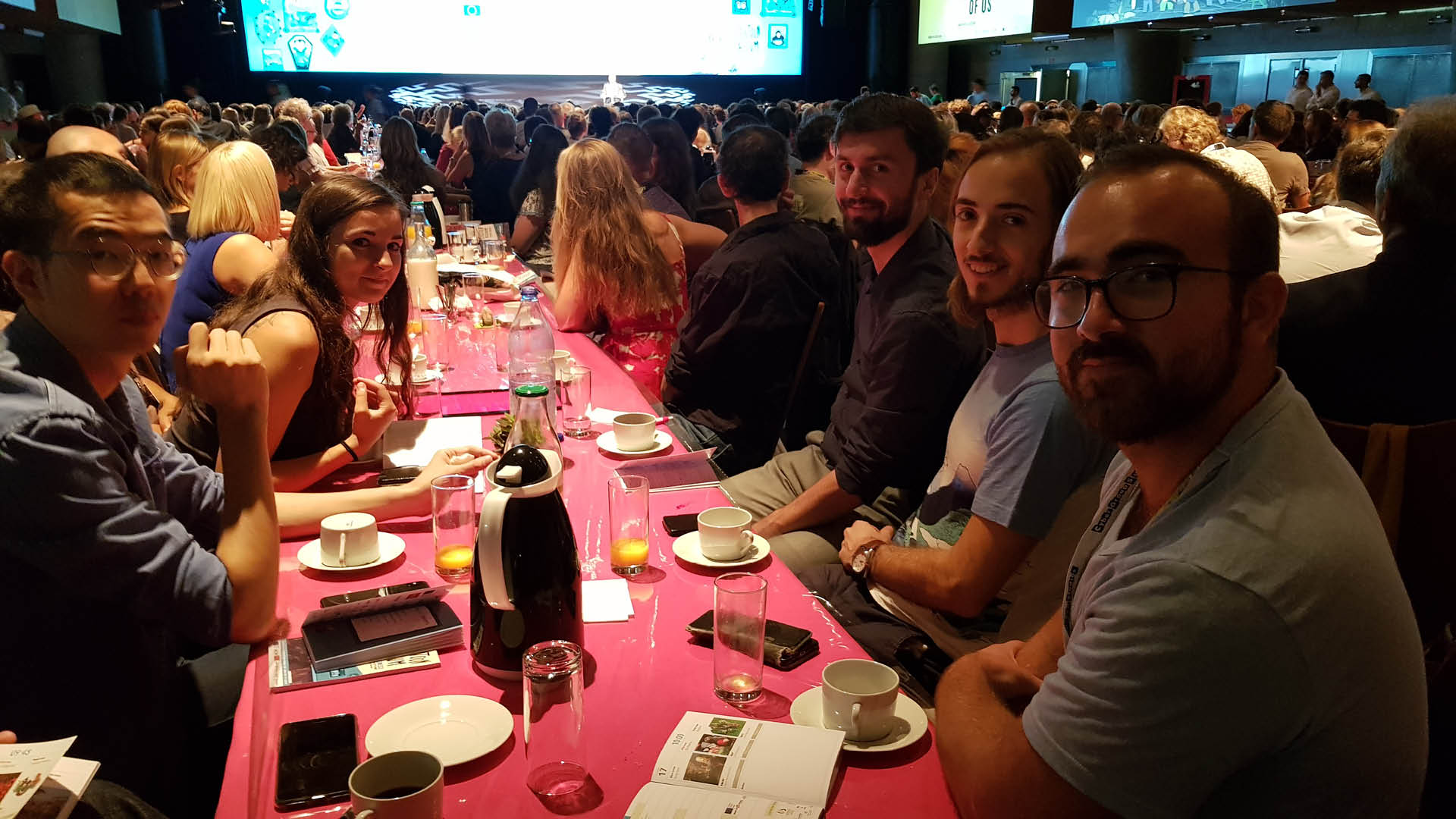 In total, six different fourth-year groups of CG Animation Cinema and FX, divided between the ESMA schools of Montpellier and Toulouse, took over the direction of the Cartoon Forum (the 3 selected plus the three other groups sent for pre-selection), accompanied by their teachers: Gérard Raucoules and Grégoire Vannier. For many of them it was a great discovery and a leap into the unknown because they didn't know what to expect…
We wanted to point out that the event was open to all professionals in the field, but as far as schools were concerned, only those based in Occitania had the opportunity to be invited. Hence the presence of our two campuses in Montpellier and Toulouse.
THE CARTOON FORUM, A MOMENT TO CONFRONT THE REALITY OF THE BUSINESS
The whole group met in Toulouse, immersed in the Cartoon Forum. For some it was an opportunity to immerse themselves in the heart of a professional event while for three of them, Clémence Ponchaut – Rémi Portes Narrieu – Alex Tregouet, it was the opportunity for them to pitcher their project against a team of professionals made up of Jean-François Tosti from the TAT Prod studio, Luc Camilli from XBO and Agnès Bizzaro from the Occitanie Region.
Students are thus immersed in a professional forum where everyone's future can be decided.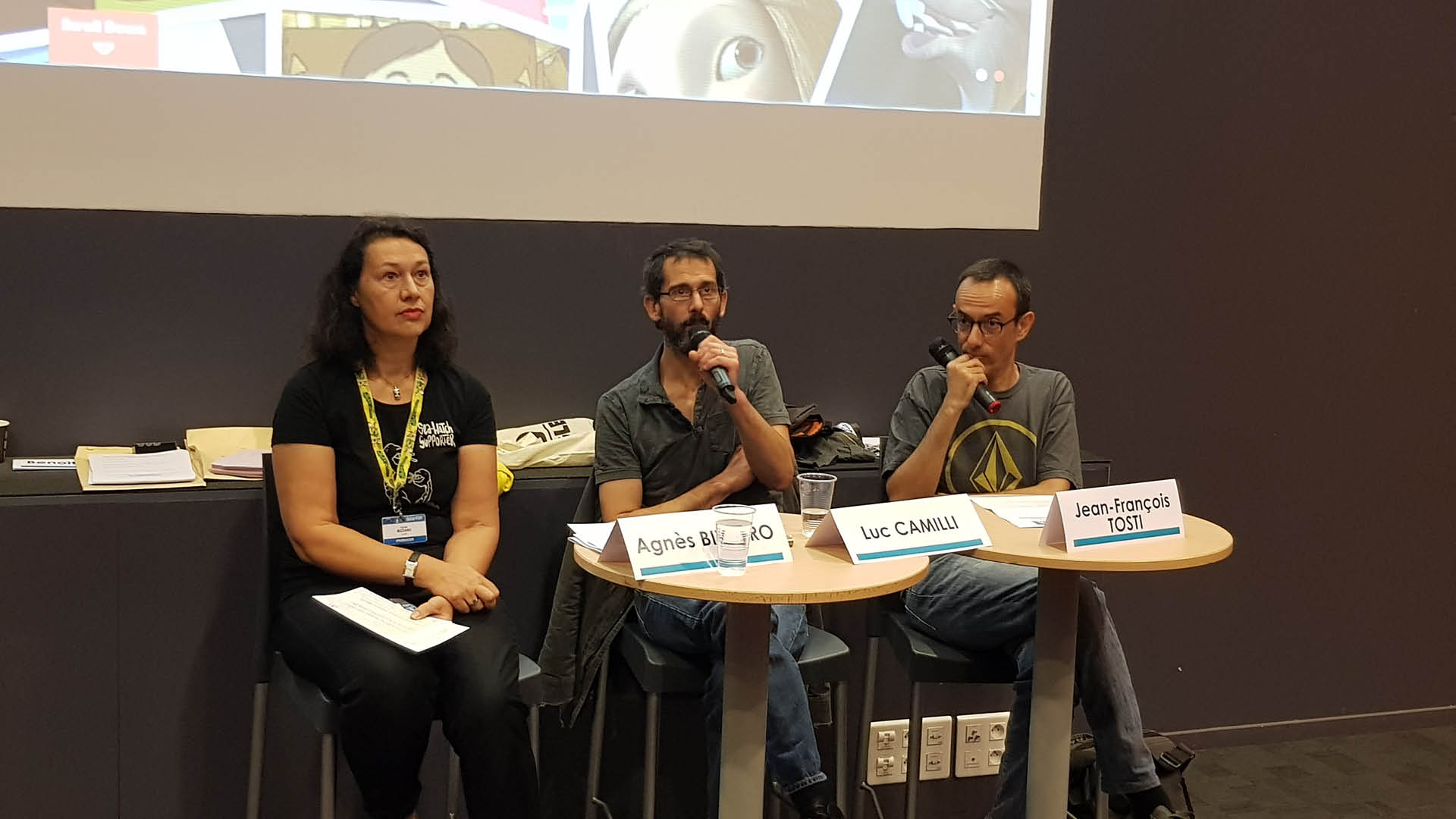 THE PITCHS
It should not be forgotten that for three of our students, this was a great moment for them as they presented their final film project to professionals in the sector.
In order to best prepare their presentation, Clémence, Rémi and Alex were coached by students from the Toulouse Business School. This is not a first because, during the previous Cartoon Forum, there had already been collaborations with the Toulouse Business School. Thus two professional sectors were able to join forces during this event. The students helped each other and were able to share their knowledge and skills.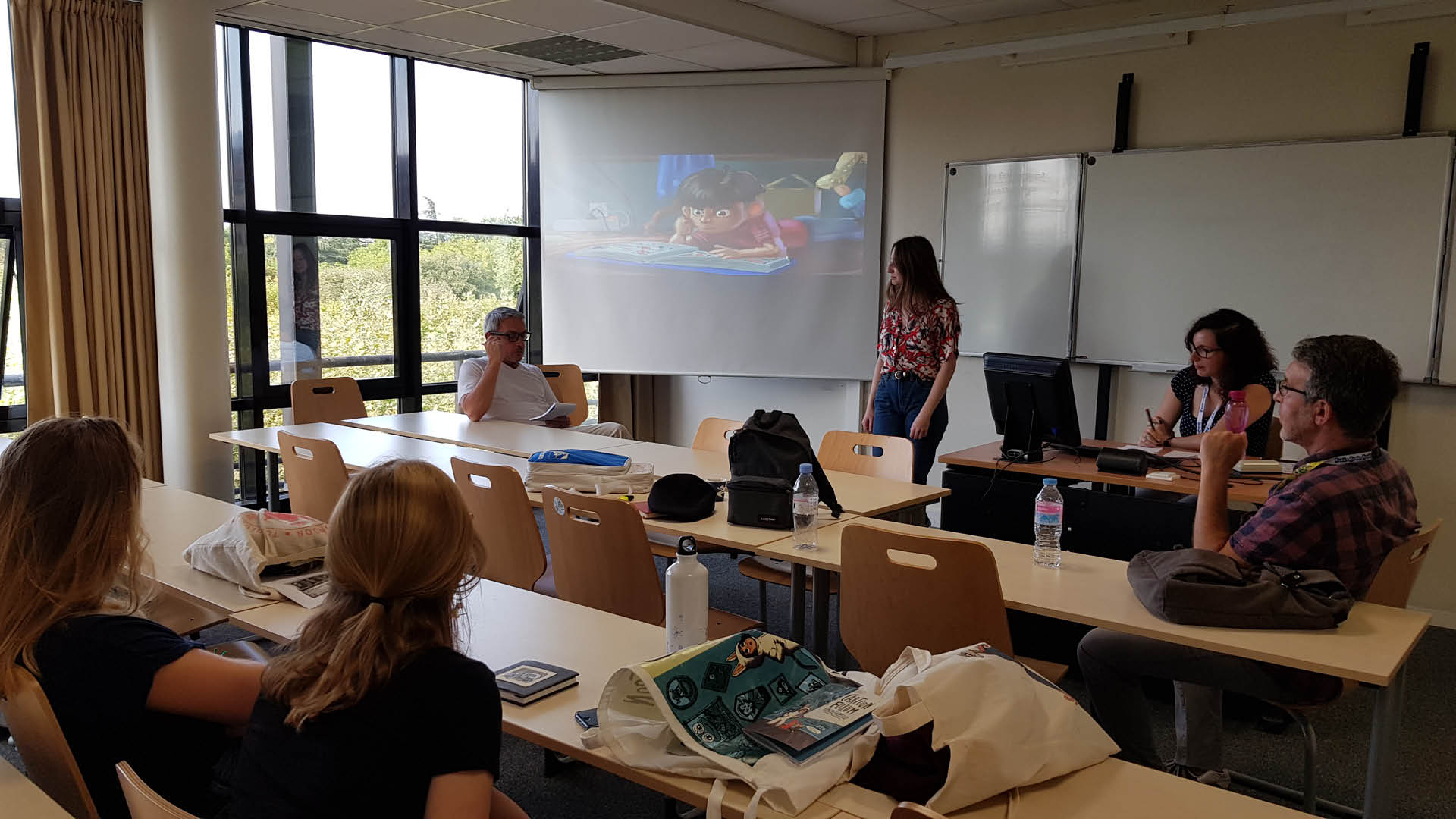 With limited time at their disposal, the students had to present their project and convince the jury of its potential. But let's leave room for the students, they are the ones who speak best of this experience:
Rémi Portes Narrieu, from the Ombre project
To best present our project, we were prepared by the students of the Toulouse Busines School. Just that, it was a good experience, to be able to meet them, exchange and train with them. They helped us prepare our presentation speech to meet the deadline. The students at Toulouse Business School were highly motivated and involved. They gave us keys to get the audience's attention and interest: what to tell, what to put aside, how to formulate our pitch and what story to tell the audience.

We also drew inspiration from the pitchs we had seen. We were able to see what was working and what was not. Some were more in the game, in the exchange with the audience, others more "academic". We saw what made the jury and the public react or not.

When we went before the jury, we had trained quite a bit beforehand. I made my presentation the same way I did when I was training. There was stress but it was fine, everything went well.

The feedback from the jury's opinions was rather divergent. This may raise doubts about the project we are going to propose but we are certain of our choices! It was very interesting to be able to exchange with professionals about what we are making and to have their feedback.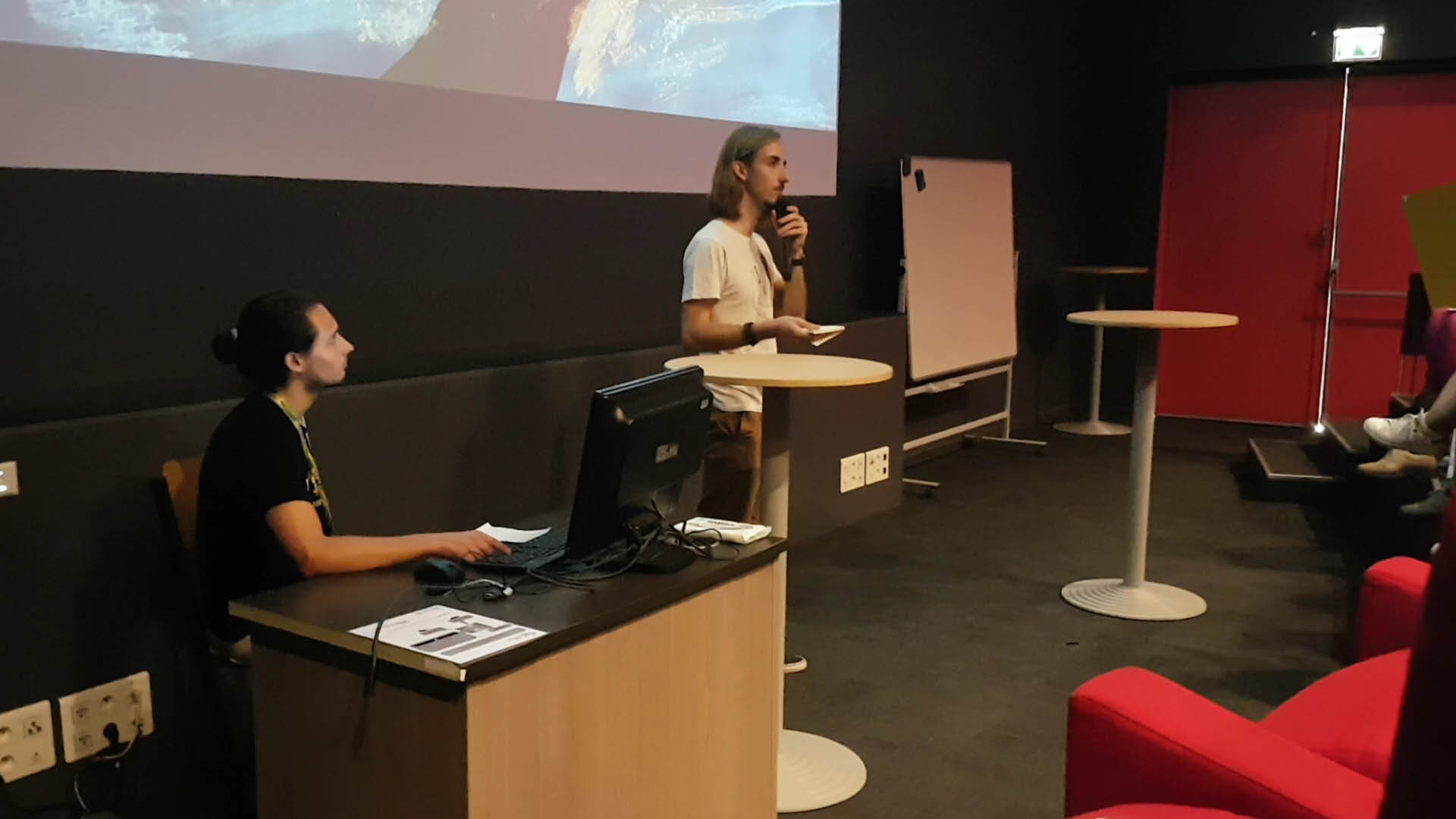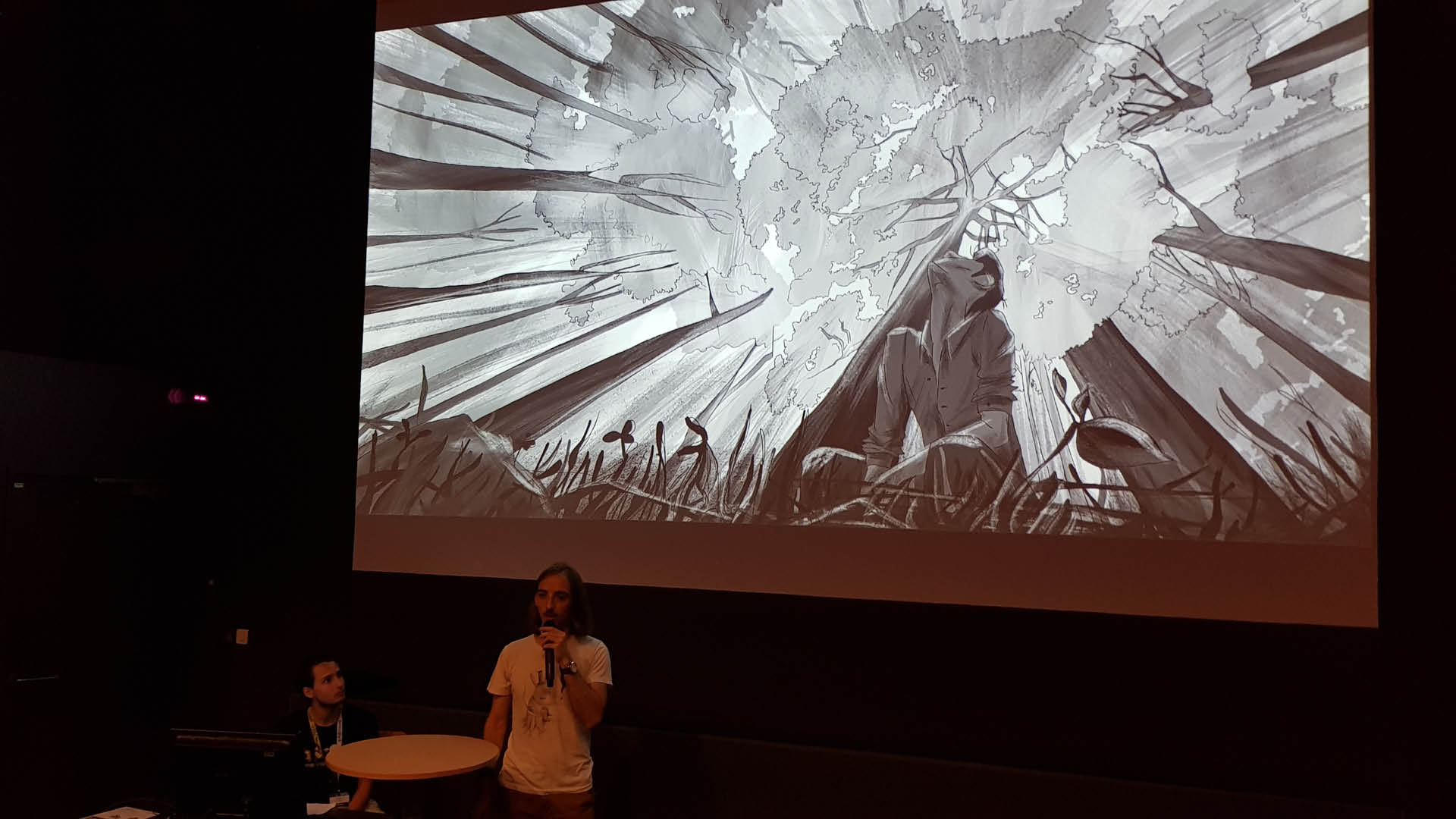 Alex Tregouet, from the Stranded project
It's been a really great week! I was able to discover the "sales" aspect to which we are not used. There was a good process exchange with the students of the Toulouse Business School because they are in a specialization in art but they did not know CG animation. They helped us to prepare well, to know how to make a nice presentation, attractive slides….

In the end we were satisfied with our services. We realized that the exercise was not easy either for the pros who presented, we were all in the same boat. That was reassuring! It could be impressive to talk in front of three professionals and a hundred people, but once we started, we were in and we remembered our pitchs, how we had worked on it with the TBS students. And everything went very well.

On behalf of the jury there were several positions, quite opposite, but it is rather interesting to have this difference in feedback and explanations. In the end, we see that not everyone likes the projects, but we have an idea and we want to defend it to the end.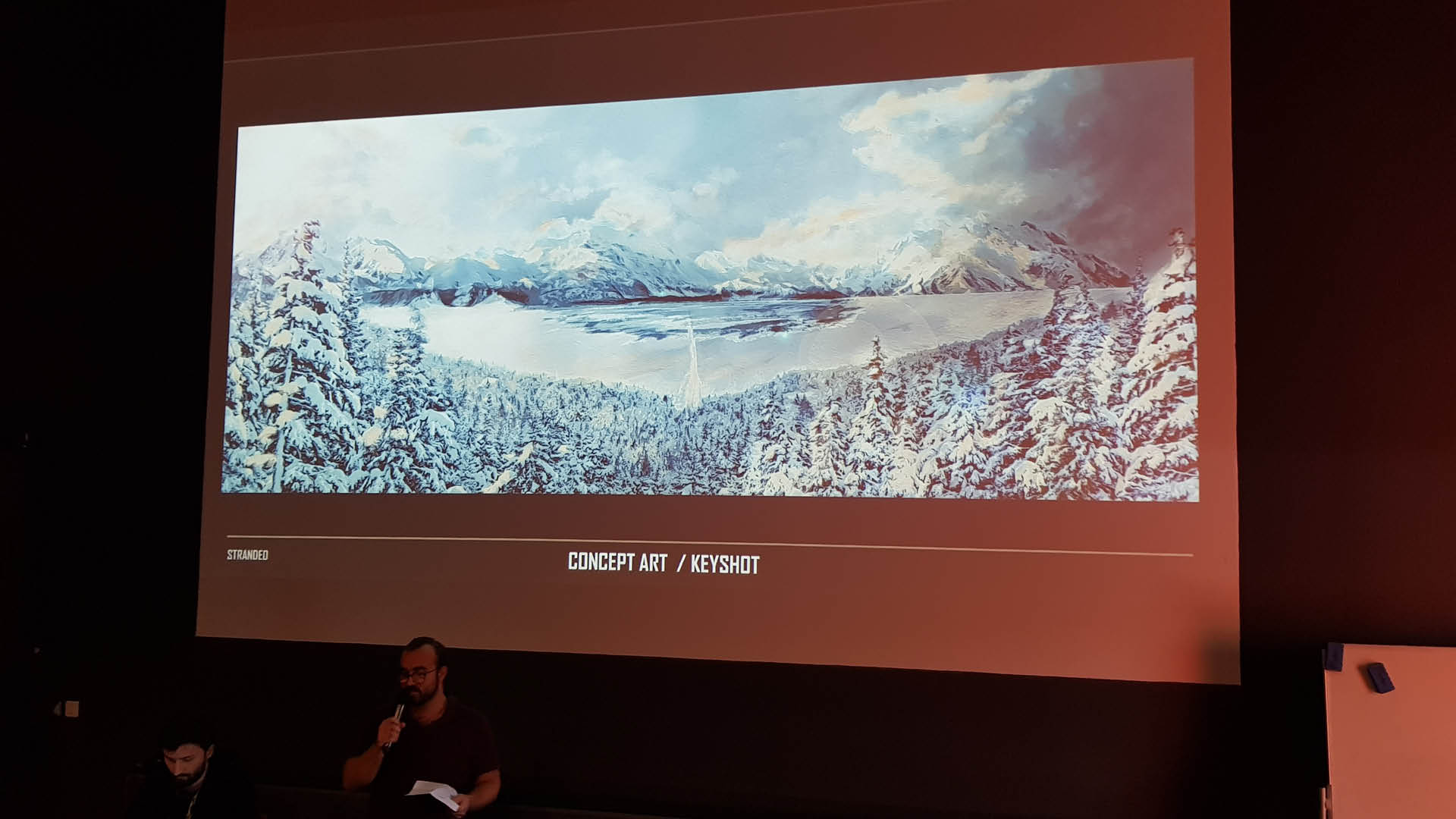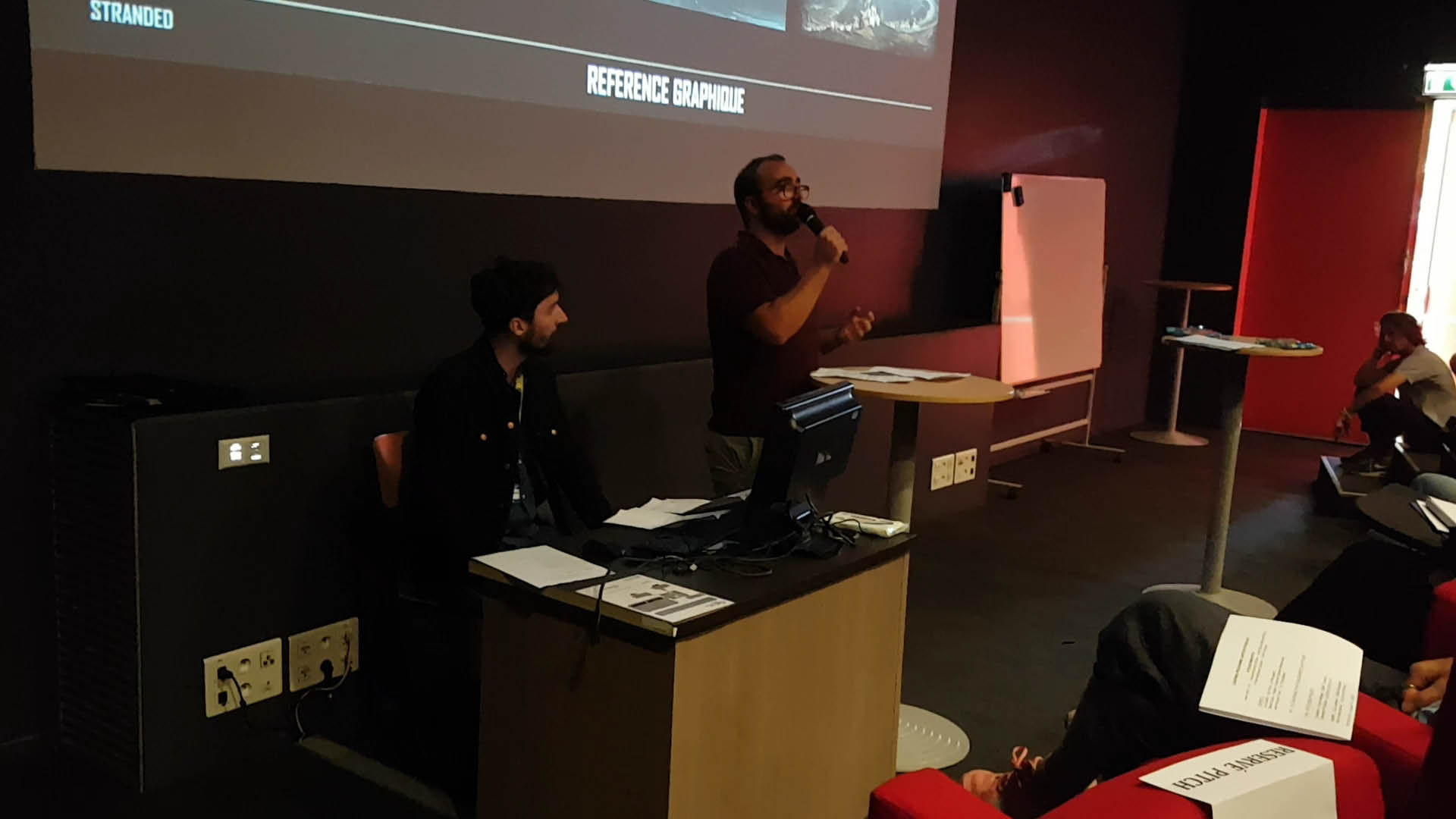 Clémence Ponchaut of the Chaman project
I am pleased with my participation in the Cartoon Forum. It was very positive! Our scenario was well received by the professionals. They advised us on the potential target of our project and gave us food for thought.

With my fellow project members, who accompanied me, we realized that this short film we are making could be proposed as a unit to Springboard. Some professionals have even suggested the idea of implementing our project with a series focused on the main character. We'll see in time!
In any case, this experience allowed us to verify that what we learn in school corresponds to the reality of the profession. This is very reassuring for the future.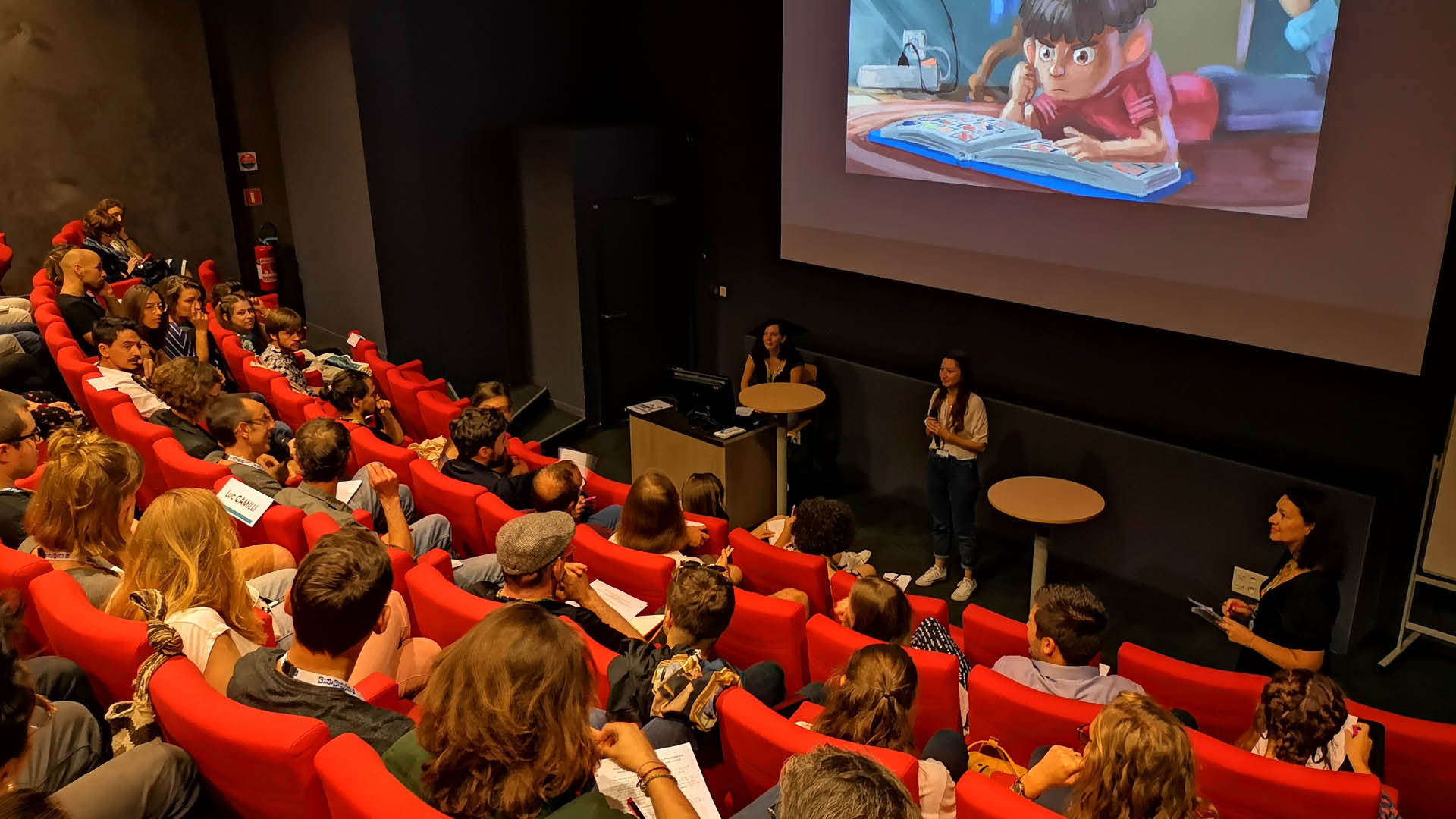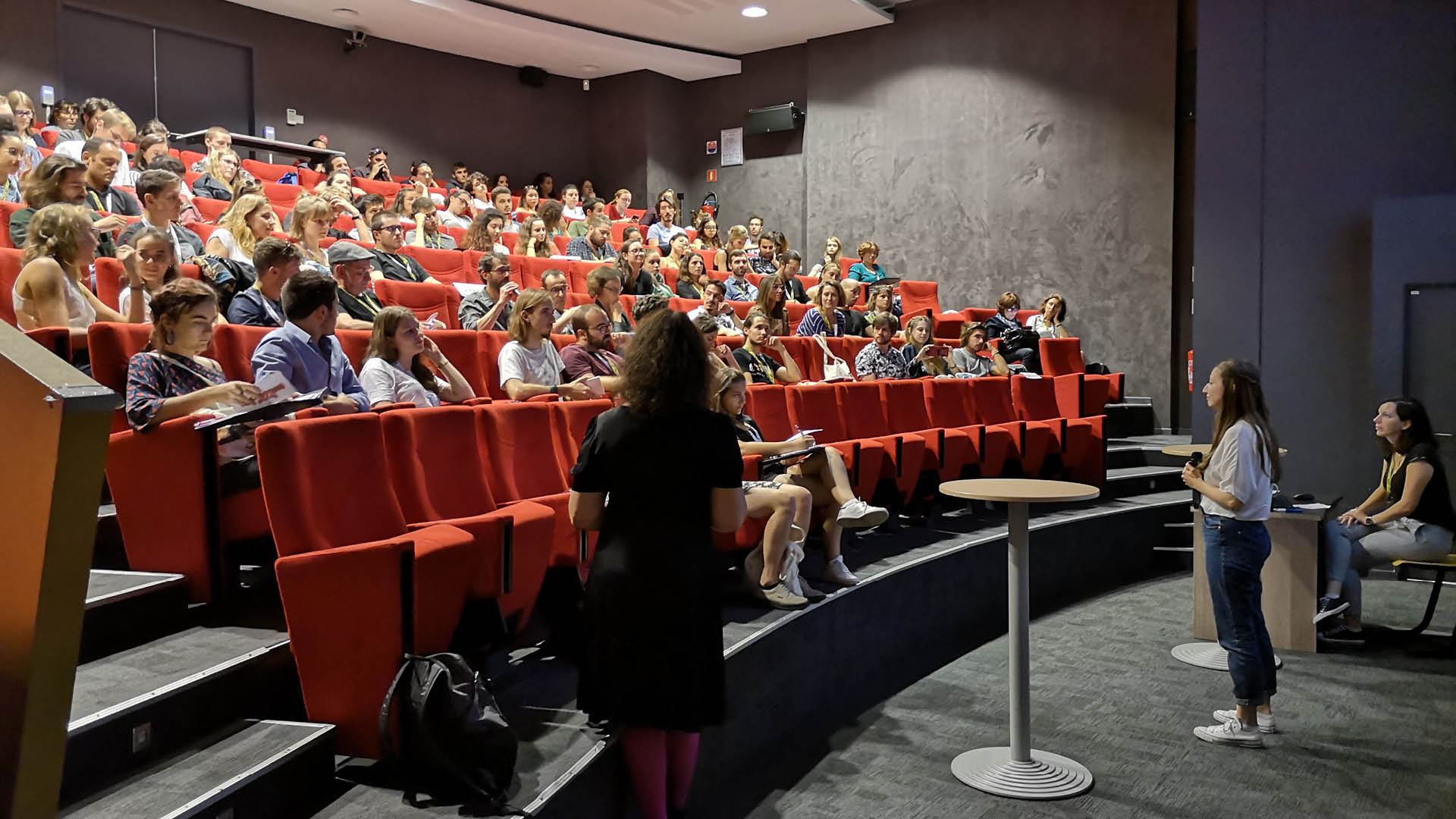 A POSITIVE EXPERIENCE
Our students are unanimous on their feedback: the Cartoon Forum was a fantastic experience for them. All felt that they had been welcomed with open arms by the entire profession. Some students feared being labelled as "students" and not being heard. However, the opposite has happened.
They were able to see that all the actors in the profession are both benevolent and open to discussion. The professionals were attentive to the students' questions and did not hesitate to answer their questions and even give them some advice.
Bonnie Dreumont, from the Glitch project, underlines this very well:
I keep a very good impression of our participation. The organization was incredible and everything was planned for the students. At no time were we put aside. We really felt integrated!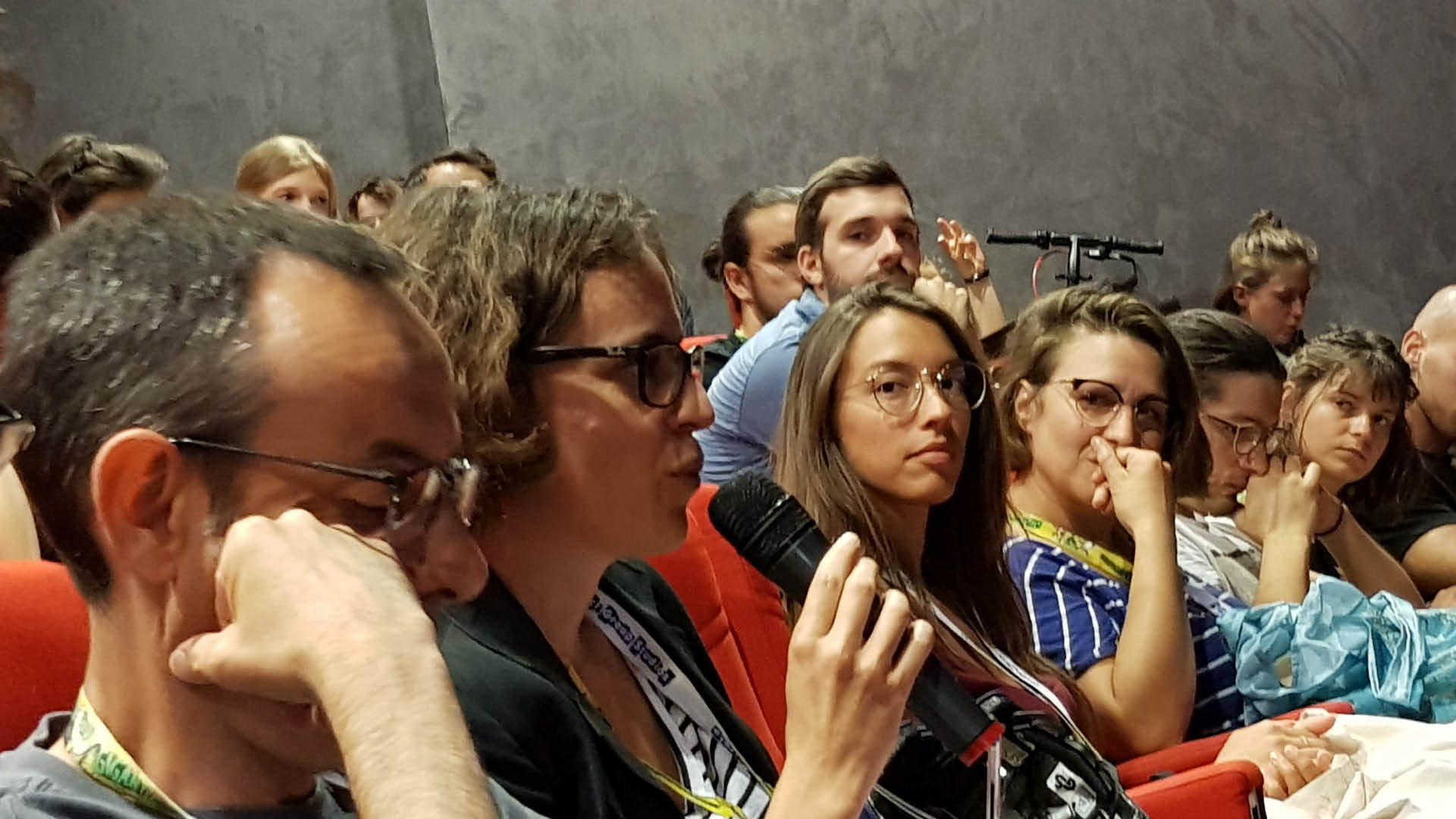 The objective of this participation is also to make students aware of, and aware of, another aspect of their future professional environment. As Bonnie Dreumont once again pointed out:
The Cartoon Forum allowed us to see a different world from ours. In our sector, we know how a film is made but not how it is sold or how it will be shown. We are not really aware of who plays what role at what time.
Adrien Chauvet, from the project Quand les poules auront des dents, also joined his classmate on the positive impressions of the demonstration and what he could get out of it personally:
The Cartoon Forum was a great discovery! I was surprised at the closeness between people. Everything has been done to ensure that people communicate with each other. I was impressed by the quantity of projects, their variety and quality. I was able to discover the different ways to pitcher and sell a product. It was very interesting and enriching. The range of possibilities is wide.

After seeing all this, I feel more comfortable speaking about projects. It unlocked me. And being able to talk to professionals was very rewarding.

Before participating in the Cartoon Forum, I didn't know this universe at all. If ever, during my professional future, I have to venture into this, it's less scary to have seen how it was going.
Participating in this type of event is valuable for our students because they are nourished by what they have seen and felt. In a way, this helps them to grow. They also reassure themselves that the professional world is more accessible than they might think, especially since, in a few months, they will be entering the world of work.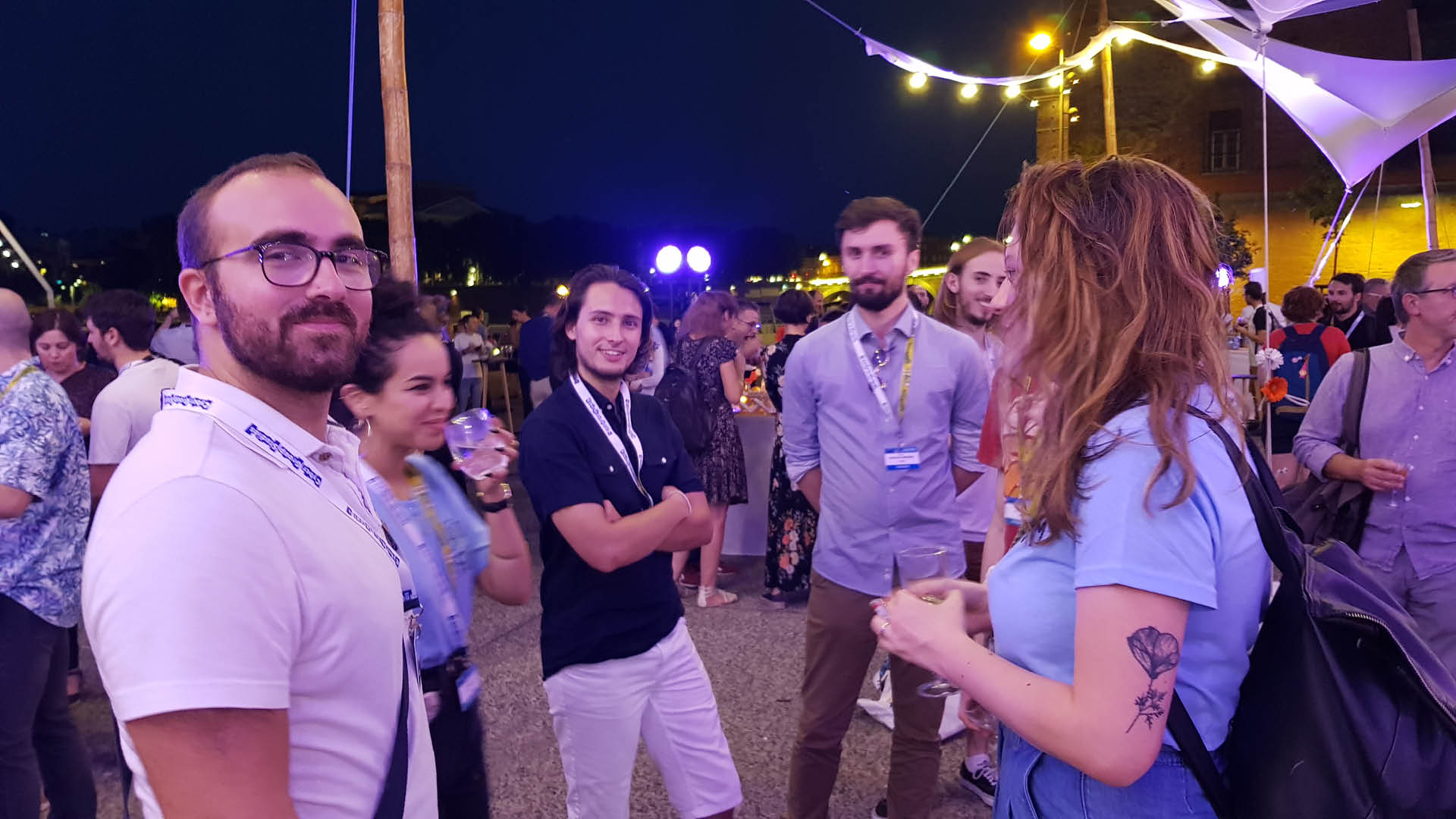 AN OPENING TO THE FUTURE
The Cartoon Forum is a first step, the next one being the Springboard, dedicated to the young shoots of animation. For the first five years following the presentation of their project, students can present it to the Cartoon Springboard. But this time, unlike the Cartoon Forum where the project presented was being developed, students (who will no longer know) will have to present a project ready to be broadcast on television channels. They are free to propose a project as a unit (one or more) or as a series.
At present several students do not yet consider this Springboard as a logical continuation of their graduation film, but the door is not completely closed. Undoubtedly they will have a better visibility on the thing at the end of the year, when their project will be completed.
However, participating in this event allowed some of them to review their position on the future. Bruno Roux Dit Buisson confided that this event opened up a new avenue for him to reflect on his professional future:
Being able to talk and discuss our projects with professionals, for young people like us is really great! It opens our eyes to the potential future of our future career. Personally, it opened up a possibility for me to try to produce something later. It made me want to write projects, stories and why not try Springboard on my side after ESMA.
His comrade Rémi Portes Narrieu also joined him:
This production environment, I felt that it was already something that could interest me and so, participating in the Cartoon Forum makes the project very real: to set up a film project and then to produce it. We'll see about the Springboard, but why not!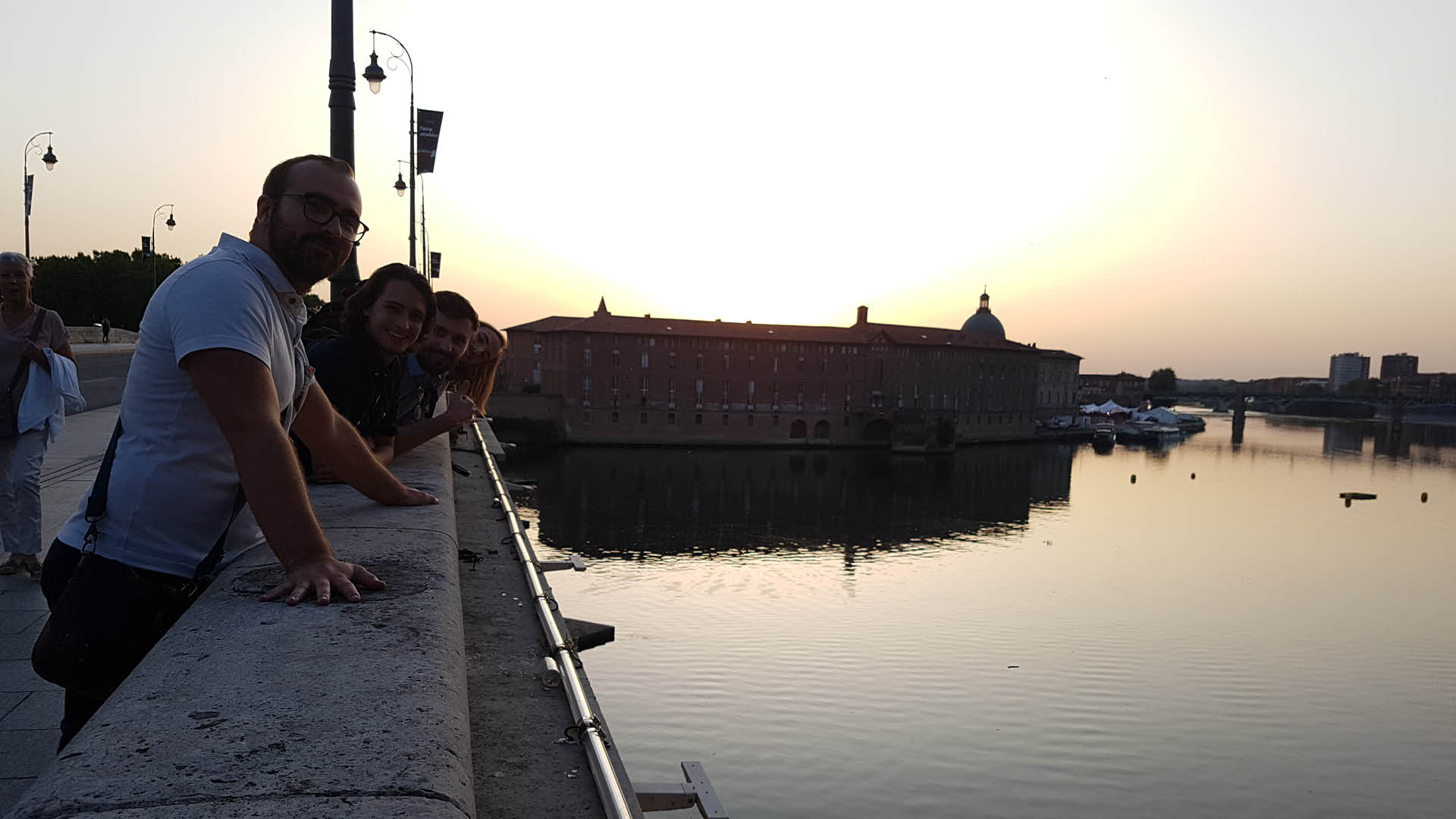 ACKNOWLEDGEMENTS
It is also in this capacity that we would like to thank, once again, the Occitania Region for allowing us to participate in this event. Thanks also to Léa Welcman of the Cartoon Forum, Agnès Bizzaro who supervised the coaching program and Rebecca Arditti-Siry of Toulouse Business School.