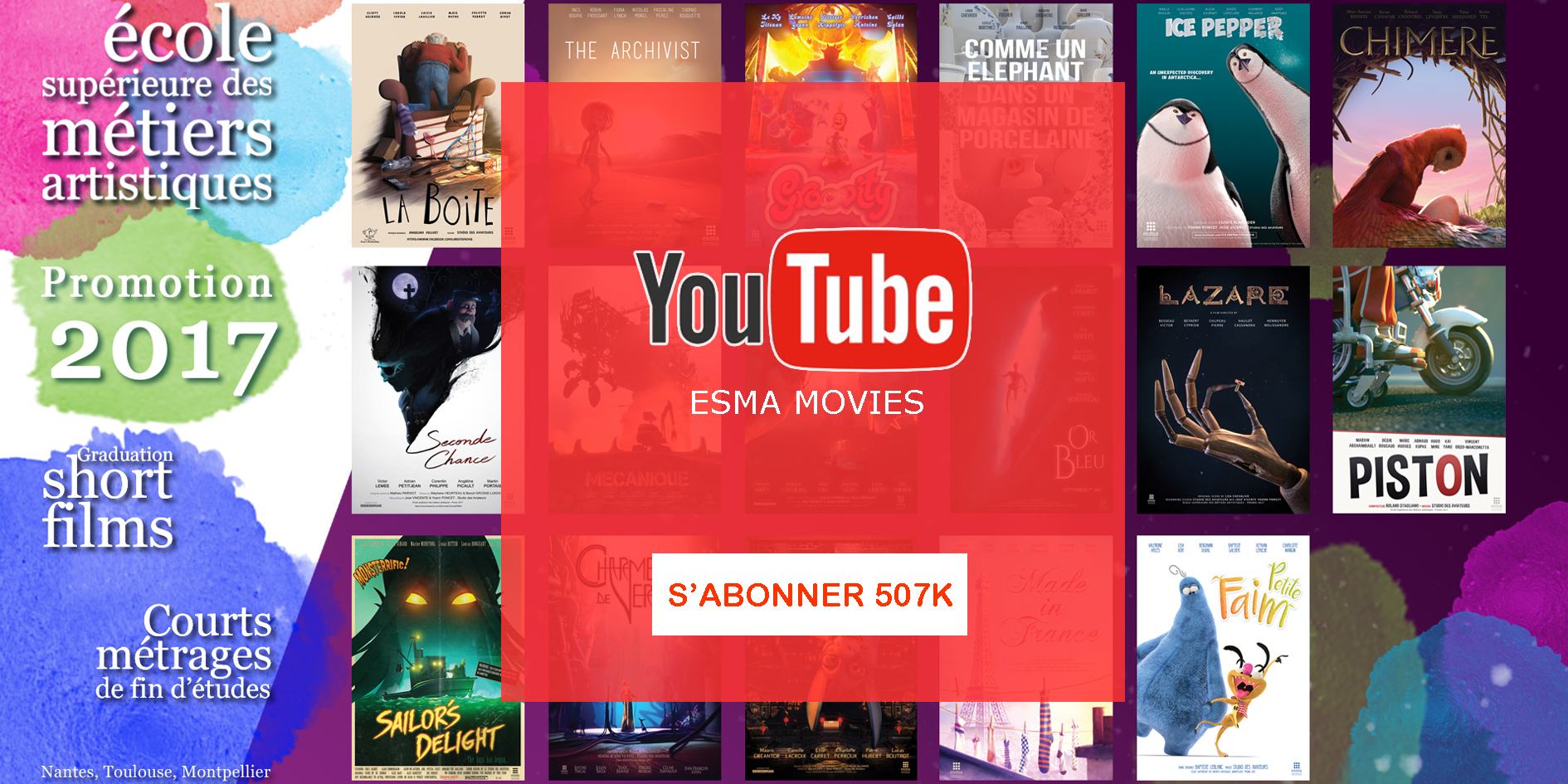 17 ESMA 2017 short promotion films are available on our Youtube channel
News

. 24 Oct. 2018
Montpellier
, Nantes
, Toulouse
All short films from the ESMA 2017 promotion are online on our Youtube channel ESMA Movies
Visit our ESMA MOVIES Youtube channel to discover all the short films made by ESMA students in Master Degree CG Animation & FX of the 2017 promotion!
La liste des 17 courts-métrages
Ice Pepper – Two penguins friends wander on the sea ice. They discover something that may decide the fate of Antarctica.
Sailor's Delight – A mermaid is going to try to seduce two sailors but everything is not going to happen as expected …
The Archivist – A little girl called Eva and her dad are hunting in a post-apocalyptic world. Eva slips away from her father, and ends up stumbling into an underground library, where she makes a curious encounter…
Piston – A man in a wheelchair finds himself pursued by a policeman on a motorbike.
Or Bleu – Two coral harvester brothers are about to finish their working day, when the elder one discovers a mysterious underwater cave…
Achoo – In ancient China, a little dragon who can't breathe fire will fight to overcome his weakness in order to take part in the New Year's celebration.
Chimère – Somewhere, on a remote island, a Harpy is hatching her egg, but a vicious creature is going to steal it from her. She will have to defend it at any cost.
Made in France – Have you ever wondered what happened to your lost socks? Made in France reveal it to you.
Lazare – While rummaming through a carnival dump, the young Amy and her mechanical-robotic bird will discover an old rusty key and wind it.
Charmeurs de Verre – In a timeless and remote universe, two enchanters are bewitching a strange being made of melted glass. But somehow, they end up falling under the spell of this sacred ritual: the one we call creation.
Seconde Chance – In 1920, Jacques traumatized by the war lives as the reclusive groundskeeper of a cemetery. One night he encounters Henri, a young soldier, risen from his grave.
Le Phare – In a boat graveyard takes place a conflictual relationship between two neighbors: a lighthouse keeper and a mermaid. The lighthouse keeper guides the boats towards safe waters while the mermaids tries to sink them.
Groovity – Bobby, a young space guardian is finally assigned to an exceptional mission. This clumsy hero is going to have to face his fears in order to avoid catastrophe.
Comme un Éléphant dans un magasin de Porcelaine – What is the worst thing that could happen in a china shop?
Mécanique – The adventures of a tiny Digger and her friend the Bulldozer. Forced to work on an island ruled by a tyrannical crane, the two friends will do anything to escape.
Petite Faim – Looking for food, two monsters will live incredible mishaps…
La Boîte – An old man ends up taming the mouse he wanted to get rid of.
Top 3 Most Viewed Movies
Chimère – 4 377 198 vues
Mécanique – 1 263 382 vues
Or Bleu – 885 753 vues
---
Summary and winners of the Jury 3D edition 2017 which took place in Montpellier on September 7th at Gaumont Multiplexe.
Jury's prizes
1st Prize : Mécanique
2nd Prize : Or Bleu
3rd Ex-Aequo Prize : Petite Faim
3rd Ex-Aequo Prize : La Boîte
Public Prize
---