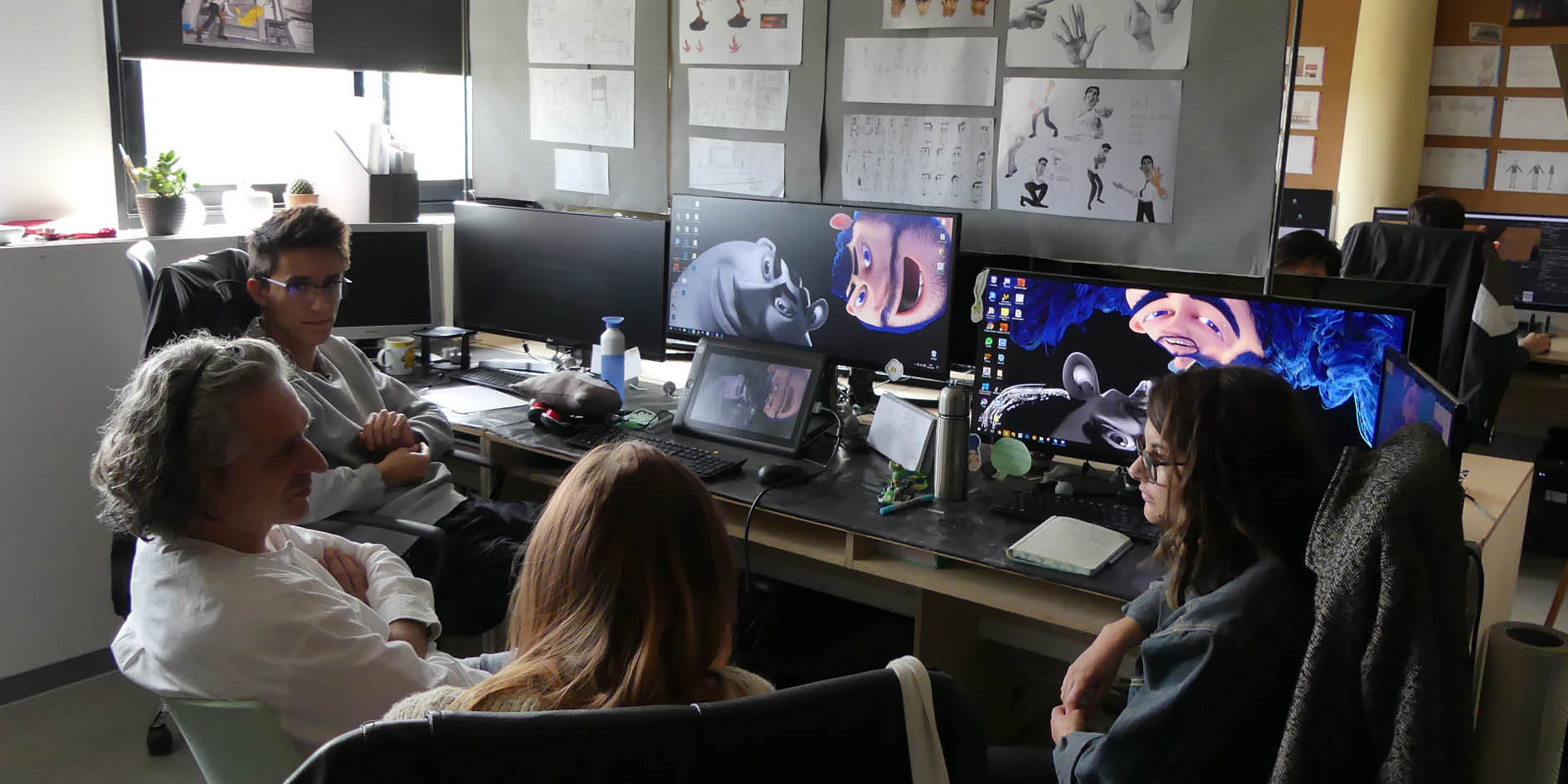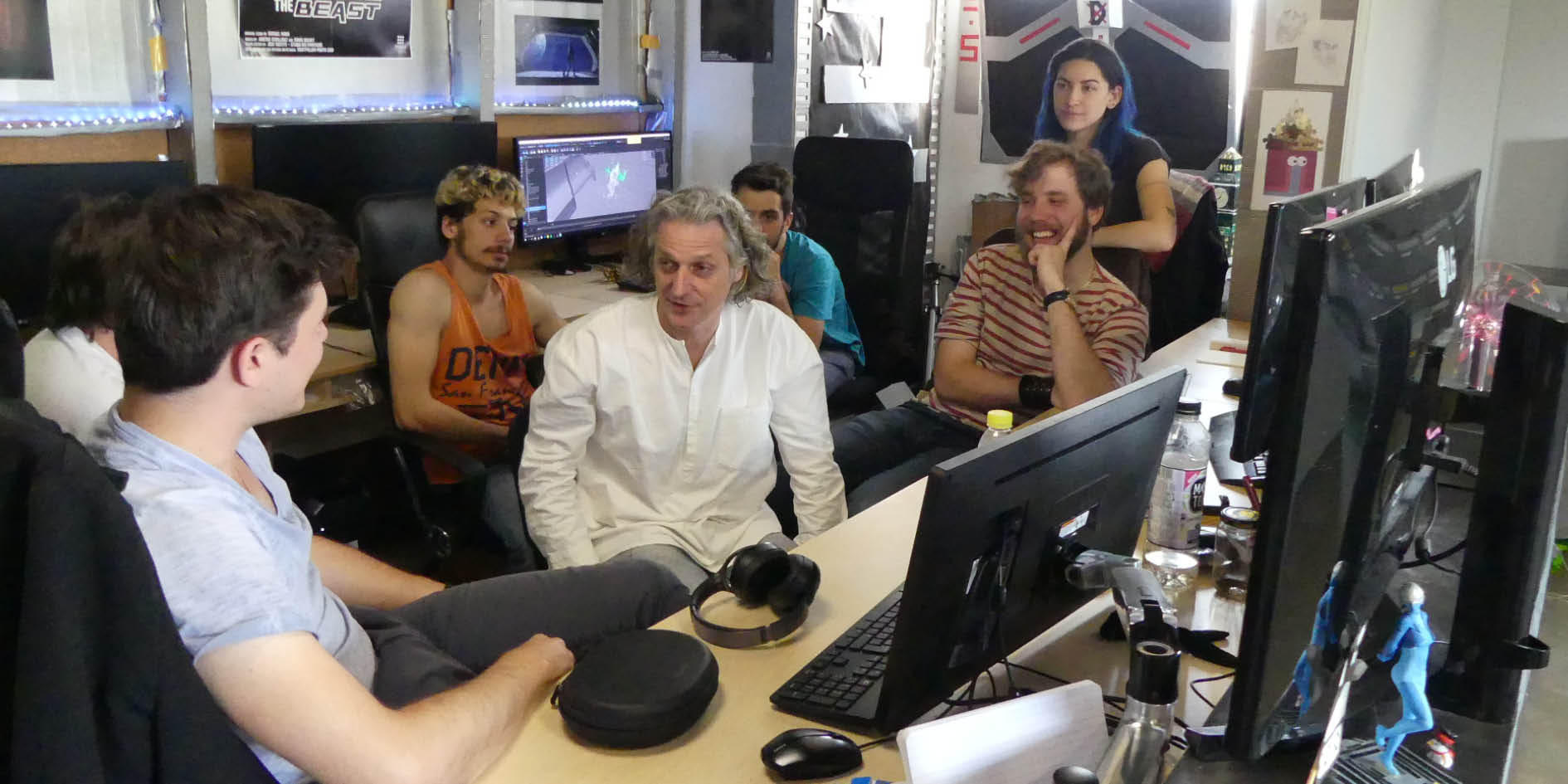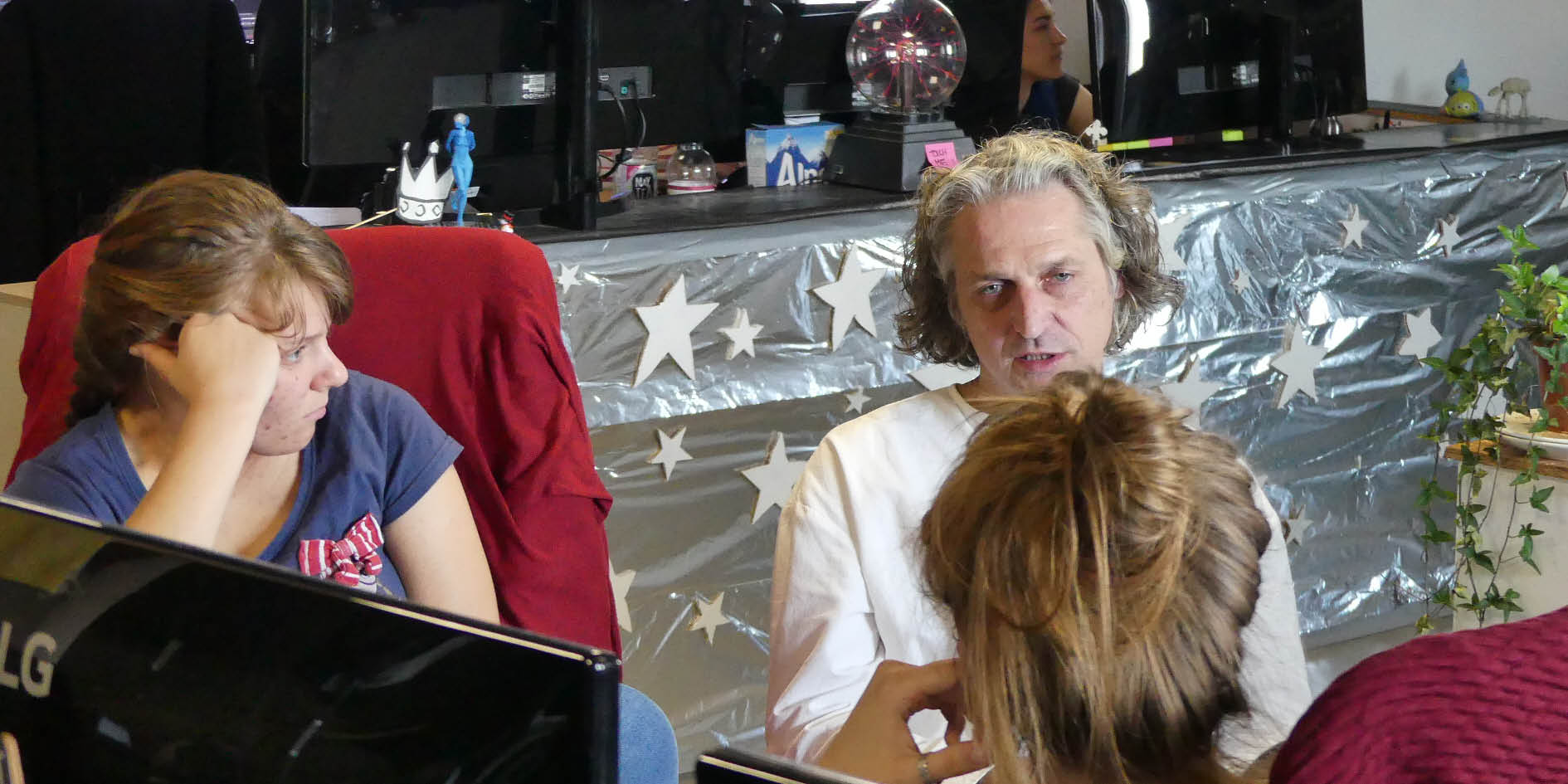 Pascal Chinarro of the studios Bonjour Saïgon and DLP Paris in Montpellier
Conferences

. 26 Apr. 2019
Pascal Chinarro, from Paris DLP studios and Bonjour Saïgon, spent a few hours with students from Montpellier to talk about their end-of-course projects.
From stay in France, Pascal Chinarro stopped for a day at ESMA Montpellier. He is one of the founders of the studio DLP Paris, a Paris studio specialized in post-production, 3D animation and special effects; but also, more recently, Bonjour Saïgon, a studio created in Vietnam and dedicated to post-production and 3D animation.
Passionate about animated films, he also initiated the Parisian festival Panam Anim. The purpose of this event is to promote French animation through a competition of short student films (from French schools, including ESMA) and to allow this generation to meet industry professionals.
We told you earlier, Pascal Chinarro was kind enough to go to school for a few hours to meet the students of the last year of the cycle Animated Cinema 3D & Special Effects and to exchange with them around their projects end of study. A seasoned professional, he gave them good advice.
speaker
Pascal Chinarro : Founder of the studios DLP Paris & Bonjour Saïgon
INTERVIEW
CAN YOU INTRODUCE YOURSELF ?
I am Pascal Chinarro, one of the partners of the DLP Paris studio created a decade ago and the founder of the studio Bonjour Saïgon which is located in Vietnam.
CAN YOU PRESENT THE STUDIO DLP PARIS AND Bonjour SAÏGON?
These two studios each have their own particularities.
Basically, DLP Paris specialized in the creation of hyper-realistic animals. Then we opened ourselves to producing content for luxury brands like Hermès or Dior. it's quite funny because on one side the studio may have to work on documentary-type medium-length films on the pre-historic period with the animation of dinosaurs and on the other, produce films categorized as "elegant ", with material and special effects. Do not forget, DLP Paris is also the special effects.
Subsequently, I mounted Bonjour Saïgon whose core business is post-production called "traditional". This does not prevent us from working on the post-production of feature films and also on 3D quite heavy and complex. For example, we had to reproduce at night a stadium filled in full 3D. A very complex exercise. We are also working for classic advertising but more and more the studio is specializing in "heavy" 3D animation. Even though the studio is located in Asia, we work a lot with Singapore, Shanghai or Europe.
Currently I devote more to the studio Bonjour Saigon and I intervene more punctually on the Parisian studio DLP. But I remain particularly attached to it and it happens, when we have high-end projects in Vietnam, to switch to DLP Paris in support. I make sure to keep a link between the two.
WHY VISIT ESMA?
I love movies! I love what I do. My biggest motivation is to come see the movies. I am also very happy to be able to see my fellow ESMA teachers again. It's really a pleasure to come back here. As soon as I am in France I come. I always make a detour to come to school. Since the time I go to school, it's inevitable.
YOU HAVE SEEN THE STUDENT FILMS IN PREPARATION. WHAT DO YOU THINK ?
Ha! I will keep the mystery on what I saw but what I can say: it is quite exceptional!
There will be more visual films, others more narrative, others more technical or artistic. It's great because I found beautiful stories. A film, above all, is telling a beautiful story. Just because it's 3D animation is not an end in itself. The computer image is made to tell also and to help tell things that can not be told in real life.
I am delighted to be past because it is a pleasant surprise to see all the movies and the level is excellent. It's going to be really good.
IN ESTIMATE OF STUDENT PROJECTS AT ESMA, DO YOU SEE AN EVOLUTION?
I see that it is more and more leveled, but leveled from the top! There is no longer a film really less well (in its entirety). Technically and artistically, it's excellent. It's crazy to reach a level like this.
Keep in mind that these are students who have never worked before. This is one of the reasons I was fascinated by the work of these young people and created my Panam Anim festival. When I saw the level of student films, I wanted people to be aware of the production capacity of these young people coming out of school. Their level is that of a professional, it's amazing!
I regularly work with people coming out of ESMA and I have never encountered any problems. They know how to work and for small businesses like us, the generalist profile is essential. They know how to manage at all positions and it's perfect! That's why for many years we collaborate with ESMA and we take promotions internship at DLP Paris and Bonjour Saïgon.