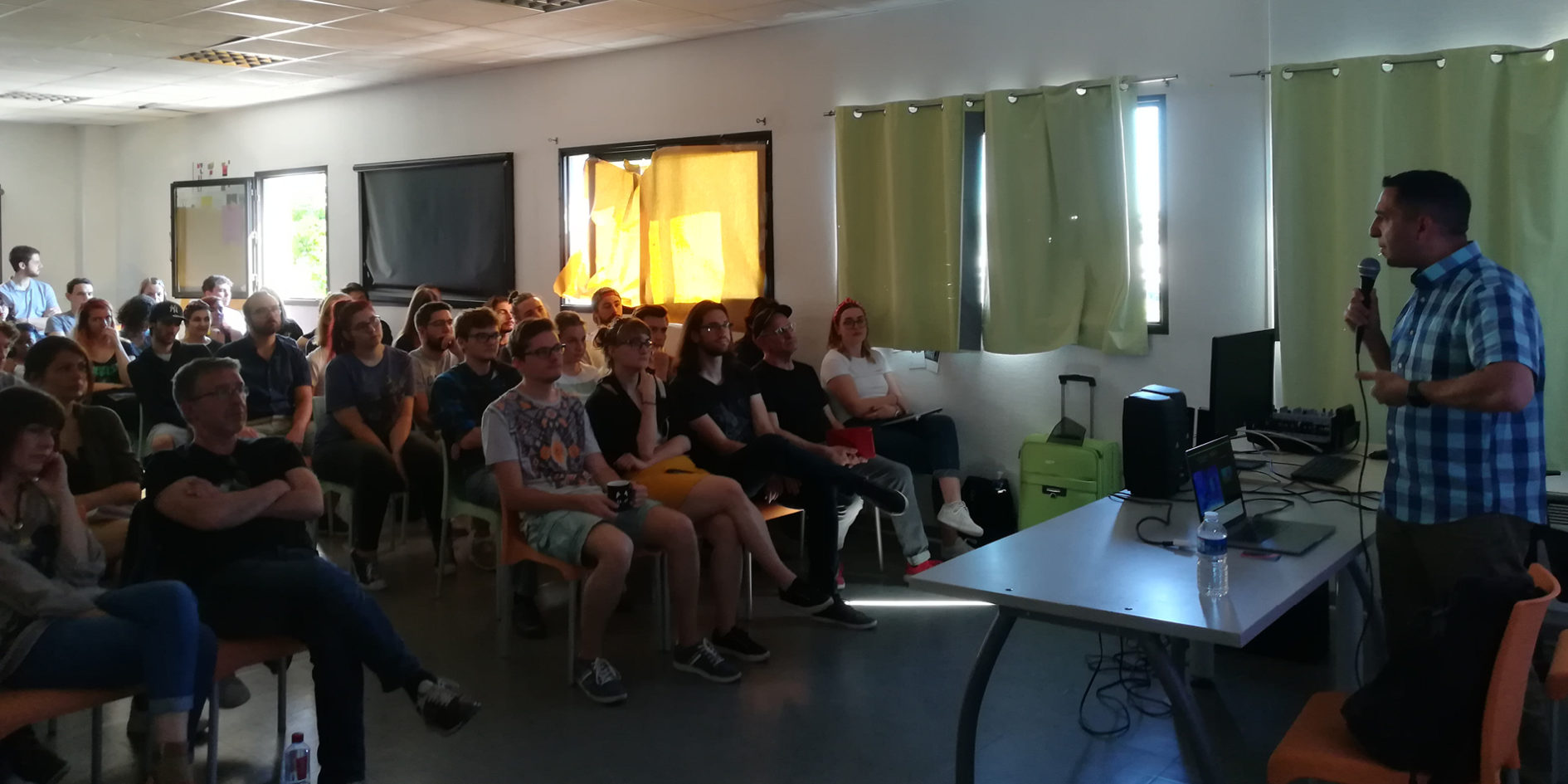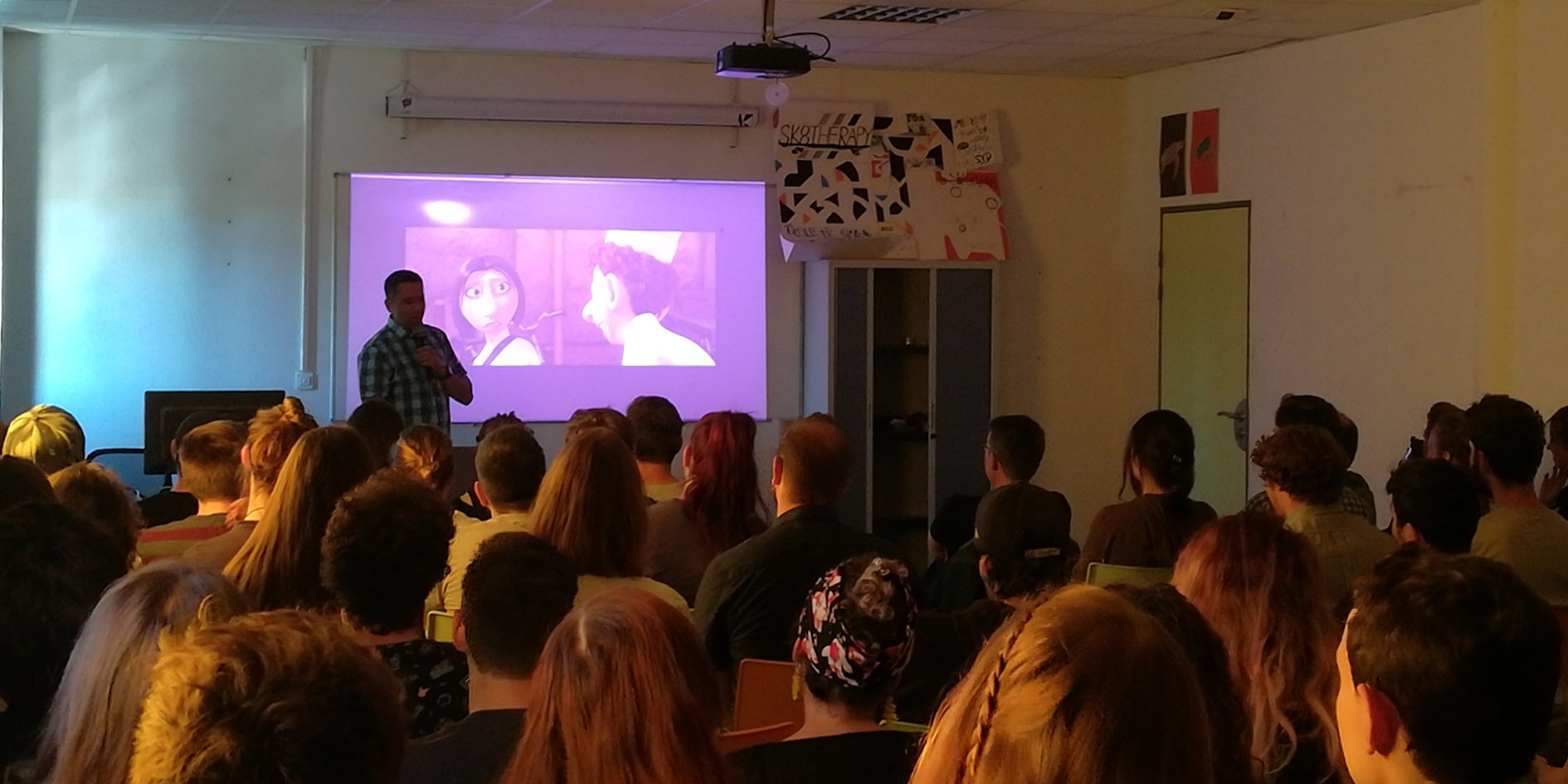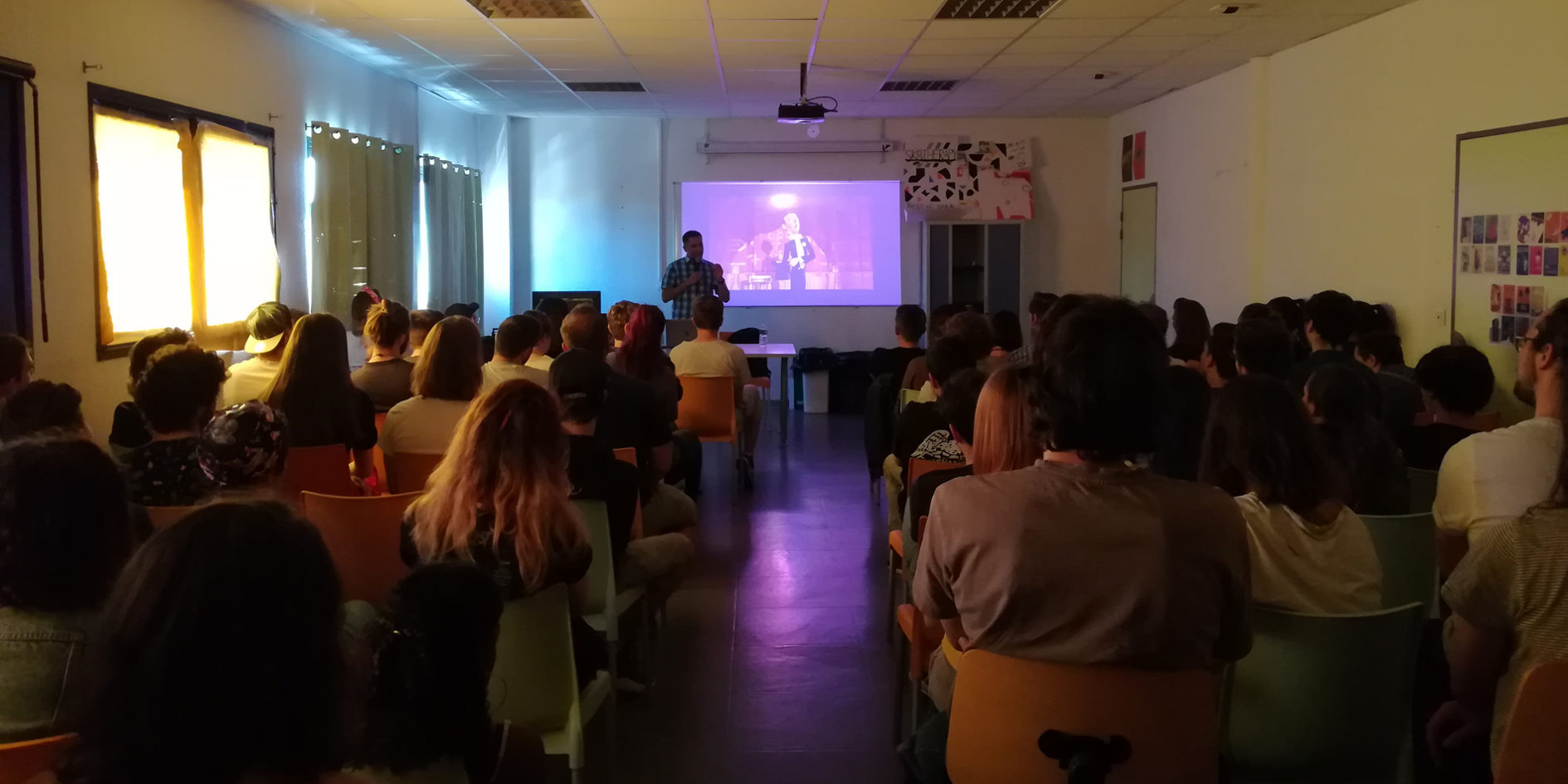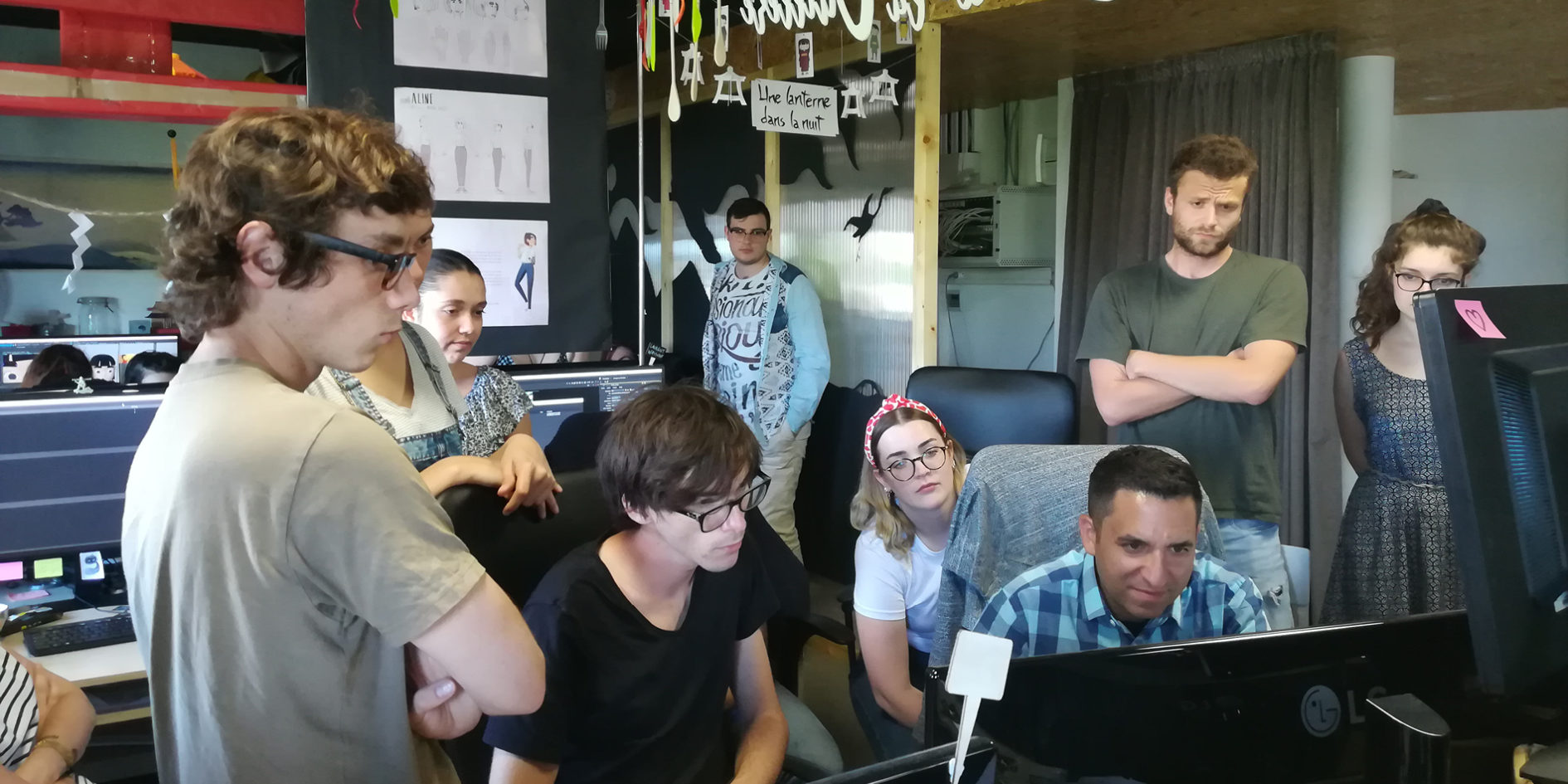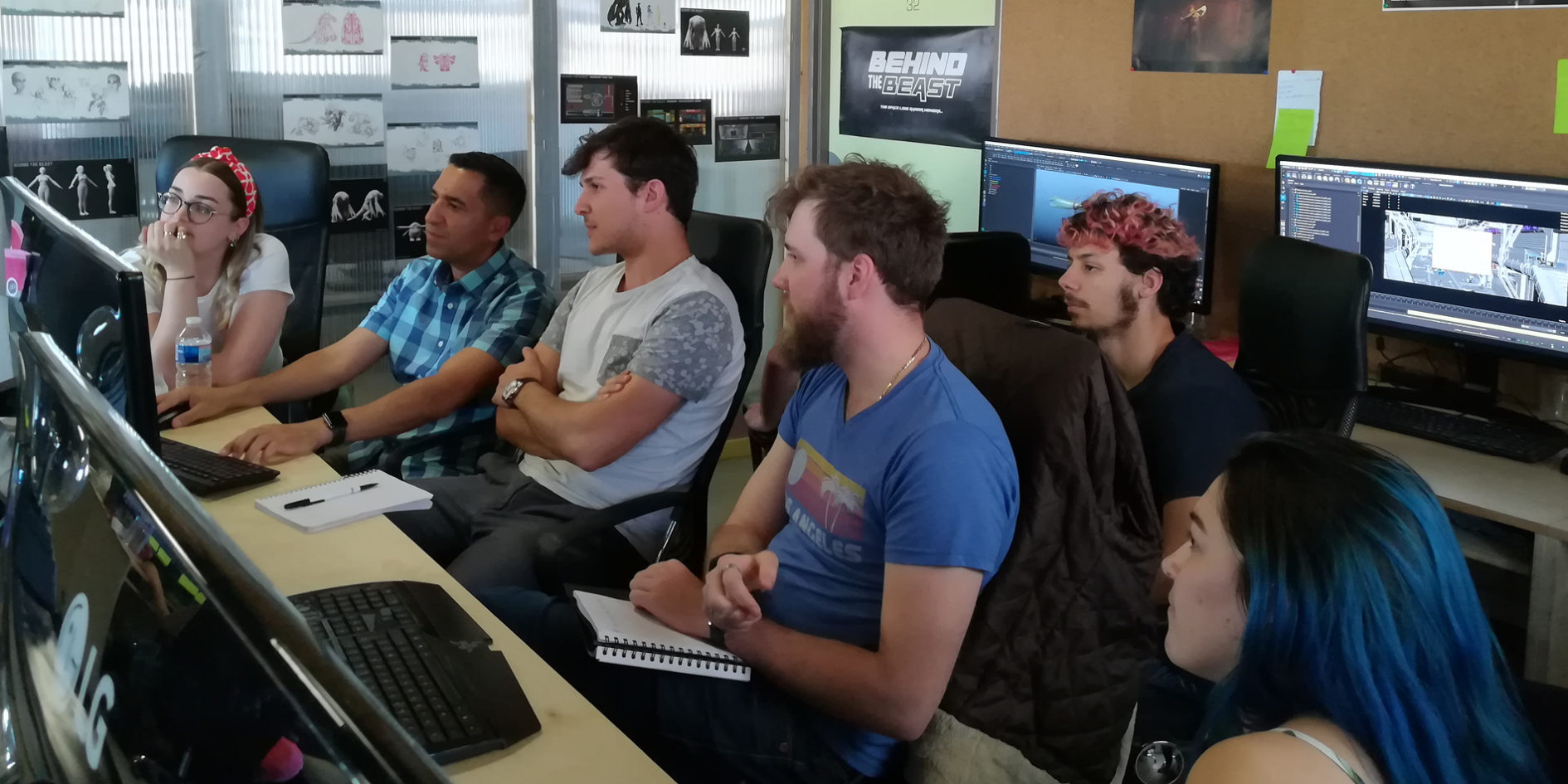 Visit of the DNEG London studio
Conferences

. 23 Aug. 2019
Coming directly from London, Andrew Gordon and Harriet Edge-Partington visited our students in Montpellier. Both represent the DNEG studio. This is the last studio visit for our students and the last opportunity for them to interact with professionals.
Founded in 1998 in London, DNEG has quickly established itself over the years as one of the world leaders in special effects, animation and stereo conversion for both film and television. Its development has led it to open offices around the world: London, Vancouver, Mumbai, Los Angeles, Chennai, Montreal, Goa…
The many awards that mark its history are proof of the studio's commitment and quality. Thus, we can count as prizes Oscars, BAFTAs or Visual Effects Society Awards.
Many of the projects on which the studio has been brought to work are of global resonance, such as blockbusters: Men In Black: International, Godzilla King of Monsters, Avengers: endgame, Alita: Battel Angel, Les Animaux Fantastiques, Venom, First Man, Ant-Man and the Wasp, Deadpool 2…
As interveners, the school received Andrew Gordon and Harriet Egde-Partington. Andrew, head of character animation for DNEG's Feature Animation division, is no novice, having worked for over twenty years in Pixar studios. After that, he turned to Europe to work for a while in the Illumination MacGuff studio before joining DNEG's London teams.
Harriet Edge-Partington, who accompanied Andrew Gordon on this visit, was a recruiter for the DNEG studio. (Editor's note: Since their visit, Harriet has left the studio for new adventures)
For this last visit of professionals, students of the CG Animation Cinema and Special Effects cycle attended a conference presenting DNEG, its departments and the projects on which the studio is working. Following this, Andrew and Harriet met with each group of final-year students to visualize and discuss with the students about their graduation film.
As is often the case during these meetings, this is a good time for our students to meet professionals and share their questions about recruitment and the transition from student life to the world of work.
speakers
Andrew Gordon : Head of Animation, Feature Animation
Harriet Edge-Partington : Talent Acquision Partner
INTERVIEW
CAN YOU INTRODUCE YOURSELF?
A.G.: Of course, I'm Andrew Gordon, Head of Character Animation – Feature Animation at DNEG.
H.EP. I am Harriet Edge-Partington, in charge of recruitment at DNEG for the Feature Animation department.
CAN YOU PRESENT US IN A FEW WORDS DNEG?
A.G.: DNEG is a special effects studio that has been in existence for more than 20 years. We work on many projects for cinema and television such as: Avengers: Endgame, First Man, Ant-Man and the Wasp, Blade Runner 2049 or The Dark Crystal: Age of Resistance, Black Mirror, Chernobyl, Hanna, Dr Who etc.
H.EP. Our department dedicated to television was created a few years ago. The relationship between the small and large screen has grown richer and more complex over the years. The bar is very high for special effects! We also have in parallel with this, of course, Feature Animation and Stereo Conversion departments. In fact, we offer several options at DNEG!
ARE THERE ANY FORMER ESMA STUDENTS AT DNEG?
H.EP. Yes, of course! Right now I don't have any names that come to mind but we have several ESMA alumni in almost every department of our studios. We met several students today and I am sure that many of them will join us. After that, the studio life is quite moving, there are people who come for a project and then leave, who sometimes come back and others come back.
A.G.: Yes, for rigging we have one that was trained at ESMA. In my team of animators, I also have a person from ESMA. There are many more but I don't know them all!
H.EP. Yes, there are certainly more, but there are many of us working at DNEG around the world, so we don't all know each other!
THE ESMA CURRICULUM HAS BEEN REDUCED FROM 3 TO 4 YEARS. WHAT DO YOU THINK OF IT?
H.EP. In England all courses last 3 years and we really see the difference with the French courses which are in 4 or 5 years. Students have time to cover more topics, to be well trained in the use of several tools. They are quickly operational when they arrive in a studio.
A.G. : Yes, I think it's really good. When I was teaching, I saw students working on their final films and being in a bad situation to complete their project. This had an impact on the final quality. So actually, I think what ESMA is doing is really incredible: the last year is only devoted to the film and that's fantastic. There the students can be focused only on their film and come up with something great. That's really great.
THIS AFTERNOON YOU MET OUR 4TH YEAR STUDENTS AND SAW THEIR GRADUATION FILM. WHAT DID YOU THINK OF IT?
A.G.: I love the projects we've seen! I'm really looking forward to seeing them finished. And to have been able to meet the students in the school where they work every day is also very interesting. This helps to understand the environment in which they are studying. There are good vibrations! For me it is very important the atmosphere that the place gives off. I like the movies I've seen but I also like this school! The quality of the work is really good and high and students do not hesitate to face complicated situations.
H.EP. Yes, the films are really promising. They still have a lot to do before they finish, but we look forward to seeing them compile it all. We were able to give them our feedback this afternoon. It is an opportunity for them to get feedback from professionals on their project and even for us, it was very interesting to be able to exchange with them.
WHAT IS YOUR POINT OF VIEW ON THE DEVELOPMENT OF 3D ANIMATION?
A.G.: That's a big question! Everything is going faster and faster. I think that the software will become more and more efficient and their use will be made easier. Moreover, many of the software we use in the animation world are outdated and need to be reviewed. The workflow will also be different. The story itself will be overwhelmed on the screen.
It is a chance for students to be able to create different types of animations and special effects during their studies and to learn about new emerging technologies. Students have the opportunity to bring a new perspective to the animation. But everything that's happening and that's going to happen is really exciting, I can't wait!
H.EP. Yes, it's a really good question! I agree with what Andrew just said, the technology will get stronger. There are many studios in England that take the initiative to develop their visual effects skills. It also means pushing people to always surpass themselves so that they give the best of themselves in order to become increasingly solid artists in terms of techniques and skills.
DO YOU HAVE ANY ADVICE FOR OUR STUDENTS OR FUTURE STUDENTS?
H.EP. Enjoy it! Enjoy the moment you are living. It's going to get more complicated when you go into a studio. It is necessary to meet customer requirements with sometimes short deadlines. School gives you a little more flexibility so have a good time. It is also necessary to develop your own point of view and make your voice heard. This may be the only time you can make your own film. School is a time in your life when you will do something for yourself and not for someone else.
A.G.: Working hard is an important point. Don't necessarily look for perfection at all costs, when you enter the animation industry, you will be able to deepen your position and the necessary skills.
DO YOU WANT TO ADD ANYTHING ELSE?
A.G.: If you want to make good films, you have to understand everything about how everything works and how the different departments fit together. Study the stories and how they work. It's something I would have liked to have been taught early.
One last thing: stay students forever! Never stop being a student, never stop being curious and learning things.