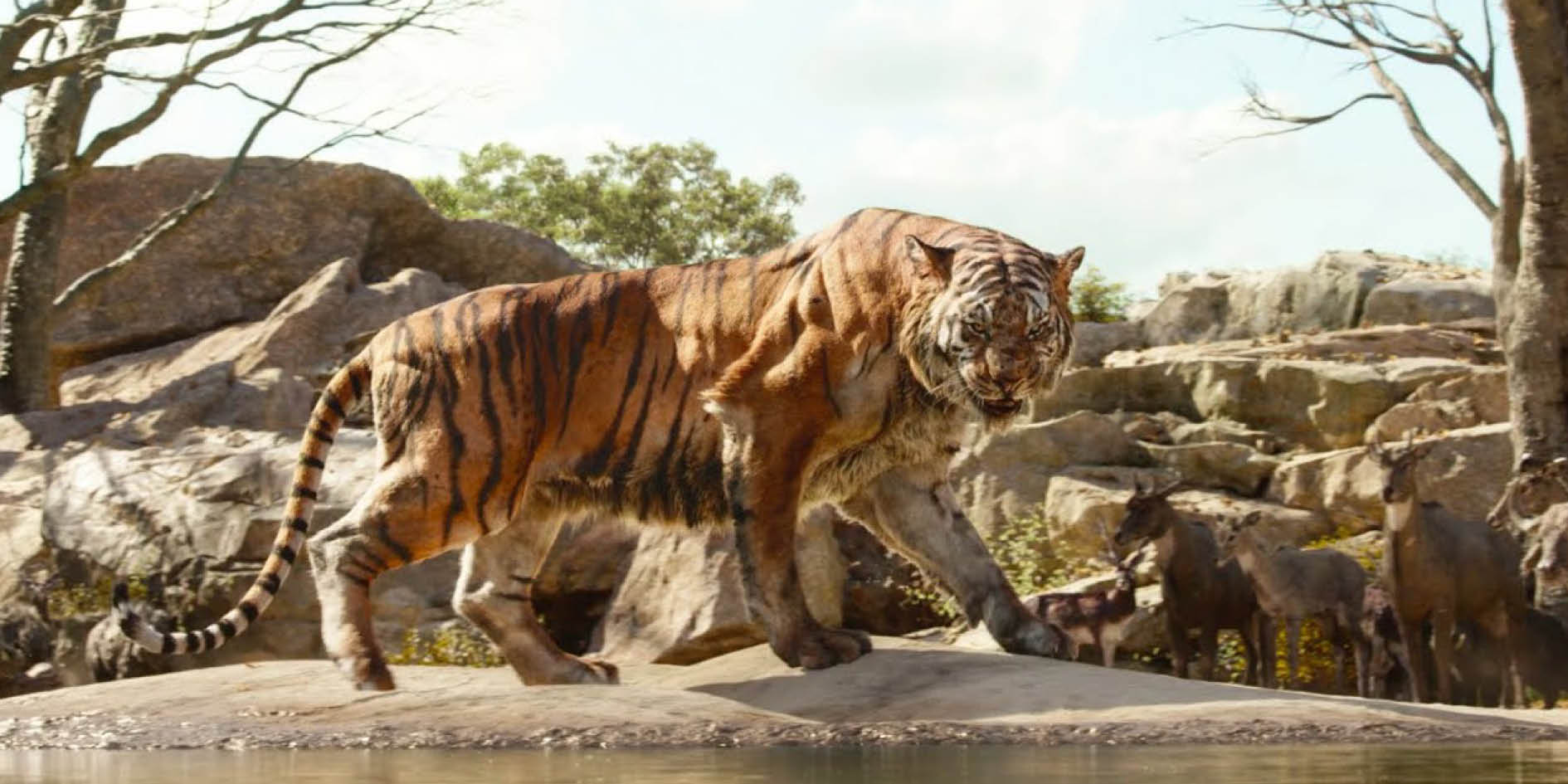 Abdelkader NOUAR
Meeting with Abdelkader Nouar, an alumni of ESMA who is both lead TechAnim in the Mill Film studio and Youtubeur who reveals behind the scenes CG animation and VFX. Discover his portrait!
A look back at your ESMA years
WHAT MADE YOU DECIDE TO GO INTO THE WORLD OF CG ANIMATION AND FX?
This desire came to me early enough. From high school I had fun faking videos with Adobe After Effects or creating photo montages on Photoshop. Continuing on with CG animation was the logical next step for me.
The only problem is that in the early 2000s being self-taught on the Internet in this field was not easy. It was when I arrived at school that I started to take an interest in training, trying free software like Blender and so on.
If I remember correctly, I discovered ESMA during a student fair. I was seduced by both the training offered and its duration, but also by the short films produced at the time, which spoke to me much more than those from other schools.
WHAT DID THE TRAINING BRING YOU?
I would say that the training brought me rigour in the work and a beginning of introduction to the rhythm of life of a real production. I think you're never really ready for the world of work until you dive into it. On the other hand, being a little "touchy" in CG animation thanks to ESMA has been a big plus in my professional progress, especially for the TechAnim/CreatureFX department, which requires a lot of knowledge in many fields.
My choice of specialization for clothing simulation came somewhere in the second year. I had no idea they called it TechAnim or CreatureFX and I thought this kind of thing was handled by the FX department. It was when the MPC studio came to the school to talk about it and introduce us to this discipline that my decision was made.
Overall, I would say that the training and teachers have given me a critical eye on my work as well as in general. They have pushed me to be structured in everything I do.
DID YOU LIKE ANY PARTICULAR SUBJECT?
Compositing with Professor Laurent Soen! Being able to do literally what you wanted, whether it was to improve a video sequence or save a not-so-good CG rendering, it was extremely satisfying.
But having had the chance to see the reality of this discipline in the world of work before entering it, I decided not to pursue this professional path. I still continue compositing as a hobby at home. But that doesn't stop me from opening Nuke software from time to time to improve the work I present haha;)
HOW WAS YOUR PROFESSIONAL IMMERSION WHEN YOU GOT OUT OF ESMA?
It was pretty smooth. I had just finished producing the final short film, so I was still well in the bath in terms of sustained work rhythm. I joined the MPC studio for a "light" period before the start of Disney's The Jungle Book. This gave me time to learn the tools and working methods correctly without being rushed by the deadlines.
Your professional background
CAN YOU PRESENT US YOUR PASSAGES IN THE DIFFERENT STUDIOS WHERE YOU HAVE PRACTICED? WHAT HAVE YOU GAINED FROM THESE DIFFERENT EXPERIENCES?
To begin with, I first worked for the MPC studio in London where I had the opportunity to make mainly films but also a little advertising when needed.
I have had the chance to work on big projects like Disney's The Jungle Book, Terminator Genesys or Pirates of the Caribbean 5, so I have been able to improve my skills in just about everything related to Maya software and know how to use it more and more quickly.
Then I joined the Framestore studio, still in London, where I did a lot of setup development of clothing and fur simulations for Marvel films like Thor: Ragnarok, Avengers Infinity War and Avenger: Endgame. This allowed me to consolidate my knowledge in the field.
NOW, WHAT IS YOUR CURRENT POSITION AND WHAT DOES IT CONSIST OF?
At the moment I am Lead TechAnim / Creature FX at Mill Film in Montreal. Unfortunately I can't talk about the project I'm working on yet, but I can tell you that I manage a team of about 40 TechAnim artists with Christelle Giboin. Besides, Christelle is my former promotion teammate on our ESMA student short film (like what the VFX industry is really a very small world haha :)) !
It should be noted that the job titles Creature FX and TechAnim are in fact the same job. It's one of the few departments with a different name in the studios! But basically, we take care of everything related to the simulation of clothes, hair and hairs. From time to time, there may be muscle and skin simulations for characters or creatures. You may also have to do "Shot Sculpting", i. e. sculpting over an animated creature to add a little more detail, such as muscles to bring them out.
WHAT DO YOU LIKE ABOUT THIS JOB?
What I like most is the variety of tasks! For example: I went from simulating the muscles of the Shere Khan tiger in The Book of the Jungle to simulating the sails of the Black Pearl in Pirates of the Caribbean to clothing and fur simulations for Rocket Racoon in the last Avengers.
WHAT SKILLS AND QUALITIES ARE REQUIRED TO DO THIS JOB?
I think you need to have a minimum of knowledge about everything, whether it's modeling, rigging, sculpting, animation, FX simulations, without necessarily being a generalist.
Beyond that, you also need knowledge of anatomy. From time to time we find ourselves having to "redesign" the muscles of a creature or character and knowing where to put them is a big plus.
WHEN YOU WERE AT MPC AND FRAMESTORE YOU WORKED ON MANY BLOCKBUSTERS EXPECTED ALL OVER THE WORLD. CAN YOU TELL US ABOUT IT?
When you're in it, in the end you don't realize it that much. It is especially when the trailer is released or the first reviews are made that we realize the impact these films have. But over time, we learn to detach ourselves from the popularity of projects in order to focus on the work to be done.
Large customers such as Disney or Warner Bros are very demanding and they are pushing us more and more to deliver quality within ever tighter deadlines.
HOW IS IT TO WORK ON THIS TYPE OF FILM, WITH SO MANY COLLABORATORS INVOLVED IN ITS DEVELOPMENT? HOW ARE WORKING RELATIONSHIPS WITH COLLEAGUES AND DEPARTMENTS?
You don't necessarily realize how many people are involved at the beginning because everything is segmented into departments and you only have to go to 2 or 3 departments. For example, in CreatureFX/TechAnim we depend mainly on animation and rigging. When our game is over, we pass our result to the lighting department.
Communication between departments is essential to the success of a project and often varies according to the production.
AT THE BEGINNING OF YOUR CAREER, ISN'T WORKING ON SUCH PRODUCTIONS IMPRESSIVE OR STRESSFUL?
At first clearly yes it is always stressful but I had the chance to work with experienced people who guided me and trained me very well to manage this kind of work and the stress that goes with it.
Also meeting other ESMA alumni in the same boxes everywhere is reassuring.
CURIOSITY: DID YOU GO TO THE MOVIES TO SEE THESE MOVIES?
In the end, not so much. Most of the time the studios offer a free screening for the teams who have worked on the films.
It's always interesting to see our work on the big screen after spending several months working on it on a monitor.
But after spending several months watching the same film on your computer screen, you sometimes just want to move on and come back to it later.
SEVERAL TIMES YOU HAVE WORKED ON COMMERCIAL VIDEOS, SUCH AS TV COMMERCIALS. WHAT'S DIFFERENT ABOUT A FEATURE FILM?
The work rate is really much faster than for a film. These are projects that only last a few weeks compared to a film that can take months or even years to make.
Advertising customers are increasingly relying on us to provide feature film quality for their advertising spot. This is even more true when you work in the advertising branch of a studio known for its films, such as MPC and Framestore.
IS THERE ANYTHING YOU'RE PARTICULARLY PROUD OF?
I would say Disney's Jungle Book, because it was one of my first projects and probably the one where I spent the most time and on which I learned tons and tons of things! And then he won the Oscar for best
Youtube
WE DISCOVERED THAT YOU LAUNCHED A YOUTUBE CHANNEL THAT PRESENTS THE UNDERSIDE OF CG ANIMATION AND SPECIAL EFFECTS. CAN YOU TELL US ABOUT IT?
The aim of the Post Prod Time channel is to popularize the VFX trades and industry as simply as possible for an audience that is foreign to this environment. I also want to prepare students and anyone else who is looking to get involved. Finally, simply inform people interested in our profession.
HOW DOES ONE COME TO CREATE A YOUTUBE CHANNEL?
It came from the fact that it was very difficult for me to explain what I was doing to my family and friends.
It's also related to my history, when I was looking for information about the industry when I was younger, everything was very nebulous and not very concrete.
So I decided to centralize all this in the form of a YouTube channel!
ISN'T LIFE AS A YOUTUBEUR COMPLICATED TO MANAGE WITH YOUR JOB IN THE STUDIO?
YouTubeur is a big word! I don't qualify as such, I just make videos for the haha pleasure!
Otherwise, as far as work/video creation management is concerned, it depends on the time of year. At first I tried to make content regularly but I have been doing rush periods over the last few months. In addition, my move to Quebec didn't really help.
In addition, some of my video equipment is still in France, so it's quite complicated… But I'm clearly going to start again as soon as I can!
WHAT WILL BE THE SUBJECT OF THE NEXT VIDEO?
I have a lot of ideas in the boxes! I did a little survey among my family and friends as well as on social networks and I'm still hesitating a little bit.
I have made good progress on writing an explanatory video that presents rigging but I also want to talk about working conditions and the reality of the job. It's something a little more complicated to talk about but one that is close to my heart. As I know that many students follow my chain, I would also like to prepare them a little bit for what awaits them after graduation.
In the long term I plan to make a video by professions/specialties in order to have a kind of "video encyclopedia" of the CG animation and special effects industry.
special effects and that makes it very satisfying in the end:) !
To conclude
SO HOW IS LIFE IN CANADA?
I've been there for about a month now and this is my first experience in North America. Compared to London or Europe, it's really different.
I have gradually got used to the 6-hour time difference with France, the pace of life, the customs that are different. It's something I really like: discovering and adapting. On the other hand, work and its problems are the same thing! So I'm not lost at that level, haha.
DO YOU STILL WANT TO TRAVEL A LITTLE BIT OR DO YOU THINK YOU'LL GO BACK TO FRANCE?
I plan to stay in Quebec for a while longer and, in general, continue to stay abroad. France has very, very good studios, but I just find it a little too bad that most of it is concentrated around Paris. For the moment I want to discover new things and continue to make more and more new encounters
WHAT ARE YOUR PLANS FOR THE FUTURE?
I would say to improve and resume my videos for the YouTube channel:) As well as to continue to progress and to learn even more new things.
FINALLY, A LITTLE ADVICE FOR STUDENTS AND FUTURE STUDENTS?
I would say that we must not give up anything because it is an environment that requires investment!
Also to avoid feeling in competition with your classmates (who will most certainly become colleagues later on) and to encourage mutual aid because in our sector, it is above all teamwork.