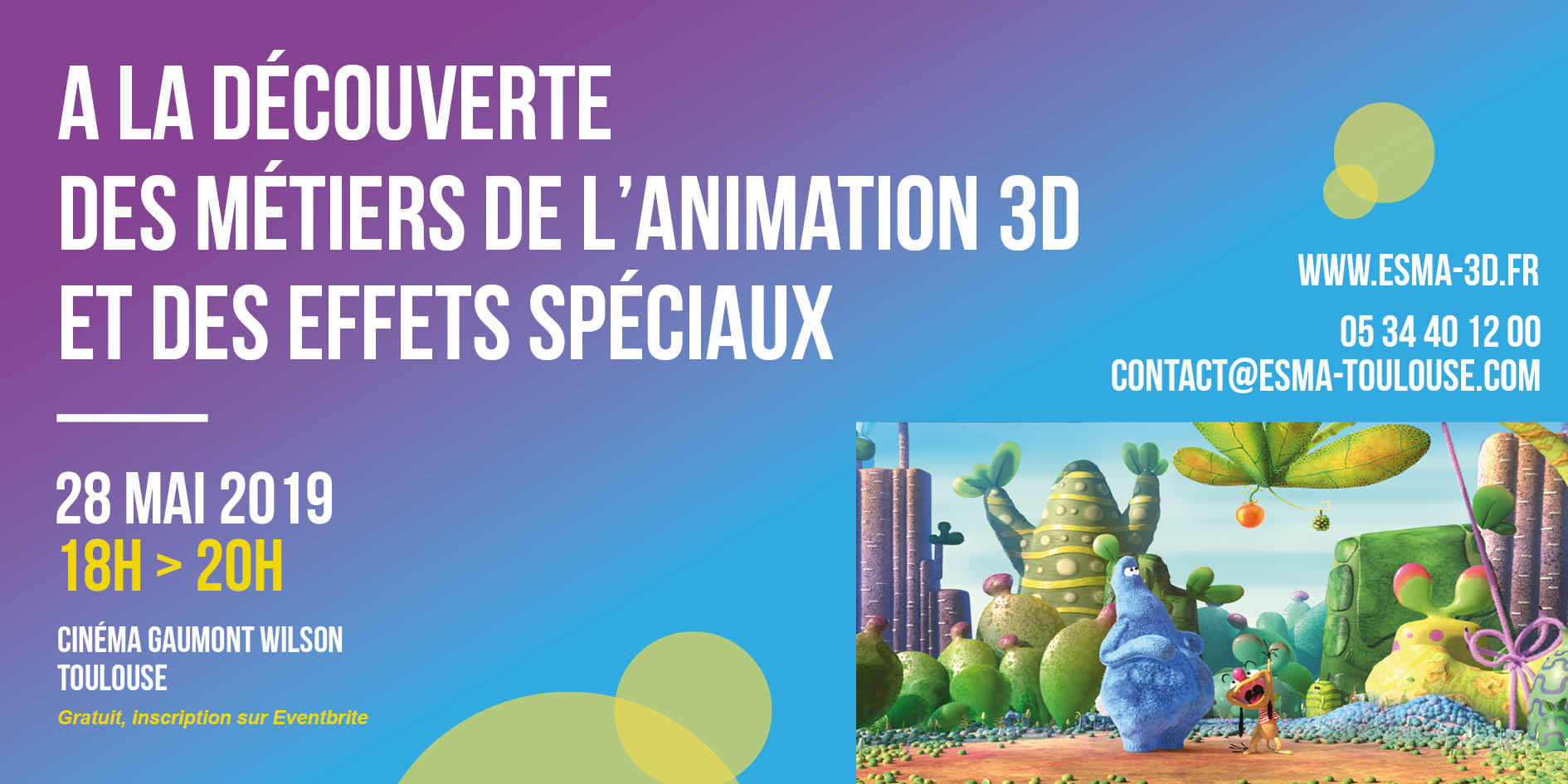 Meeting Toulouse : Discovering the professions of CG animation and FX
Conferences

. 16 May. 2019
On Tuesday, May 28, 2019 in Toulouse, Gérard Raucoules – Head of Training CG Animation and FX at ESMA – will give a meeting on the backstage of the animation sector
DEMYSTIFYING THE UNKNOWN TO MAKE IT ACCESSIBLE
In April, a first edition of this conference was held in Montpellier, as part of the MICC. On the strength of the success we met and the numerous exchanges we made, we wanted to renew this event in the city of Toulouse.
Although 3D animation and special effects are an integral part of our daily lives (without even realizing it), the bottom of this universe remains poorly known and raises many questions because of the lack of knowledge for the general public. It remains a world on which hangs the veil of mystery. Our desire is precisely to shed light behind the scenes of this universe and to show that it remains much more easily accessible than we think.
That's the whole point of this conference: to promote growing professions and to understand the entire animation film creation chain.
Thus, parents can learn, and reassure themselves, while future students will discover vocations as employment opportunities and developments are more than many.
A SECTOR THAT CARES WELL
3D animation is doing particularly well and even continues to grow. Opportunities are numerous and companies in this sector are very labor intensive because the studios are faced with more and more imperatives of productivity, which are growing. A student who completes his training will be certain to find a job within one year of graduation.
No worries about the career progression of the young graduate since he will have a wide range of possibilities. So he can choose to work on movies (animation or not), commercials, video games, TV series etc. The possibilities are particularly numerous! The icing on the cake, to this will be added the many opportunities to exercise his talents in studios spread around the world!
PROGRAM
Projection of short films by ESMA students
Conference

history of 3D animation and special effects
The methods of film production
How students are prepared for the 3D animation industry and the integration of the professional environment

Public debate / speaker
MORE INFORMATION
Register for the event(free, but registration required because limited places)
Date: May 28, 2019
Schedule: 18h-20h
Place: Gaumont Wilson Cinema – TOULOUSE (3, President Thomas Wilson Square – Toulouse). Subway stop "Capitole".