ESMA partner of the 3 Continents Festival in Nantes
As part of its partnership with the 3 Continents Festival, two groups of 4th year students of CG Animation Cinema and FX from ESMA Nantes gave a lecture to primary school students to make them aware of the world of CG animation.
ESMA STUDENTS MAKE A YOUNG AUDIENCE AWARE OF CG ANIMATION
At the end of 2019, ESMA was a partner of the Festival des 3 Continents which takes place every year in the city of Nantes. On this occasion, two final year groups from ESMA Nantes' CG Animation and FX – Master Degree were invited to present the world of CG animation to primary school students. This initiative was part of the "Premier pas" (First Step) programme, which aims to raise awareness of other forms of cinema among young people (aged 3 to 9) and their entourage.
The two groups of ESMA students were :
The team from La Source des Montagnes
Marianne Moisy, Benjamin François, Camille Di Dio, Briag Mallat, Adrien Commnuier and Pierre Gorichon.
The project Le Roi Tulipe
Chloé Chapart, Agnès Dejean, Dorian Douaud, Flavien Duramé, Audrey Rioux and Alexis Rousseau.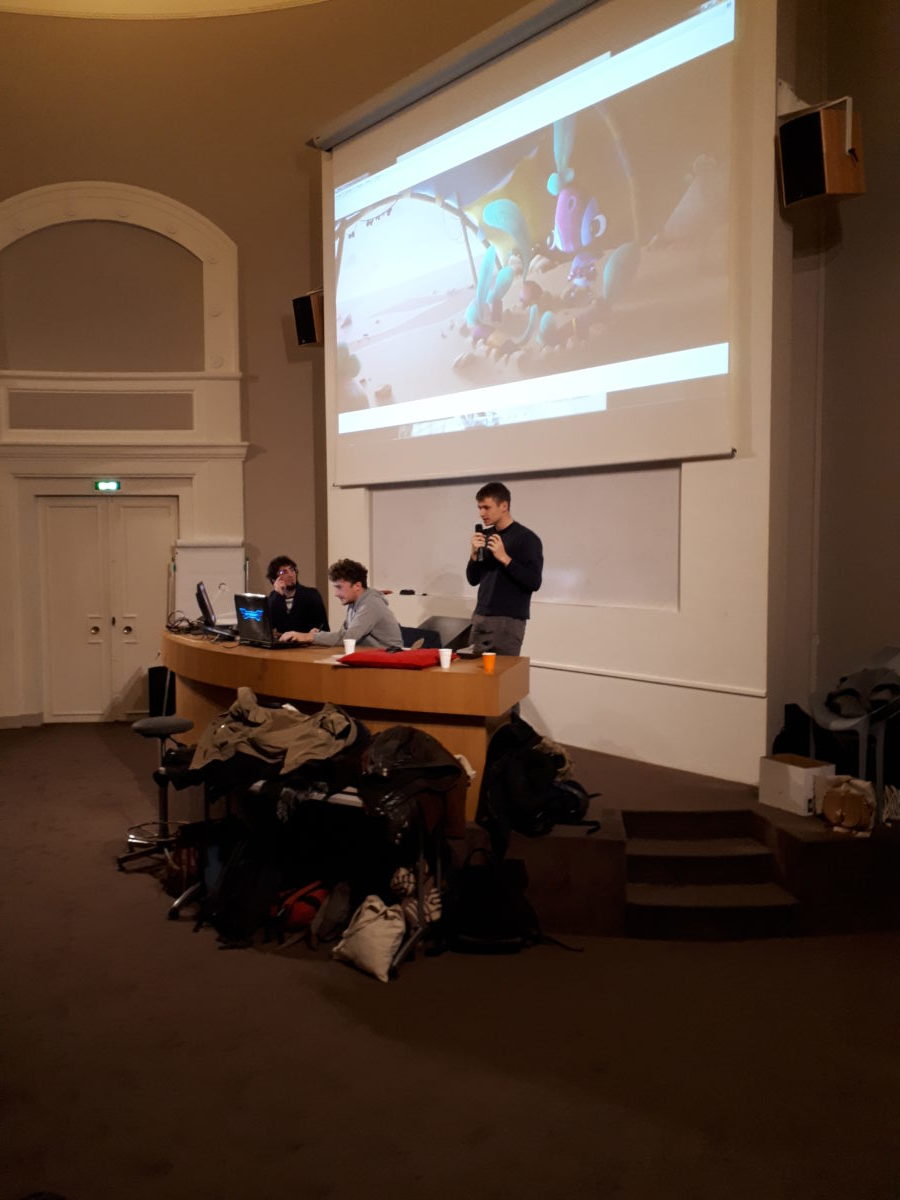 The students were therefore given the task of explaining the process of creating an animated film. This presentation followed the screening of the animated film Pachamama which the primary school students had attended.
In order to make themselves understandable to such a young audience, the students first projected an educational film explaining quickly what CG animation is all about. Then, they asked their young audience to imagine a short story centred around a character. The character was drawn live by Dorian Douaud and evolved as the young participants presented their ideas. Finally, the two groups of ESMA students each presented their final film project. This also allowed them to test their story and see if it was understandable to an audience outside the project.
Camille Di Dio looks back on this experience:
Creating this mini-story around a character and an action, drawn in real time, allowed them to show them how it happens in pre-production and how you organise all the actions of a character.
It was a very interesting experience that allowed us to present our stories to a young audience and to see what worked, what was understandable and even to help us clarify certain points in the script according to the questions that were asked.
A FEW WORDS ABOUT THE FESTIVAL
The 3 Festival Continents was founded in 1979 in Nantes by its founders: Philippe and Alain Jalladeau. The aim of this event was to change the way we look at filmography from unknown countries. Thus, the festival privileges cinematographic works from Asia, Africa and Latin America.
During its years of existence, the festival has allowed the emergence of several directors such as Souleymane Cissé, Wong Kar-wai, Abbas Kiarostami or the Zhao Liang.
The festival takes place over a period of one week at the end of each year.
For more information: Website.