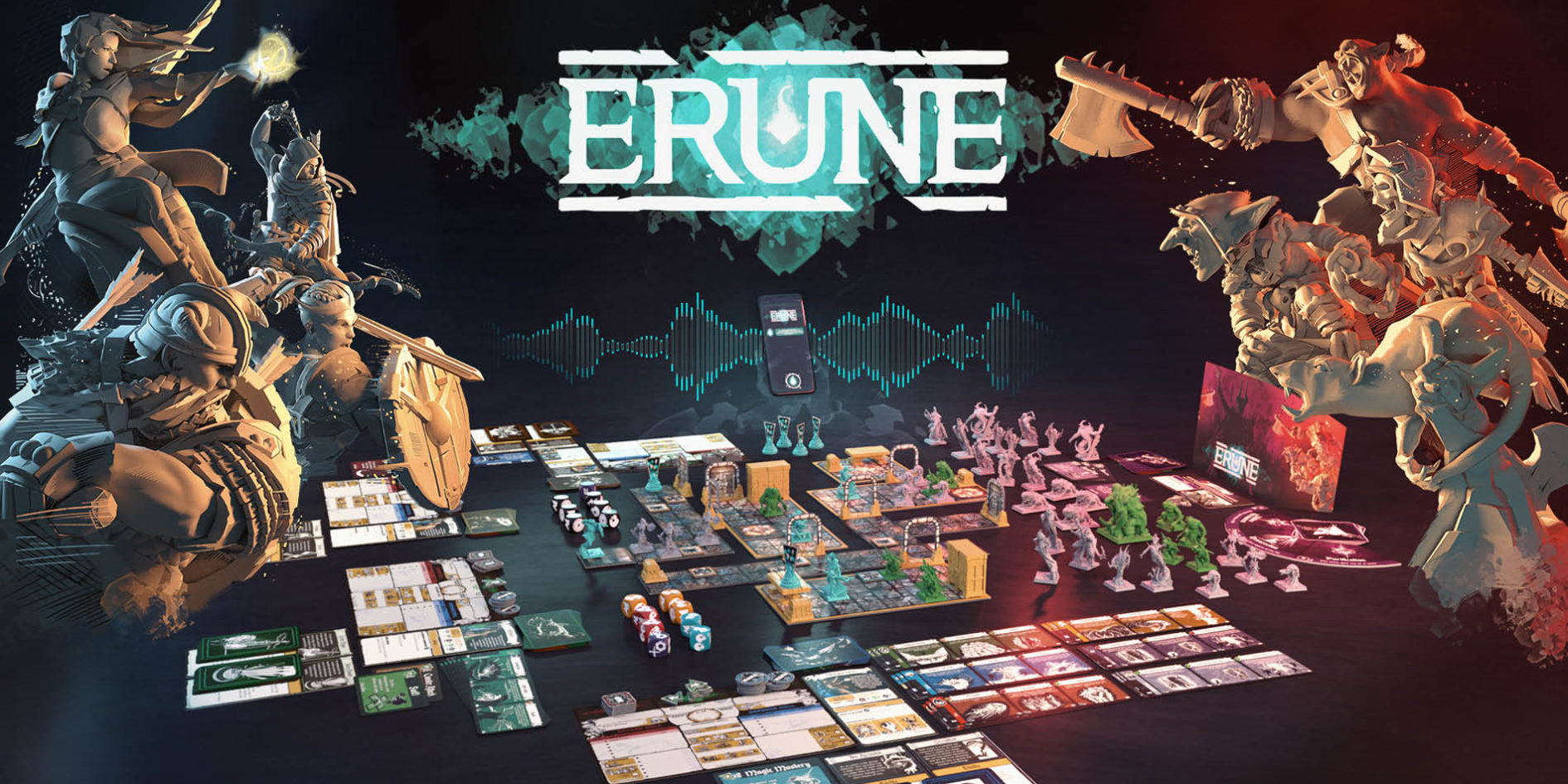 Will you dare to face the world of Erune?
Quentin Deleau and Kevin Roger, former students of the CG Animation Cinema and FX course, are launching a participatory fundraising campaign for his revolutionary board game: Erune.
from CG animation to board game
At the helm of this project are Quentin Deleau and Kevin Roger, founders and respectively artistic director and CG project manager of Arkada Studio. Before embarking on the world of board games, the young men studied at ESMA, more precisely in CG Animation & FX Master Degree. The former is one of the co-directors of the epic film Château de sable and the latter, co-director of the poetic film The Short Story of a Fox and a Mouse.
In 2018, they developed a brand new project a little far from the world of CG animation, with the goal of producing their first dungeon exploration board game: Erune. In order to make their dream come true, Quentin and Kevin have just launched a participative fundraising campaign on Kickstarter. Contributions allow them to pre-order the game but beware, as time is limited to support them!


In this epic, other ESMA alumni took part in the adventure. They include: François Gris – co-director of Tea Time -, Florian Crevel – co-director of Clocky -, Paul Bar – co-director of Catch It. But that's not all, Yoann Poncet from the Studio des Aviateurs (well known for his participation in the sound part of graduation films) and Elio Antony, the composer of the music for the film Château de sable, are also taking part in the project.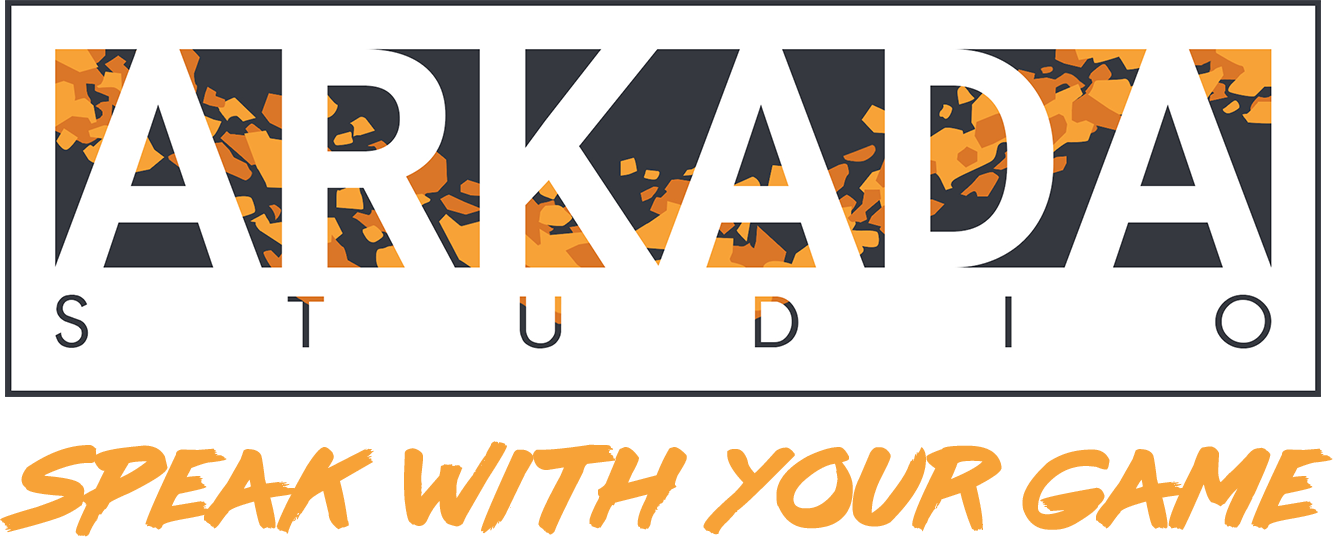 Presentation of Erune
What this project denotes with other more conventional board games is the addition of a voice assistant as an actor. As a game system, players have the ability to play as four characters with specific abilities: warrior, guardian, magician and archer. Together, they will have to combine forces to emerge victorious in the challenges they face. Note that parity has been respected. Indeed, the heroes are composed of two female and male characters. As Quentin pointed out: our audience is mostly male but we wanted to bring modernity to our game. We wanted to impose parity. Besides, the big villain of the game is a villain!
The game system is one of quests and dungeon explorations. As players progress, they gain experience, unlock new skills / talents / equipment.
Opposing the valiant adventurers, the Dungeon Master – also played by a player – aims to hinder the heroes' progress. To achieve this, he has a whole army of monsters (goblins, orcs, trolls, demons…) and devious traps at his disposal. He too will be able to acquire new talents to be able to better compete against other players and achieve his personal quests.
And finally, the last speaker: the Spirit of Erune. The Spirit of Erune is represented by the voice assistant. This spirit is the essence of the world of Erune and does not belong to either side. It replaces the rulebook but also manages the random searches and loot collected as well as the events of a quest.
The gameplay is composed of three phases where each side must take turns and perform actions of its own.
CREATIVE WORD
As we know, those who speak best of their project are the creators themselves! So we interviewed Quentin who talks about Erune and its history.
Can you tell us about Erune? 
Erune is a dungeon exploration game, with its traditional Heroes like: the dwarf, the warrior, the elf, the magician, who will face the dungeon master and his traditional monsters like: goblins, orcs, witches, gargoyles…
What is far from being traditional, however, is that from now on there is no need for a rule book to play. Indeed our voice application replaces it and guides the players in their exploration of the dungeon, it will answer all their questions but also create totally random events. The Game Master will thus become a full-fledged player in the game who doesn't know in advance the events of the application and has objectives to fulfill in each quest as in "A book of which you are the hero". The application will also allow to create sound atmospheres making the game particularly immersive and create interactions with non-player characters such as a prisoner locked in a dungeon that players will be able to interrogate… (whose voices are recorded by actors).
Erune aims to be fun, immersive and accessible to the greatest number of people, responding to the most seasoned players with its richness, but also to novices thanks to its accessibility and its very immersive side.

How did you get the idea for this game?
As a big role-playing game in high school, with a group of friends, we used to play it regularly by reinventing the rules. Some of them would regularly insist that I actually create the game that we had most appropriated and transformed. We were in the early days of Erune!
Since my studies at ESMA allowed me to acquire all the graphic and technical know-how (CG sculpture, illustration, animation) to design the game, it was easy for me to get caught up in the adventure that is game creation. That's why as soon as I graduated from ESMA with a good year of reflection, I decided to create my creation studio: ARKADA STUDIO and to take some of my friends with me. From reality to fiction, there is only one step, which I took after my studies at ESMA.
The name Erune comes from a mix between the word "rune", a reference to the medieval world and which is very present in the history of our game, and the addition of the letter "e" in front for the technological dimension, like e-sport. It's also a word that goes down very well in French and English!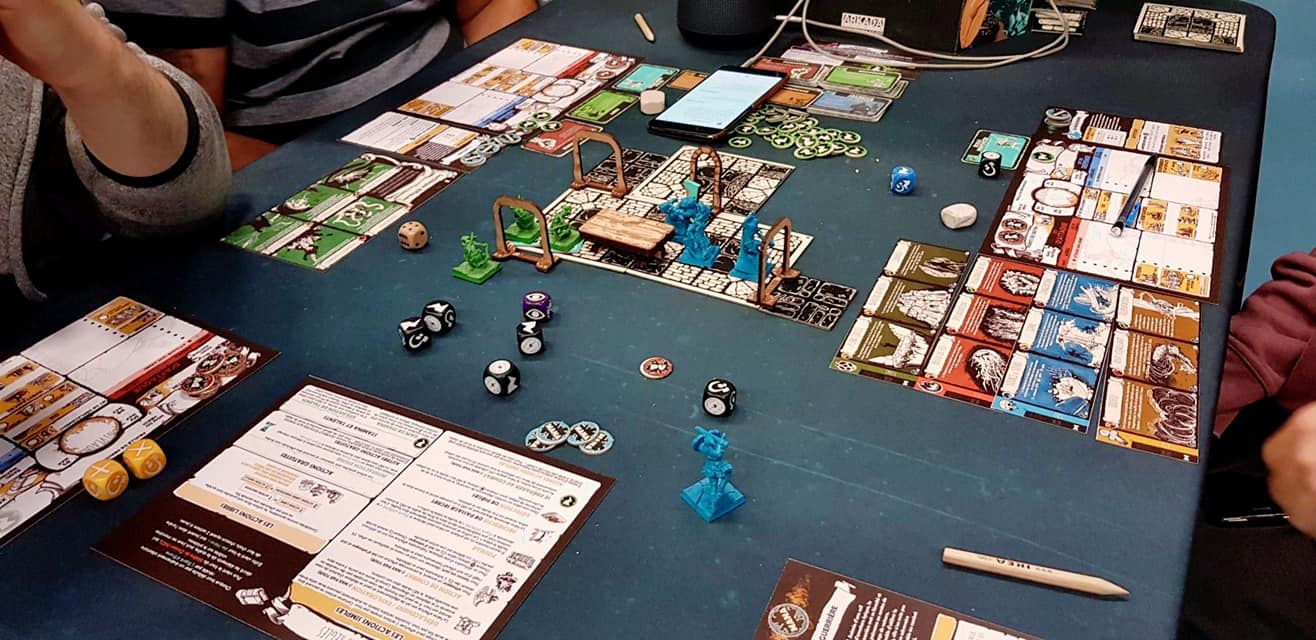 How long have you been working on the project?
I've been working on this project for a little over two years, including one year full time. My partner is Kévin Roger, who is also an ESMA alumnus. From our friendship born at ESMA, a great collaboration was created and it soon became clear that we were going to join forces to create Aarkada Studio.
There is also Adrien Smondack, a high school friend who has been with us since the beginning of the adventure and with whom Erune was born many years ago. He is our computer developer who is behind our AI.
Many friends, acquaintances and professionals seduced by the Erune project wanted to support us during these two years. Support that has taken different forms, such as English translations or animations of game tables at trade shows, but also advice in game design …
I am still amazed and touched to see the number of people who have been federated by this project.
How is this role-playing game different from other board games?
Erune is an improved version of a role-playing game that is a great classic of the genre: "HeroQuest". It features many classic role-playing mechanics while including new innovative mechanics. Gameplay was one of our priorities, we wanted it to be intuitive, dynamic and above all as fun and accessible as possible.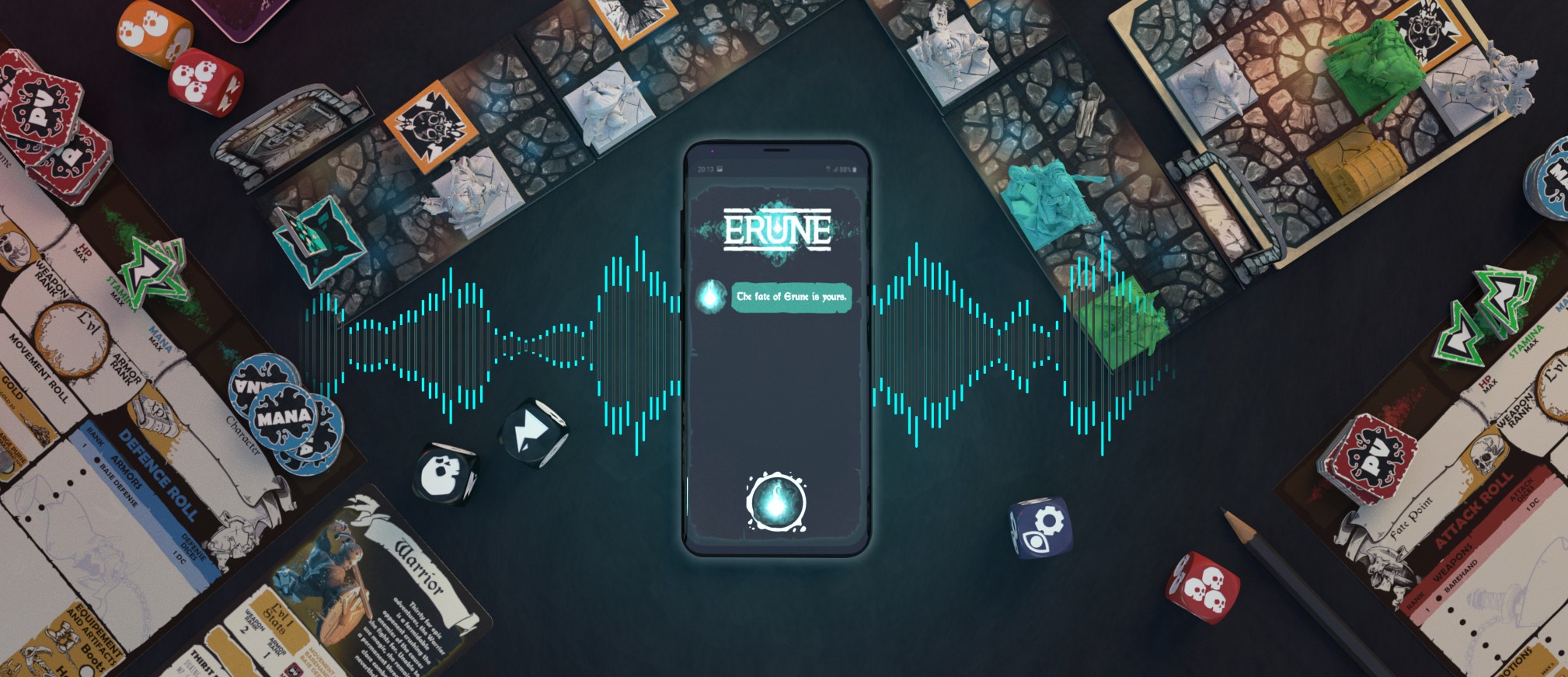 The addition of a voice application as a game assistant is a real innovation that we are currently the first to introduce. It allows a very fast learning curve and an immediate immersion in the game. It also revolutionizes the role of the Game Master, who becomes a full-fledged player with objectives. Finally, it makes the game extremely rich while being accessible to the greatest number of people, since Erune meets the requirements of role players, but is also a gateway for any novice player of the genre.
Finally, being behind all the steps of the game creation, from gameplay to design… Erune is a concentrate of vintage gameplay while being innovative with a coherence in the game mechanics and in the design of the board and the miniatures, without forgetting the cards etc… Erune is a game that is both vintage and innovative.
A global coherence that is not always obvious in the game world.
In which languages will it be available?
Erune will be available in French and English. As French, it was important to release Erune in our native language. English has an international vocation, in order to reach the American market, which is the most important one on participatory financing platforms such as Kickstarter.
Are you a board game player at the base?
Of course I am! I'm a basic ROLIST, as a kid I used to spend my time improving my garden shed where we used to do our greatest JDR (Role Playing Game) quests with my friends. Today we play in the big league without blushing, because the feedback from professionals is laudatory to say the least. We're keeping our fingers crossed that the Kickstarter campaign is off to a great start!
How was the collaboration with the ESMA alumni? Why did you call on ESMA alumni and what was their role?
ESMA, thanks in particular to the year-end film we had to make, allowed us to discover ourselves both at work and as a person, and from this discovery were born very strong ties. It was therefore a real opportunity for me to offer these friendships born at ESMA to participate in the creation of my project.
It was very easy to work together because we had the same working methods and a taste for challenge.
As perfectionists, we set the bar very high to create a truly original and innovative game. This requirement quickly won over the group we formed at ESMA and many of them quickly offered to contribute to the project. They all played a more or less important but essential role.
Kévin Roger, as I said earlier, is my partner, and he was in charge of creating the trailer and posing the figurines. François, while looking for work in Canada, contributed to the creation and carving of the figurines. Paul helped with the game design and managed all the character rigging and part of the trailer animation. Florian did the lightning of the trailer!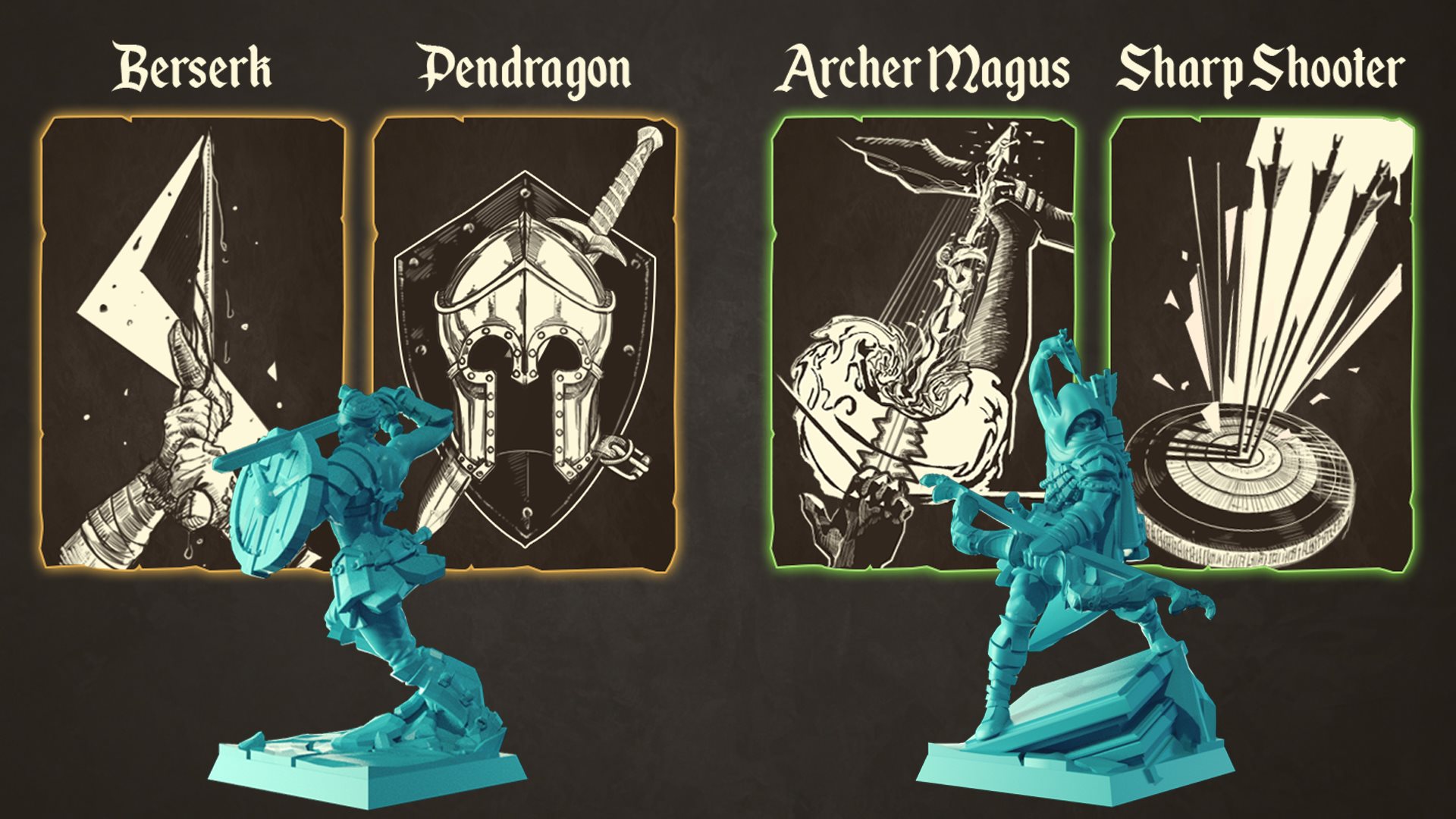 You even recruited an intern, who also studied at ESMA. Can you tell us about that?
During this second year of creation, the question of taking on trainees was quickly raised, especially in CG.
It seemed important to me, as an ESMA alumnus, to be able to also give an ESMA student a chance to take part in an innovative creative project. Moreover, knowing very well the demands placed on ESMA, it was obvious that it would be easy to work with a motivated and talented trainee coming from ESMA and having the same background, we would quickly have the same way of working. And that's exactly what happened when I chose Arthur Lefebvre as my candidate!
It was an enriching experience for both him and me. Arthur very quickly integrated himself into the studio. During his internship he worked a lot on the 3D figures of the game, his work as well as his professionalism was very much appreciated!
It's an experience that I will renew with pleasure and without fear. I will therefore not hesitate to offer other internship opportunities for ESMA students.
After the campaign, what will be the objective? To devote yourself to the development of Erune through extensions or to offer other games?
After the Kickstarter campaign, part of the work will be dedicated to continuing to improve the game. Erune is only a project of the studio in the end and many others will see the day!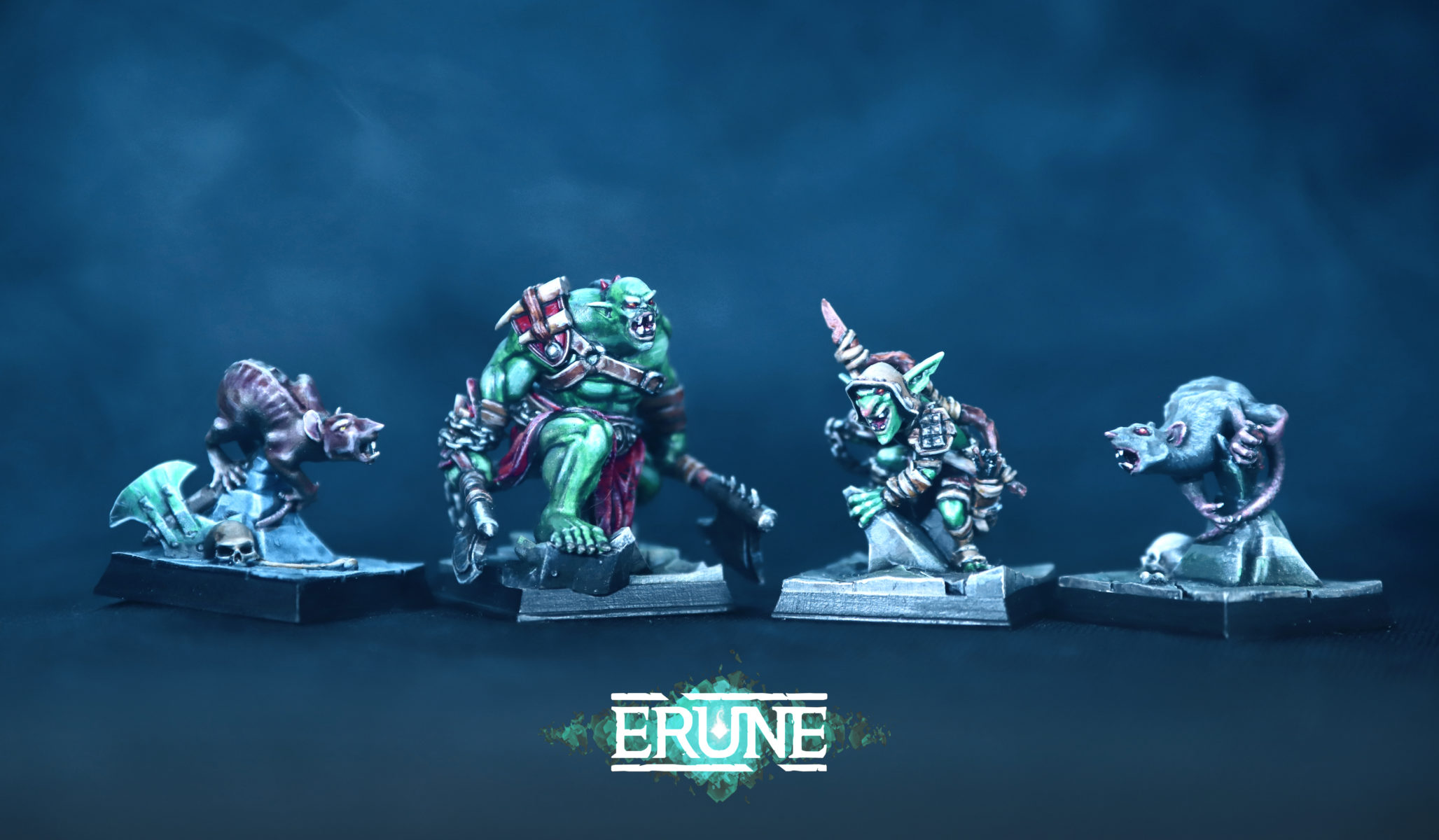 Our goal is to continue developing new games with our voice technology as a common thread.
Our future games will not necessarily be role-playing games. Erune has been very energy-intensive and we now want to focus on smaller, simpler, shorter, but also more family-friendly games.
Our ambition is to become THE STUDIO REFERENCE in voice-assisted gaming and to be recognized and associated as such.
Of course, this is an ambition of great pretension and therefore a huge challenge! But without someone to take up these challenges, innovations don't see the light of day.
Why did you choose kickstarter? Why didn't you choose an exclusively French platform?
We chose to launch our first game on the Kickstarter platform because our target audience is 70% English-speaking (American and English). Our game and application is developed in English, so Kickstarter was the ideal platform.
Moreover, we are a studio unknown to the general public at the moment, so it makes sense to make ourselves known on this kind of international platform to create a name for ourselves in the gaming world.
On the other hand, 3 months after the Kickstarter campaign we will launch a new operation on a European pre-order platform called Game on Tabletop. This is a common practice in participatory finance gaming called lateplating, which will allow people who couldn't order it on Kickstarter to still be able to pre-order it 3 months later.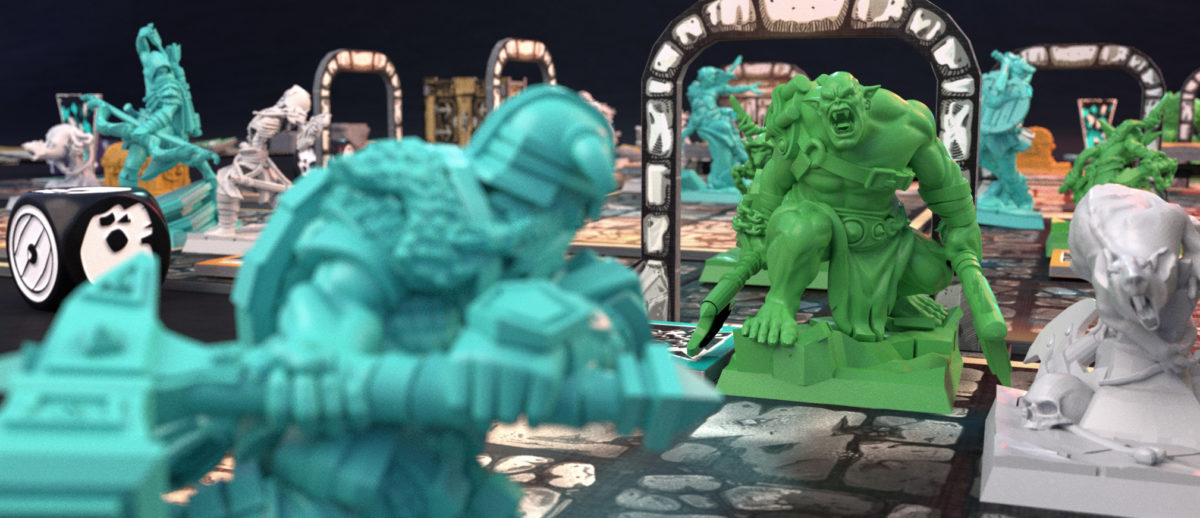 This is a great project, both professionally and in life. We wish Quentin and Kevin and their team good luck in this exciting adventure! We hope that their game will be a great success and that it will be only the first of a long series!
___ ___ ___ ___ ___ ___ ___ ___ ___
To participate:  Erune project on Kickstarter.
Be careful, you only have until March 19th to contribute!
Page Facebook.
Website: Arkada Studio
Photo and image credits: Arkada Studio