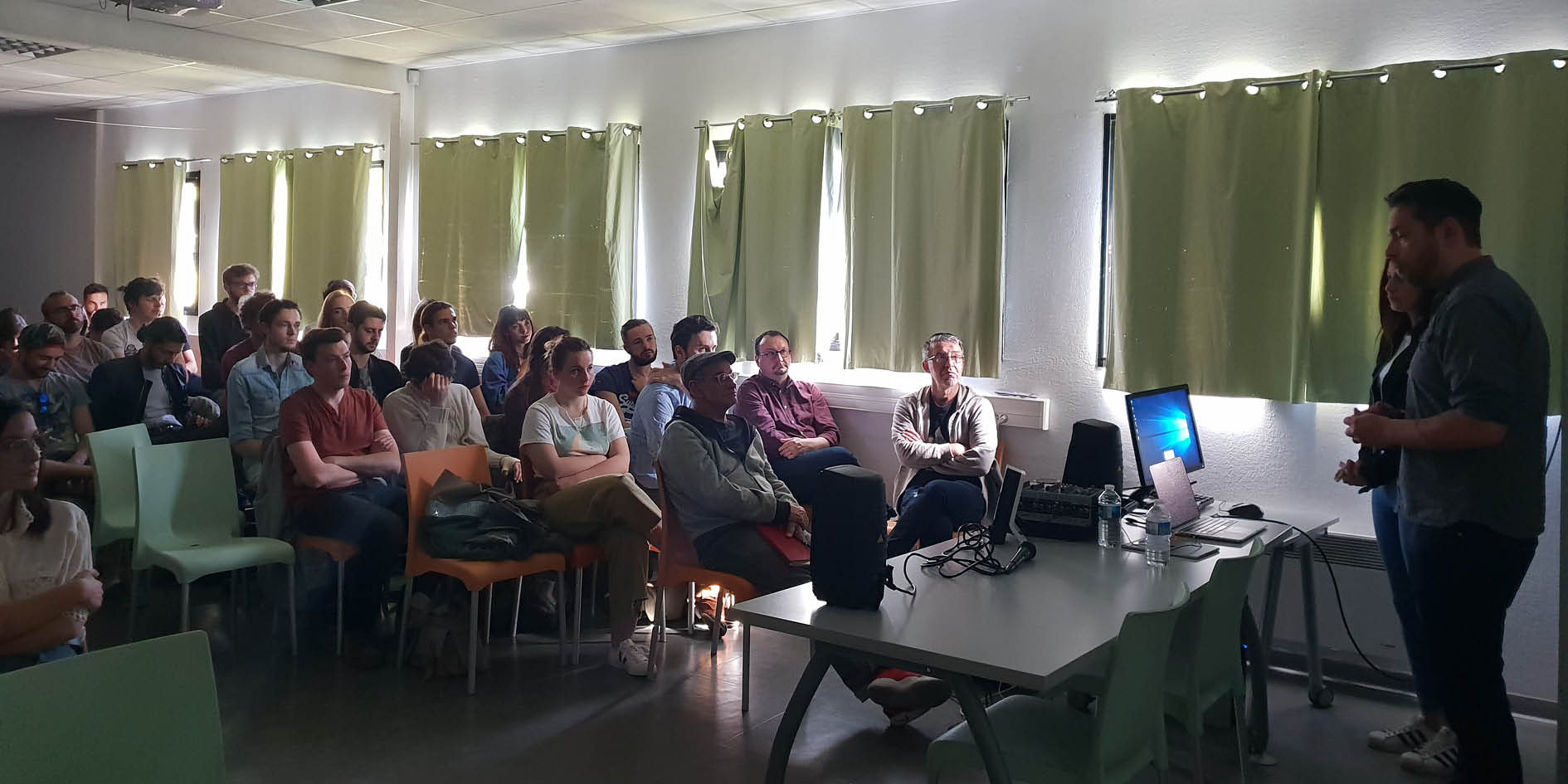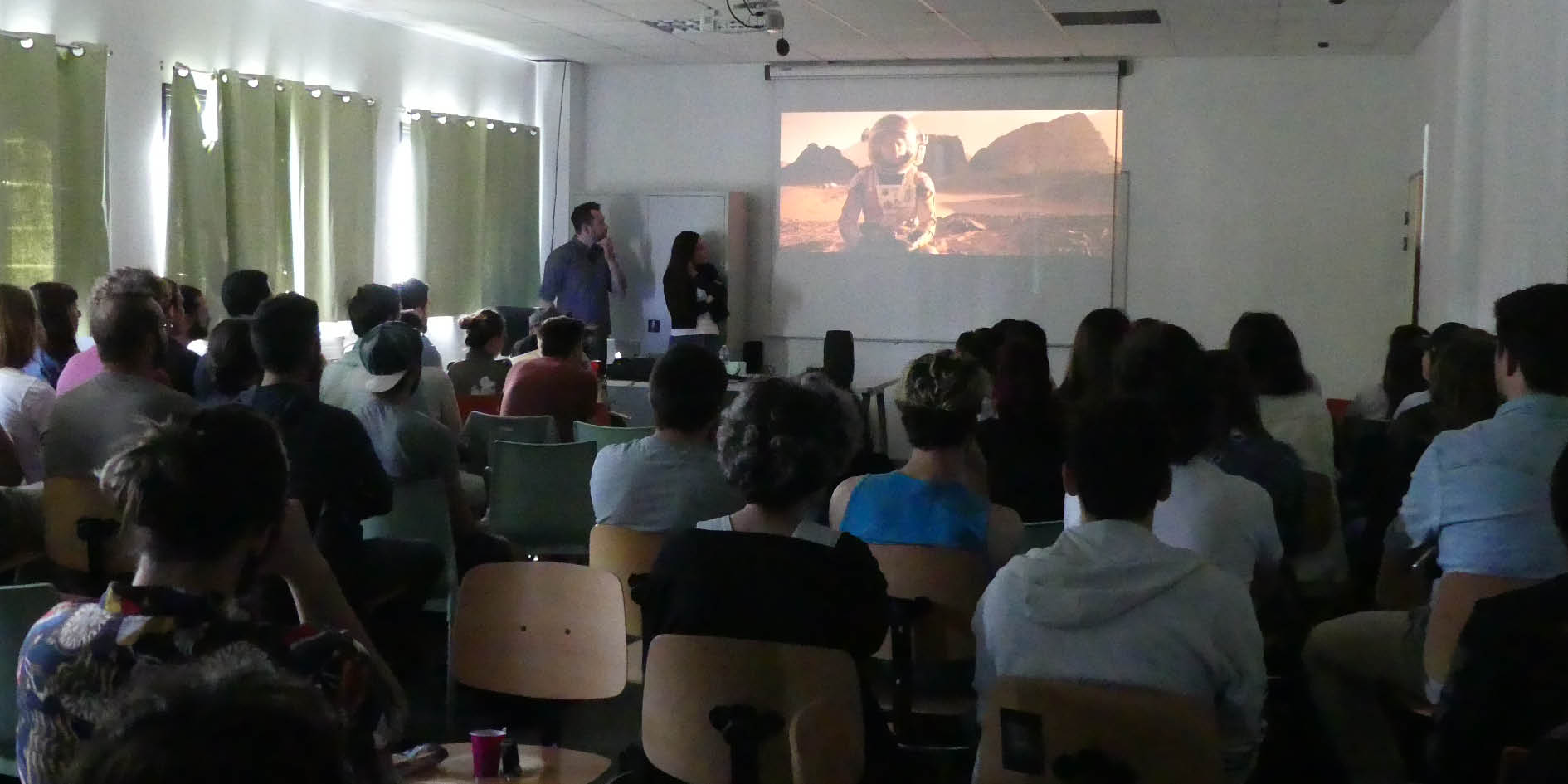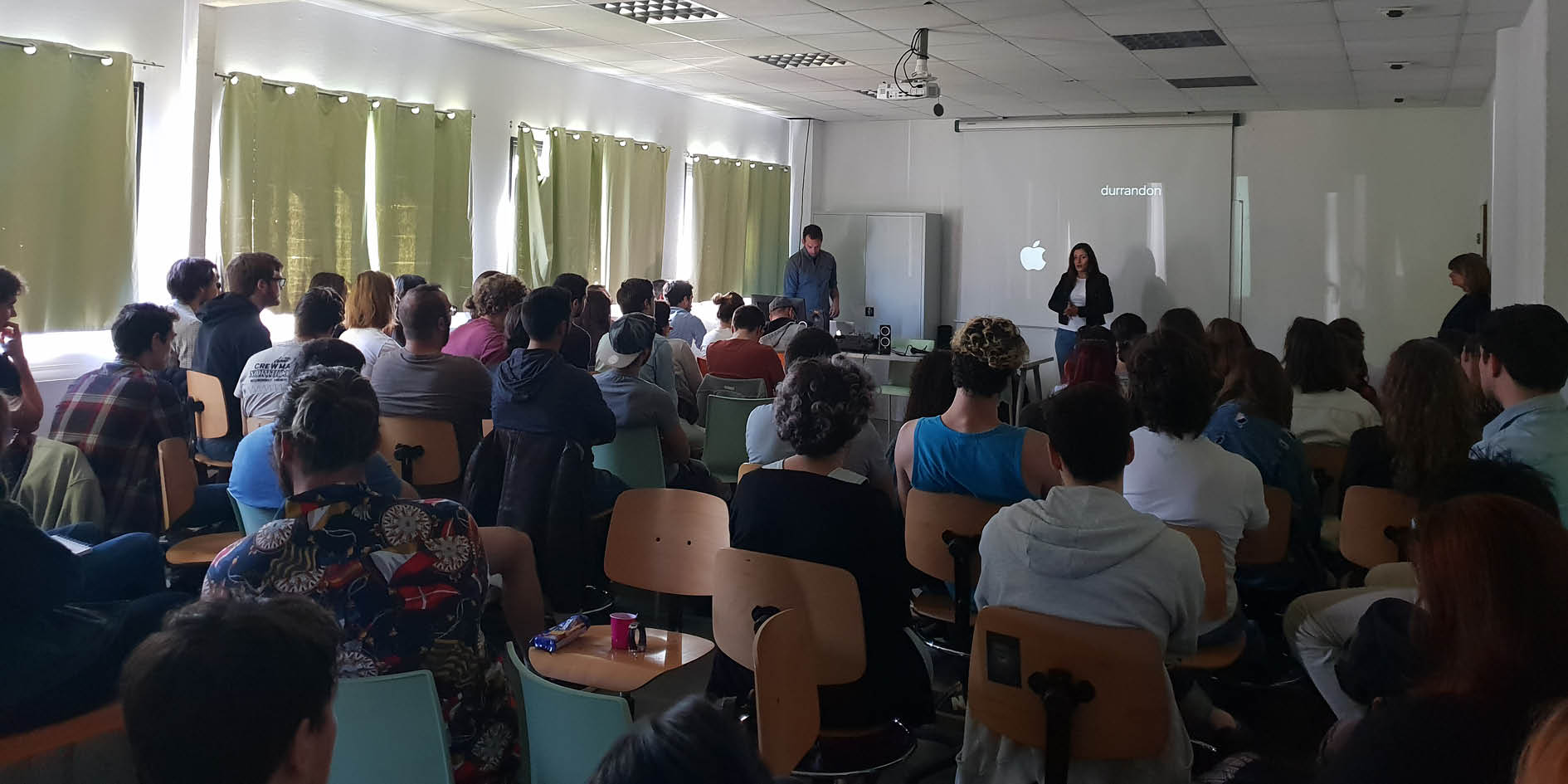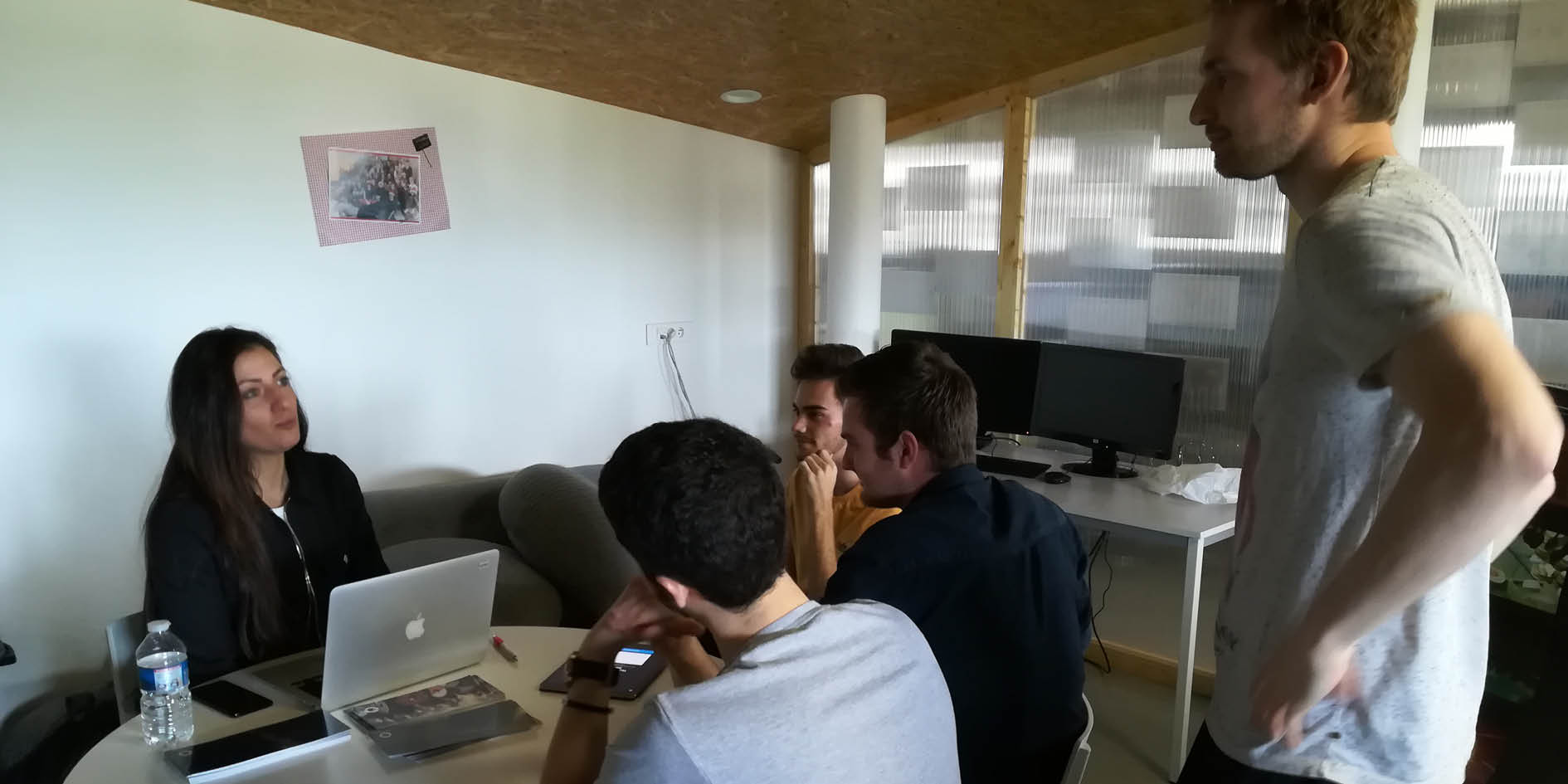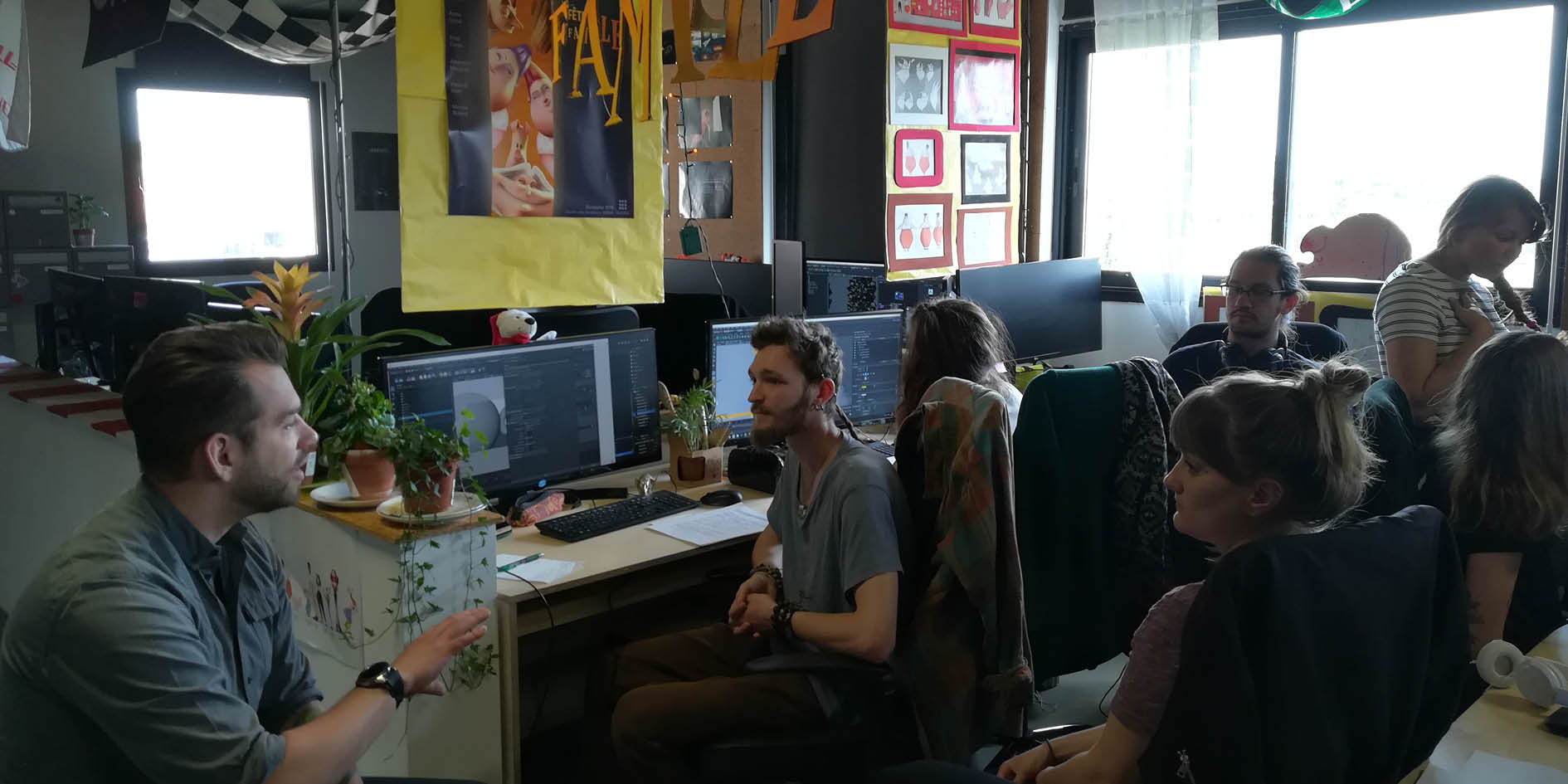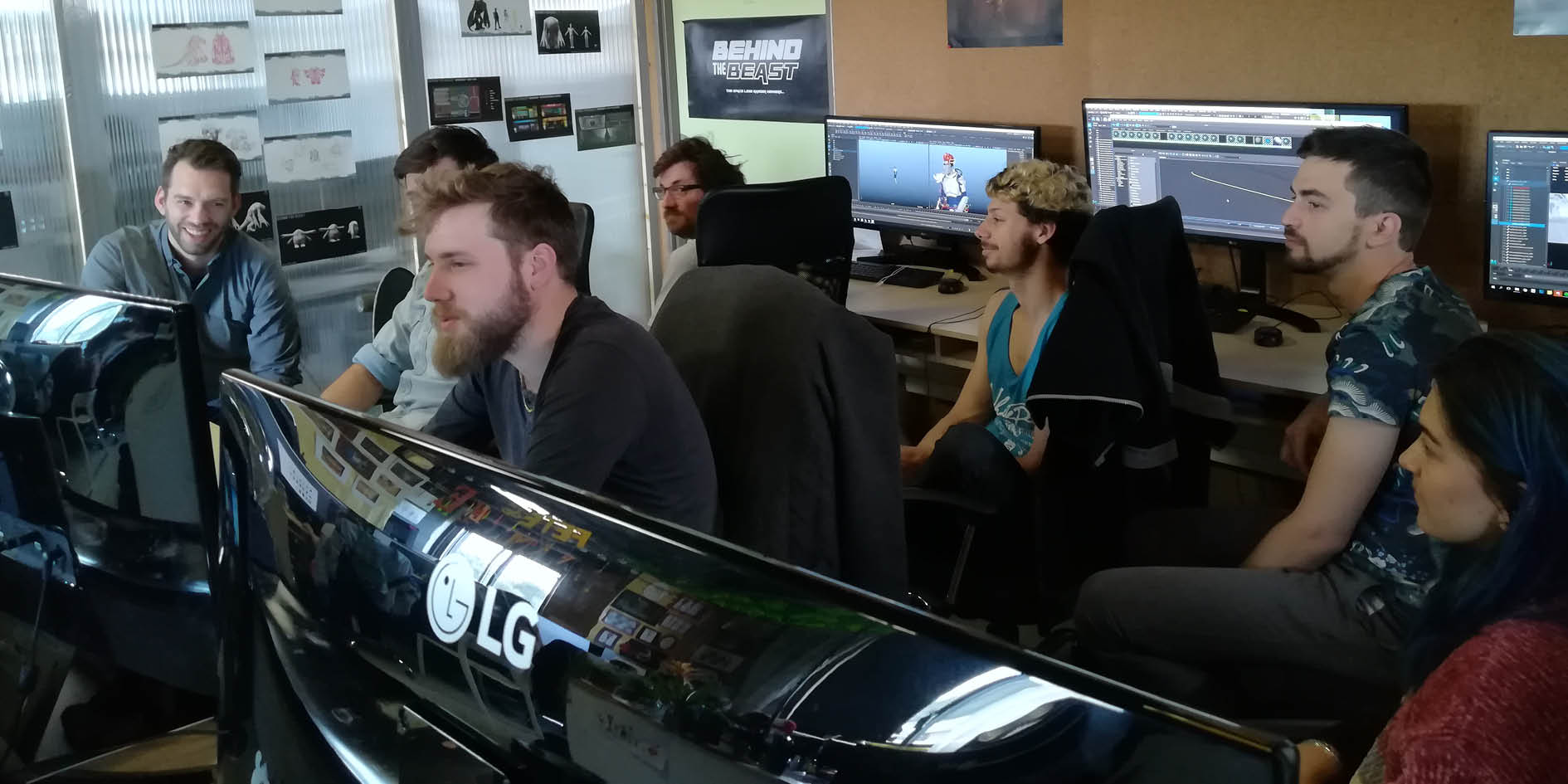 Visite of The Focus by Technicolor at the school ESMA
Conferences

. 27 May. 2019
Brian Gossart and Dana Raad, representatives of MPC studio for one and The Focus – Technicolor for the other, were both visiting ESMA Montpellier. For them, it was an opportunity to present the different studios of the group and for our students, a new opportunity to exchange with professionals and create a network.
This visit is part of the long list of partner studios that come to meet students from different ESMA campuses. We are always happy to receive these quality professionals who take their time to meet our students to share their knowledge. These moments are always precious for our students in the CG animation & FX cycle who take the opportunity to get a better idea of ​​the reality of the profession and the expectations of the studios.
Their arrival was divided into two parts: the first consisted of a presentation of the studios through a conference and, secondly, the two representatives exchanged with the final year students about their final project.
Brian Gossart is not a stranger. And for good reason, he is himself an alumni of ESMA, from the class of 2011! As always, it is with pleasure that we welcome our alumni. We are proud to see the path he has traveled and his career: after working in several studios, he has been practicing his talents for over 6 years in MPC studio (London and Montreal). There, he started as TD creature creature, lead creature fx, head of department techanim to be CG supervisor today. A very beautiful trajectory that we salute! As a former student, he is perfectly aware of the students' apprehensions and could talk to them in complete transparency and reassure them of their fears and questions. His career proves to be as reassuring for the fourth year students who will, shortly, dive into the big bath of the professional world!
Dana Raad represented The Focus by Technicolor. This is a team dedicated to the recruitment of Technicolor studios: Mill Film, MPC, MrX and Mikros. The students were able to take advantage of his presence to learn about the positions in recruitment in different within the different studios.
speakers
Brian Gossart : CG Supervisor – MPC
Dana Raad : Talent Acquisition Manager – The focus
Interview
CAN YOU INTRODUCE YOURSELF ?
Brian Gossart (B.G): Brian Gossart, former student of ESMA, class of 2011. Today I am CG supervisor on The Voyage of Doctor Dolittle at MPC Montreal.
Dana Raad (D.R.): Dana Raad, recruiter for the CFX & FX departments at MPC, Mill Film and Mr X – Montreal-Toronto-Vancouver.
CAN YOU PRESENT THE MPC STUDIO AND THE FOCUS?
B.G.: The Moving Picture Company / MPC works on very big productions like The Lion King, Pirate of the Caribbean, Blade Runner 2049 and so on! Studio MPC has won several years the Oscar for best special effects.
D.R.: We are a recruiting group for Technicolor, we are hiring for the following 4 VFX Studios: Mill Film / MPC / Mikros / Mr X.
WHAT ARE THE FUTURE PROSPECTS FOR THE STUDIO?
B.G.: They are very important! We receive considerable requests from our customers, so our studio is growing day by day.
D.R.: Each Technicolor studio is different but everything looks very promising. We have many new projects that should be announced soon ??
YOU SAY, WILL THE EVOLUTIONS OF CG ANIMATION IN THE COMING YEARS?
B.G.: Oculus technology – or fast growing – is developing rapidly which allows us to create new ways to open Creative discussions with our clients and the director. We can project ourselves inside our CG scene and change the real-time camera, our animations and other.
DO YOU HAVE AN ESMA STUDENTS IN YOUR STUDIO?
B.G.: Many! Before my CG Supervisor position, I was head of techanim / creatureFx and 60% of my leads came from ESMA!
D.R.: Yes, in different departments.
WHAT ARE YOUR MOTIVATIONS TO COME TO MEET ESMA STUDENTS?
B.G.: Students coming from ESMA are proactive and easily find solutions to problems. They are also very open minded and hard working. Upon leaving the training, they already have exemplary professionalism.
D.R.: We have recruited talented artists who have studied at ESMA in recent years. The curriculum they follow has allowed them to prepare well for our studios.
WHAT DO YOU THINK ABOVE THAT WE PROPOSE TRAINING IN 4 YEARS AND NOT IN 3 YEARS?
B.G.: If it allows for more specializations and students with a more complete training, this can only be better.
D.R.: Why not? This allows them to be better prepared for studio life and to have more knowledge before starting to be officially on the market.
AFTER VIEWING THE STUDENT MOVIES, CAN YOU RETURN ABOVE? WHAT DO YOU THINK ?
B.G.: I have always enjoyed ESMA movies. There is a school style and unlike other schools, I appreciate the effort that is put on the script and creativity.