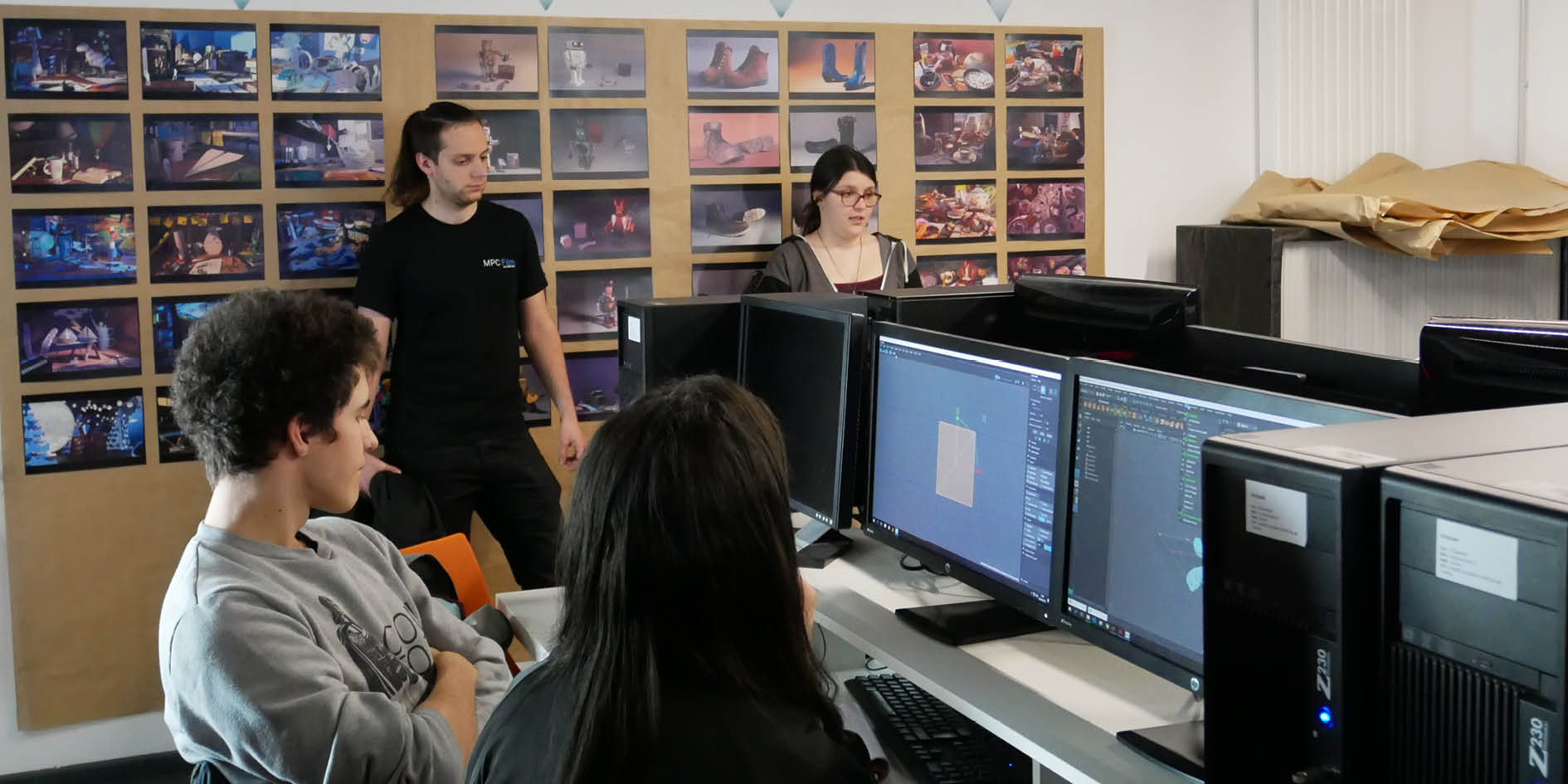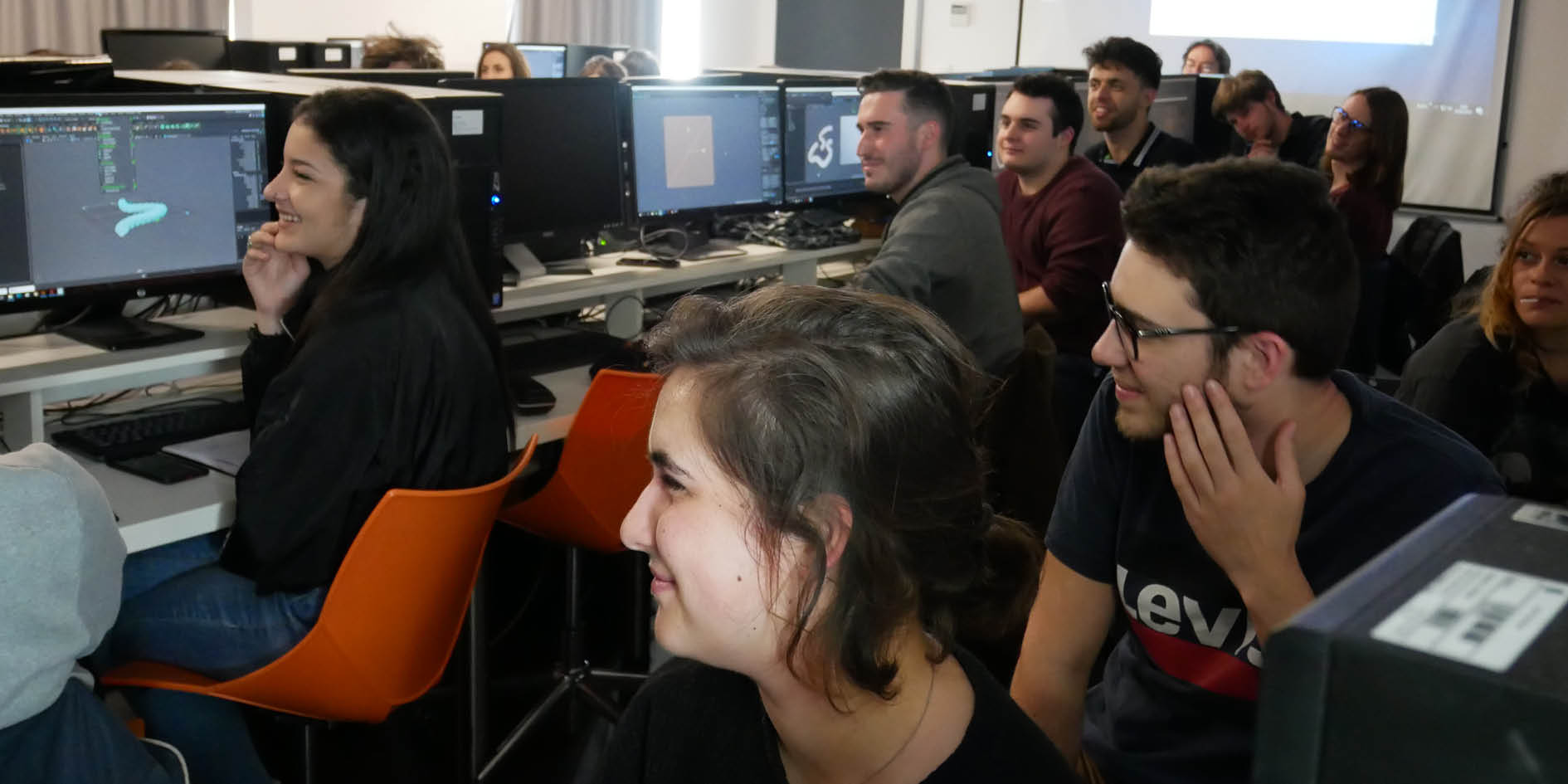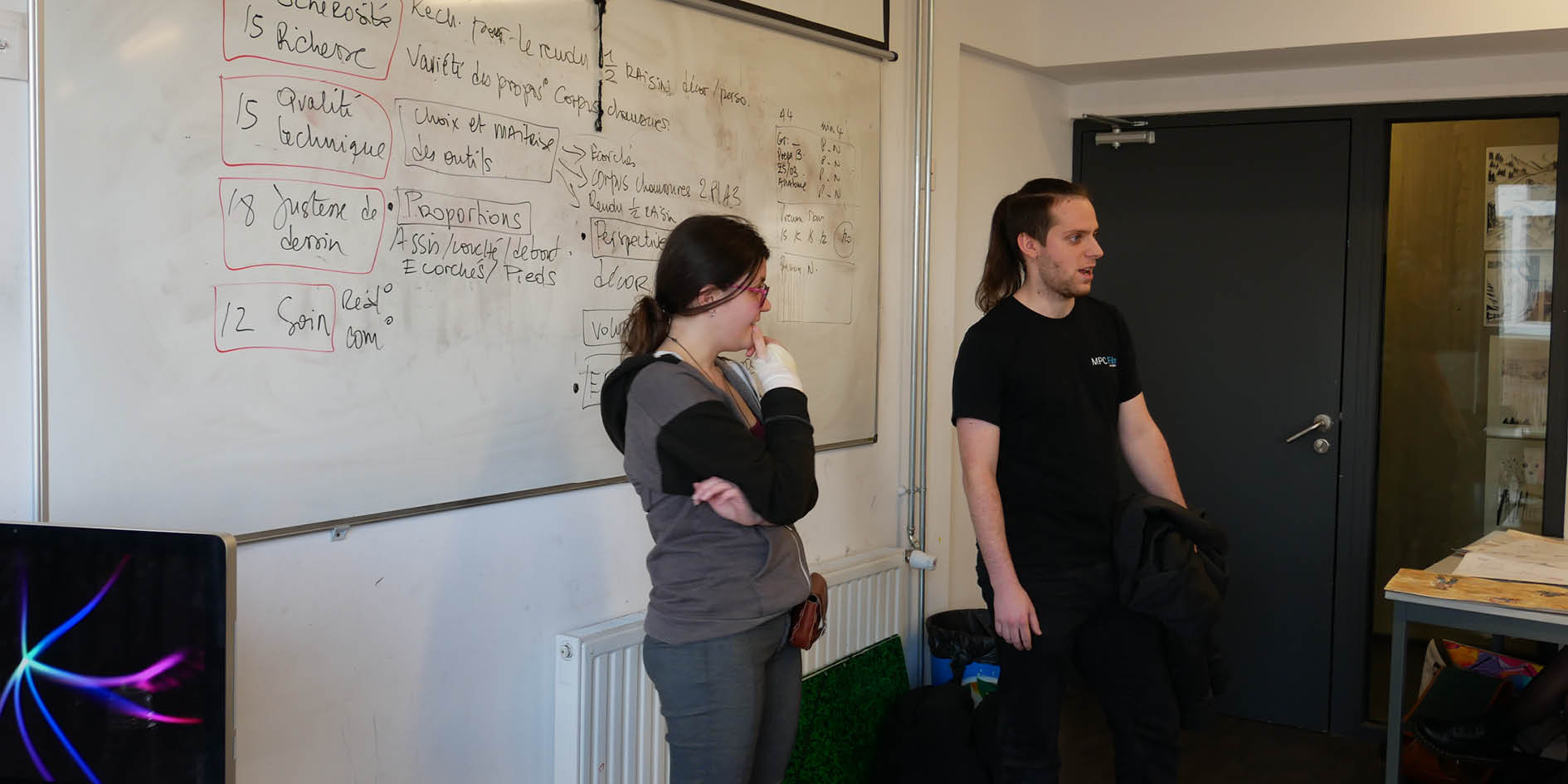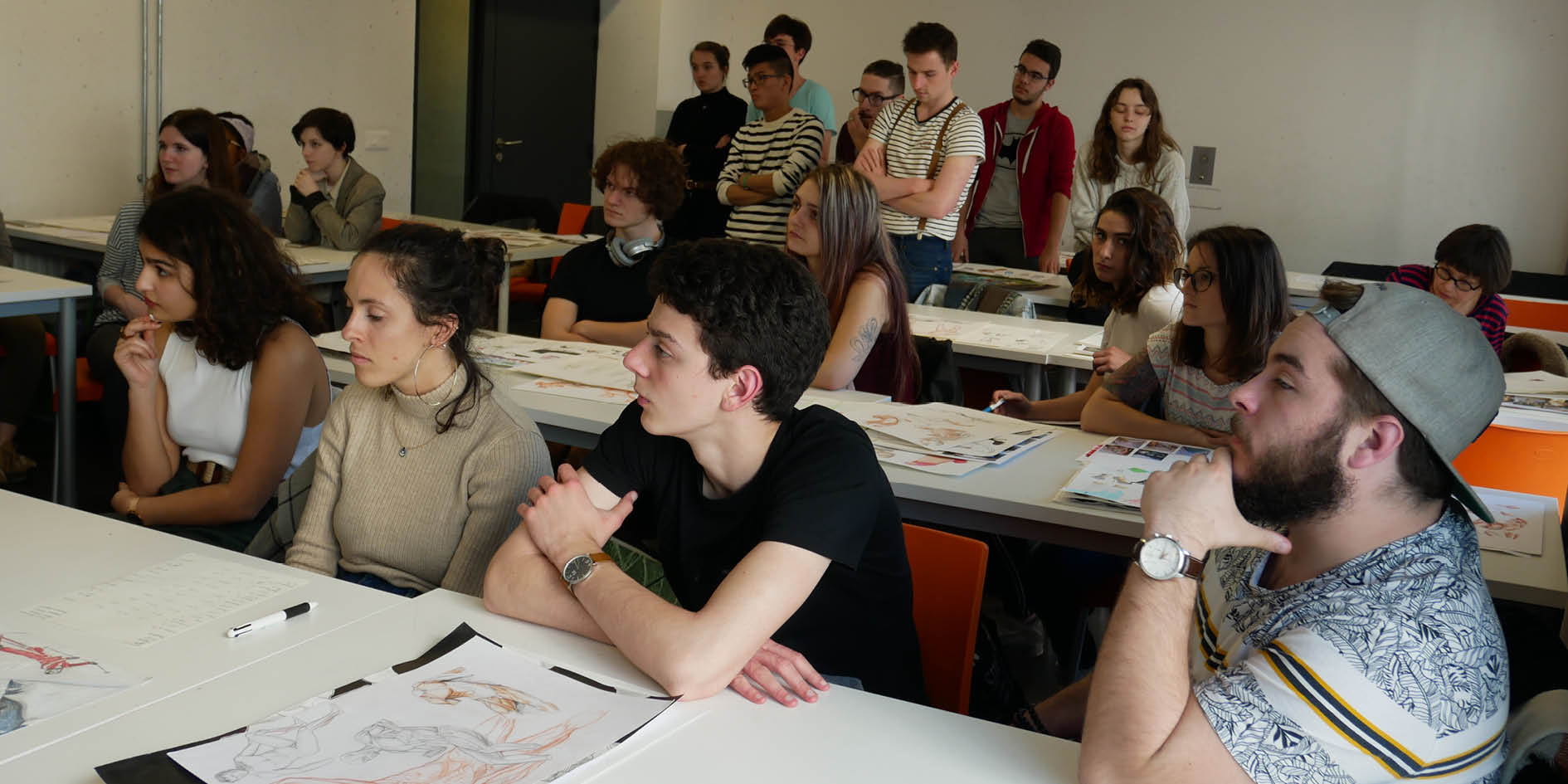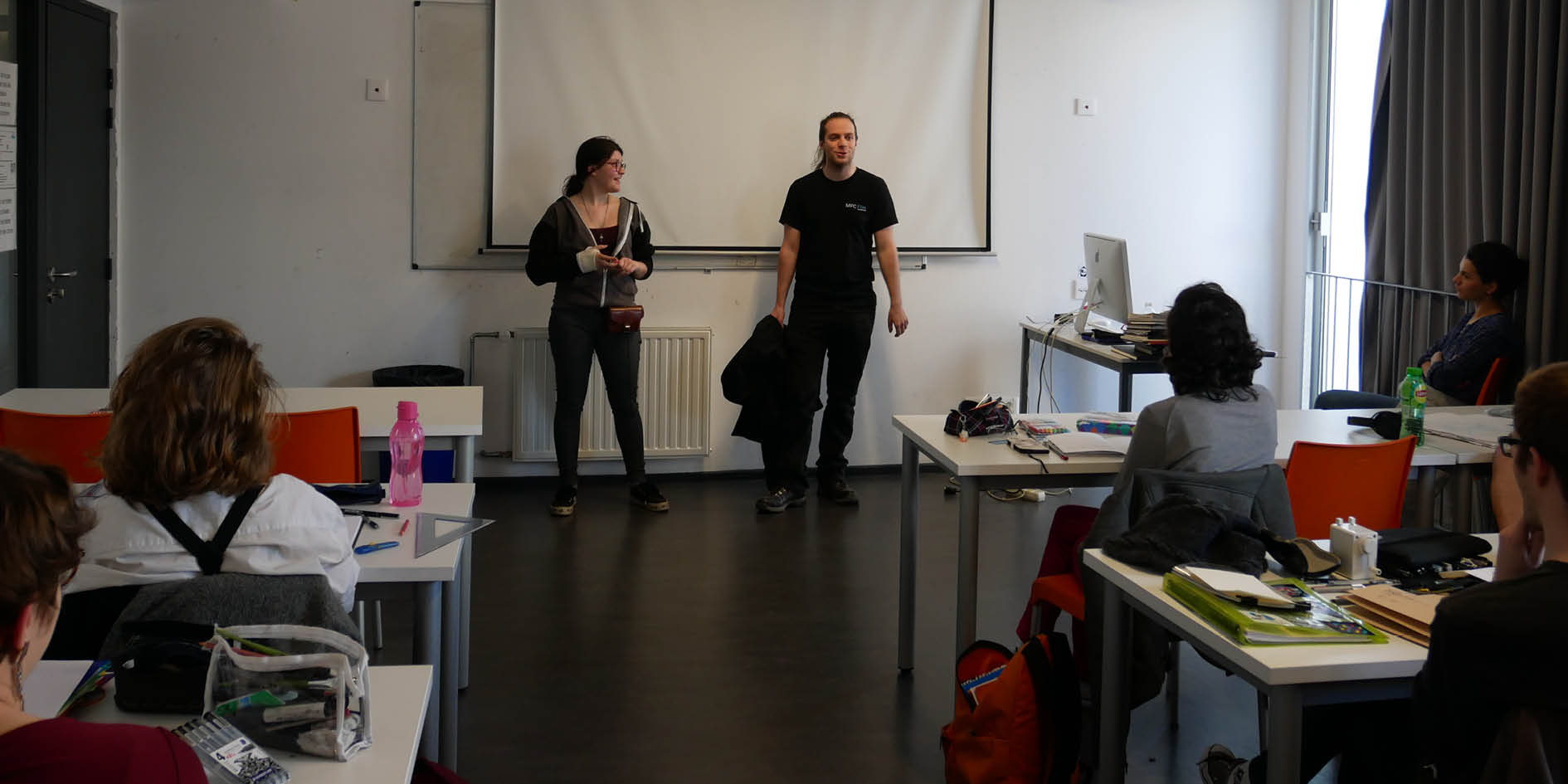 Visite of Charlotte Perroux and Yoann Lemoine, alumni
Conferences

, News

, School

. 01 Apr. 2019
During a visit to Nantes, two alumni – Charlotte Perroux and Yoann Lemoine – gave a meeting on their new life as young professionals in the animation film industry.
There are visits that are fun, such as Charlotte Perroux and Yoann Lemoine! It is always with joy that we welcome our former students, especially when they come with the desire to transmit to the future generation their experience in school and their first steps as animation professionals.
It is with the students of Entertainment Prepatory Class and the first years of training CG Animation & FX that they gave a meeting on their course since they left the school. The opportunity for these young professionals to discuss the reality of the profession and the life in the studio. For students, it is always beneficial to hear these feedback from elders. These moments are rich and deliver concrete about the possibilities that will be offered to students at the end of their training.
What also makes these exchanges valuable is that these former students remember their questions and concerns at this time of their lives, and they know how to find the right words to reassure and the youngest counselors.
Charlotte Perroux
Two weeks after leaving school, Charlotte applied for MPC Montréal Animation Academy. To his surprise his candidacy was retained! That's how she flew to Canada. Upon arrival, a three-month training followed to be trained in the working methods of the studio. Then she went into the thick of it by working on big productions: Aquaman, Sonic the Hedgehog, then Pokemon Detective Pikachu. The stakes were no longer those of a student film and she told us about it:
These films have required a lot of research on characters, not always easy to animate. Do not get bogged down when you face a problem, want to solve it yourself, but tell your team. Communication is paramount, as is teamwork.
Charlotte does not forget the opportunity it has been for her:
What is good with MPC is that they are almost the only ones to hire juniors, which allows to have a good professional experience, and to work on big productions.
Yoann Lemoine
Like his colleague, Yoann set his bags in Canada. He also joined studio MPC but in the city of Vancouver. Having three months before starting his contract, he took advantage of this time available to rally the teams of the Parisian studio TeamTo as FX artist. As he says:
It was not possible for me to stay idle while so quickly put into practice my expertise!
He worked on the animated series Pajamasque and a series of Netflix: Skylanders Academy. After this experience, he finally arrived in the land of the maple leaf. There, Yoann will put his talent to work on several major productions: Aquaman and Pokemon Detective Pikachu. One time he will join the Montreal studio as an FX artist on the X-MEN Dark Phoenix project.
Now the young man is looking for new challenges and is thinking of traveling the world to practice in various international studios.
les intervenants
Charlotte Perroux and Yoann Lemoine are both from the class of 2017. They followed the course Cinema Animation 3D & special effects at ESMA Nantes.
Charlotte has worked on the short film Achoo, which has been very successful at many world festivals (including an additional list of the Oscar Nominated Short Films program) and has won several awards.
For his part, Yoann has participated in the realization of the short film Groovity which has had some success with several selections in festivals (including the SSFF & Asia Festival, one of the largest film festivals in Asia)
movies