Become
Character Designer

The character designer puts his art at the service of the characters he creates ! For an animation project, a comic book or a video game, he takes inspiration from a specific universe in order to sketch characters in accordance with it.
His work is very precis : facial expressions, hair color, clothes, postures, equipment…
The character designer's tasks
His work is very accurate : facial expressions, mimicking, hair color, clothes, postures, equipment… Under his pencil stroke, the character's identity emerges, notably on the basis of indications from the scenario. Curious, the character designer relies on references that allow him to better understand the environment, and thus propose concepts as close as possible to the expectations of the client / director.
Computer Aided Design (CAD)
Once the sketch is finalized, he starts working on the CAD: the idea is to give life to the character, so that he can integrate the graphic environment for which he is intended. There, begins a more technical phase, where the character designer aims at enabling his character to move, and have a realistic appearance and acting. He will have to go through various stages of development (modeling, sculpting, texturing and rigging), in order to give volume, structure and physical reality to this character.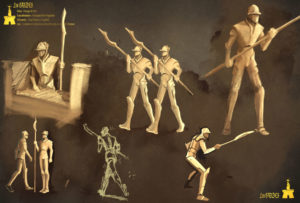 His skills
Whether he works in a creative studio, a video game company or as an independent, the character designer, in addition to his artistic and technical skills, must perfectly understand the artistic director'intentions, with whom he interacts on a regular basis.
(Photo credits : Constanza Valore, HanKunya, Jenn and Tony Bot, HERRERART)