Become
Rigger
The rigger provides characters with the digital framework that will allow them to move in a realistic and coherent way.
A good definition is a good way to put things. So what does a rigger do?
It is safe to say that the rigger provides characters (humans, animals, etc…..) with the digital framework that will allow them to move in a realistic and coherent way.
The rigger is a true technical conductor.
A facilitator of animation
The rigger provides a range of control elements for the animator, who can take control of his character, like a puppet, and brings it to life in the best possible way. This is the key to a good animation !
A good rigger is a motion controller, thanks to the elements he sets up. Most of the existing rigs concern the bodies of 3D characters, but it is also very important to know how to rig a face, a car, even a camera.
It is a job that finds its place between the modeler and the animator. Depending on the quality of his rigging, this professional offers a real animation facility for the 3D animator.
However, limiting the rigger's function to the technical control of his work is reductive. He also needs to use his true sensitivity to observation. The rigger intervenes in all fields using real-time or calculated 3D animation: animation film, virtual reality, simulation, advertising film and also the audiovisual and gaming industries.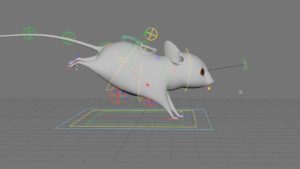 A growing field of expertise
The vast majority of riggers work in animation studios. Large studios often hire riggers to work on characters, a step often rigourous, and long to set up.
Technically, the rigger masters software such as 3DS Max, Maya, Softimage, Cinema 4D, Blender. After proving their technical knowledge of animation, many riggers eventually turn to supervisory positions. If their skills are proven, they can also work in other fields in the 3D animation or FX industry.
Rigging is, according to all its specialists, only in its prehistory… Let yourself be carried away by your vocation as the sailboat rigger, expert in rigging, which also appropriates the understanding of the science of motion.