Become
Illustrator 3D
The 3D illustrator is a specialist in the creation and modification of digital images or computer graphics.
How to become an Illustrator?
The 3D illustrator is a specialist in the creation and modification of digital images or computer graphics. The once inevitable pencil stroke gives way to new forms of expression linked to new technological tools. The job of 3D illustrator is closely linked to the digital field.

Artistic sense and digital skills
When we use the term "illustrator" in its entirety, the panel is very large. We can mention both a professional who expresses himself on print media (poster, book, magazine, leaflet, bookmark, newspaper…), on multimedia (CD-ROM, DVD, website, video game…) or in the audiovisual sector (TV spot, company presentation video…).
Our subject concerns more particularly the 3D illustrator, a specialist in 2D and 3D computer software (Unum, Illustrator, notions in 3ds max, autocad, blender, sketchup, solidworks, xml), who perfectly combines his artistic sense and graphic skills in order to illustrate any digital medium: web environment, animated film, Internet, Intranet & Extranet website, video games, newsletter, advertising.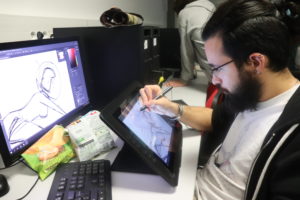 A versatile artist
The 3D illustrator uses specific tools such as the graphic tablet or the optical pencil, but also displays a good knowledge of manual drawing. Open-mindedness, a zest for humour, a watchful eye on society, a good general knowledge, a sense of detail will be his considerable assets, along with his knowledge of customer markets (Internet, video games, etc.). The 3D illustrator is above all a versatile artist
There are many training courses to become a 3D illustrator. These are generally courses that combine computer skills and artistic creativity (e. g. BTS in visual communication with a graphic design option or, even better, some art schools such as ESMA and its 3D & CG animation program). The French industry, in terms of 3D and CG animation, is recognized throughout the world. This specificity is a true opportunity for our students to develop their career on an international level. The 3D illustrator is often recruited by graphic or film design studios, advertising agencies or audiovisual structures.
Career development : after a few years of experience, the 3D illustrator can claim to become a project manager or an artistic director with salaries ranging from €1,900 gross per month for a beginner to €3,000 gross per month for a more experienced illustrator.